MLB.com Columnist
Phil Rogers
Maddon brings proven mix of smarts and daring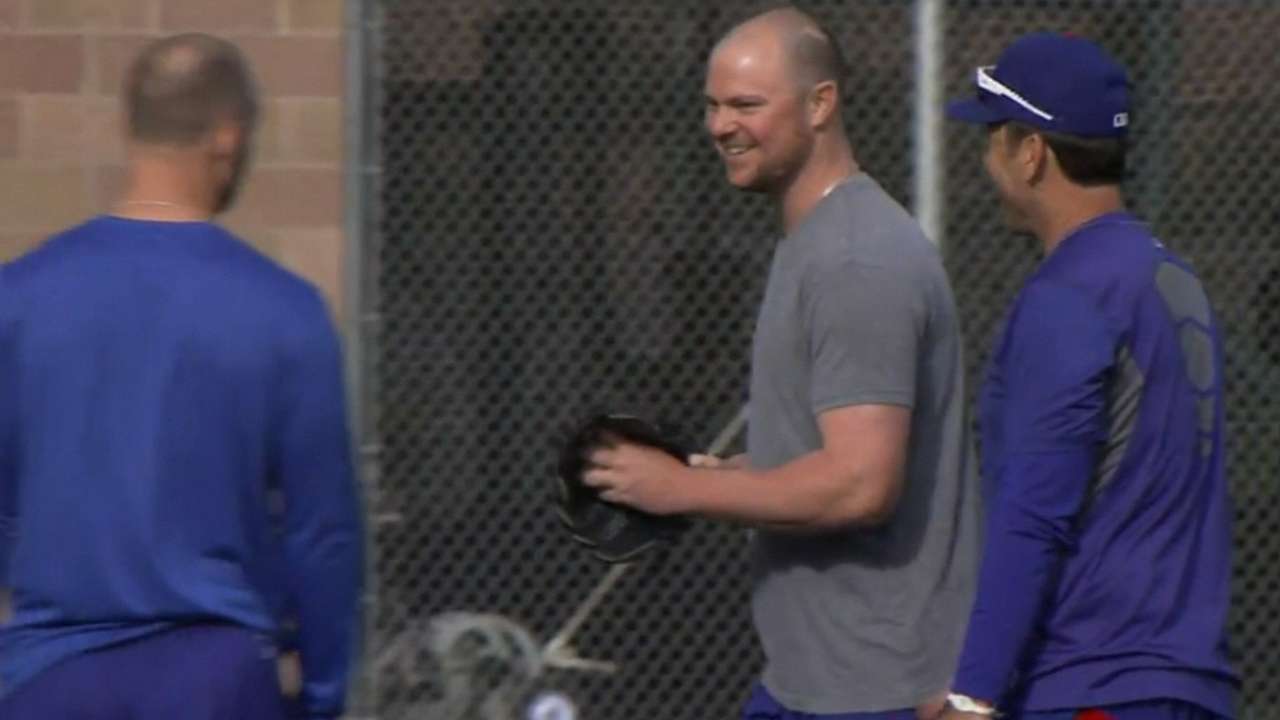 MESA, Ariz. -- You've probably heard about Theo Epstein's job interview with Joe Maddon at the RV park outside Pensacola, Fla.
If you haven't, you certainly will if their marriage achieves its goal -- the Cubs' first championship since 1908.
But what about the first time Epstein interviewed Maddon for a job opening? That was with the Red Sox in the fall of 2003, after Grady Little overextended Pedro Martinez in Game 7 of the American League Championship Series.
Maddon, then the bench coach for the Angels, was one of four candidates interviewed during a search that ended with Epstein hiring Terry Francona, who would lead the Red Sox to two championships. It's fair to say that the innovative Maddon left quite an impression, even if he didn't get the job.
"I think our heads were spinning after the interview, if I recall," Epstein said on Thursday as Maddon prepared for his first workout with the Cubs' pitchers and catchers on Friday.
Maddon can make your head spin, and that's a good thing. He's smart, daring and funny.
And now another adjective applies.
He's proven.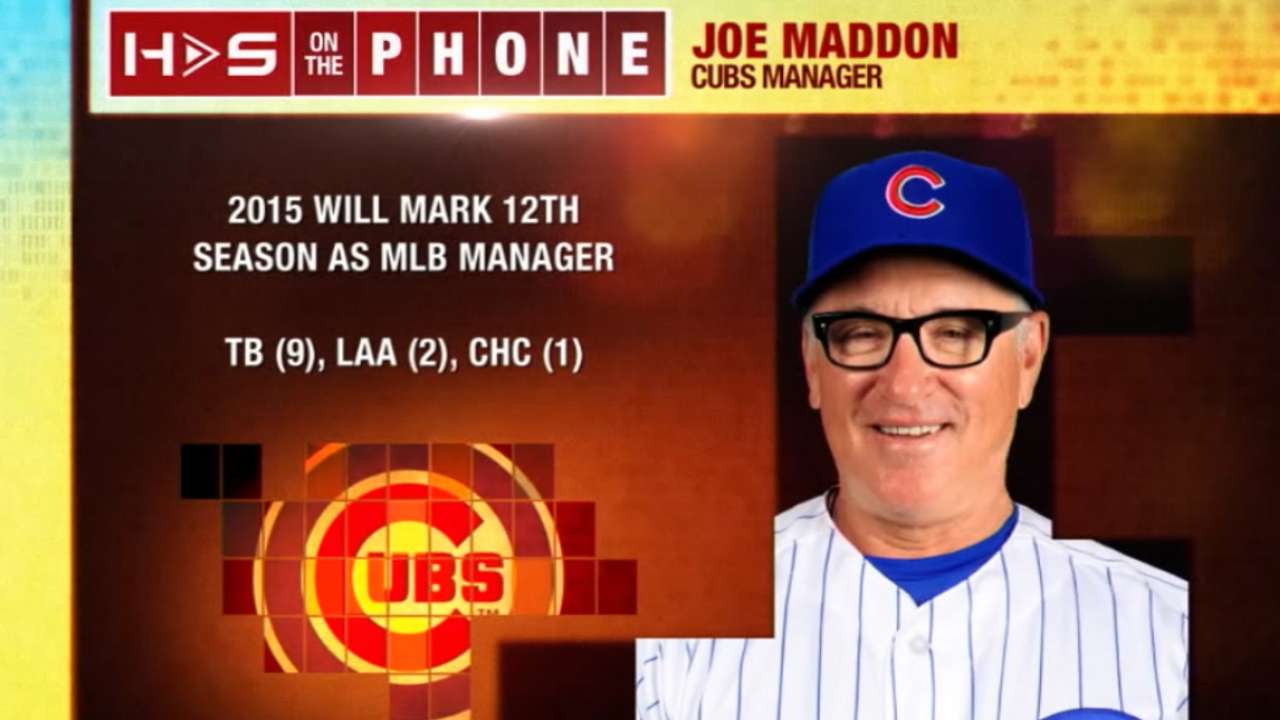 After the interview with the Red Sox, Maddon would have to wait two years for a big league team to manage. Andrew Friedman hired him to succeed Lou Piniella with the then-Devil Rays, giving him a blank canvas on which to illustrate such concepts as defensive shifting and pajama-party road trips.
In Maddon's third season, a team that had never gone to the postseason went all the way to the World Series. The Rays would go to the playoffs three more times in the next five seasons despite their bargain-basement rosters, riding the creativity of Friedman and Maddon.
That's why this time it was Epstein who pursued Maddon, not the other way around.
"When you have somebody who is unique, looks at the world from a different perspective than is traditionally the case, I think you develop more comfort and trust in them when you see the body of work," said Epstein, who signed Maddon to a five-year, $25 million contract. "Shame on me. I recognized it. He finished second behind Tito, a close second. It worked out great for the Red Sox, worked out for Joe to go to a place like Tampa.
"But of course, when you see him in a Major League uniform, leading a Major League team ... when you see him not afraid to try new things and how well thought out they were, and you see him fearless, you see those creative measures working, you see the feel he has to lead players, how comfortable he is within his own skin, with his methods, it makes the picture clearer. Sometimes you can't see it until you can see it fully."
Maddon, who spent 31 years in the Angels organization before leaving to manage Tampa Bay, arrived in Mesa far more confident than he was when he set up shop at the Rays' quirky little practice field in St. Petersburg in 2006.
"It's obviously different," Maddon said. "I have a strong feeling of how to do this, not that I didn't then. But you're doing it for the first time, and you want to see how your thoughts and your theories work out. Coming into this particular camp, a lot of stuff has been tried and true, and [I] want to repeat here. It was kind of validated. My thoughts were, in a sense, validated by my time in Tampa Bay, and even before that in Anaheim with the Angels. There was a lot of stuff that went on there.
"It makes me feel good about my thoughts. I was taught by some really good people who came before me. Things have worked out pretty well up to this point."
During the nine years that Epstein was watching Maddon with the Rays, baseball changed a lot. Thoughts that might have seemed radical when Maddon first proposed them in that 2003 interview have moved toward the mainstream as the early war of rhetoric between analysts and old-school baseball types has evolved into a more general understanding that the game is big enough for different points of view.
As recently as 2012, Nick Swisher referred to Maddon as a "mad scientist." But all he ever has been is a good baseball man with enough courage to try new things and speak his mind.
"We were so intrigued by not just the creative thoughts he had, but [his experience]," Epstein said. "He's new school [but] he's also old school. He's got a long scouting background, a long player-development background.''
Epstein and general manager Jed Hoyer are constantly updating the manual they put together after being hired to run the Cubs. They're revisiting some issues involving infield defense and baserunning, and Maddon is in the middle of the discussions.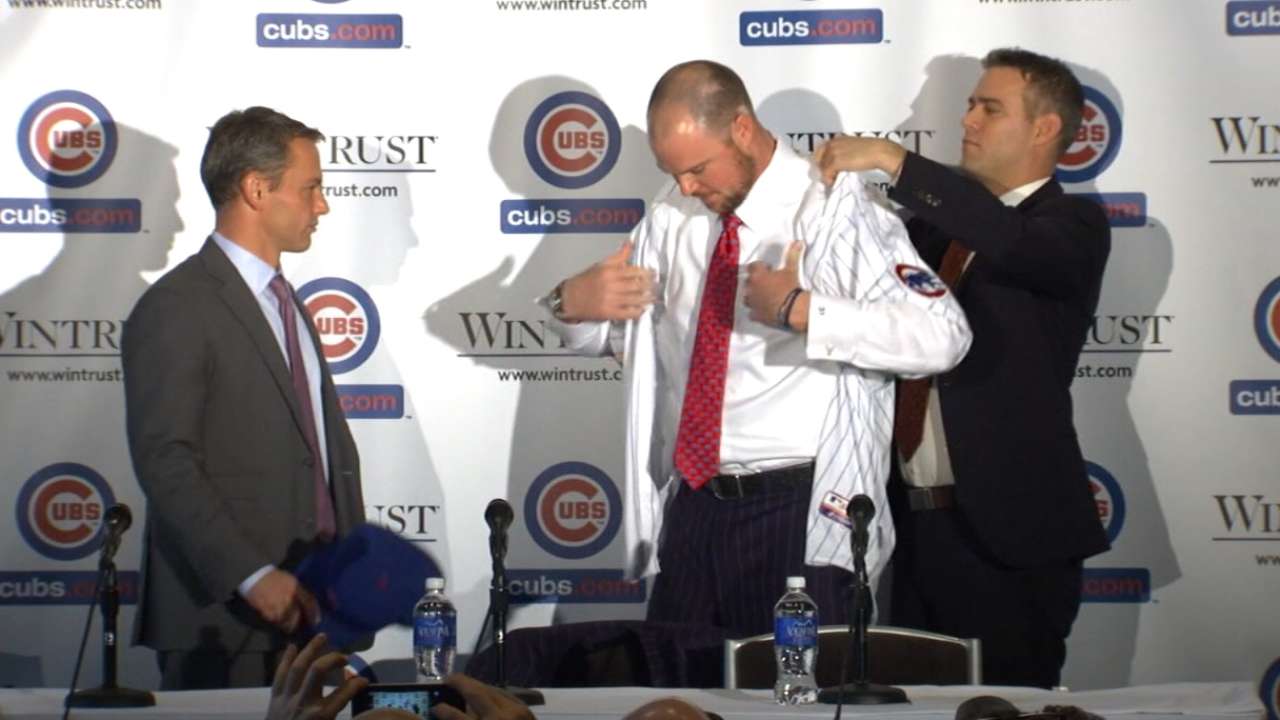 "It was beautiful to see Joe in there digging deep with our Minor League people, stats guys, talking about ways we can do things better, the right way to do things," Epstein said. "Joe's got that going for him."
Maddon has more going for him than ever since he took over the Cubs, who are baseball's leaders in both young talent and payroll flexibility. Epstein, who like Maddon is comfortable with both longtime scouts and the wave of analysts who flooded into baseball from Wall Street, has worked relentlessly through three last-place seasons to position the Cubs for a long run of success.
With such guys as Jon Lester, Anthony Rizzo and Kris Bryant working side by side, that time seems right around the corner.
"I'm used to having to do some heavy lifting [in the] different places I've gone to," Maddon said. "These guys have done all the heavy lifting. The culture in place is spectacular. I feel really fortunate to be able to walk in here with so many established methods, whether it's from ownership or what these guys do in acquisition, the data and analytics part of the game, the players that have been acquired in just the farm system and scouting. It's incredible all the components that are in place. I'm the lucky one here, to be able to walk in the door where all the heavy lifting has been done and hopefully bring what I can do to the party right now."
Phil Rogers is a national columnist for MLB.com. This story was not subject to the approval of Major League Baseball or its clubs.