Kivlehan hopes to keep surprising Mariners at camp
Versatile prospect broke out in '14 with uncanny ability to drive in runs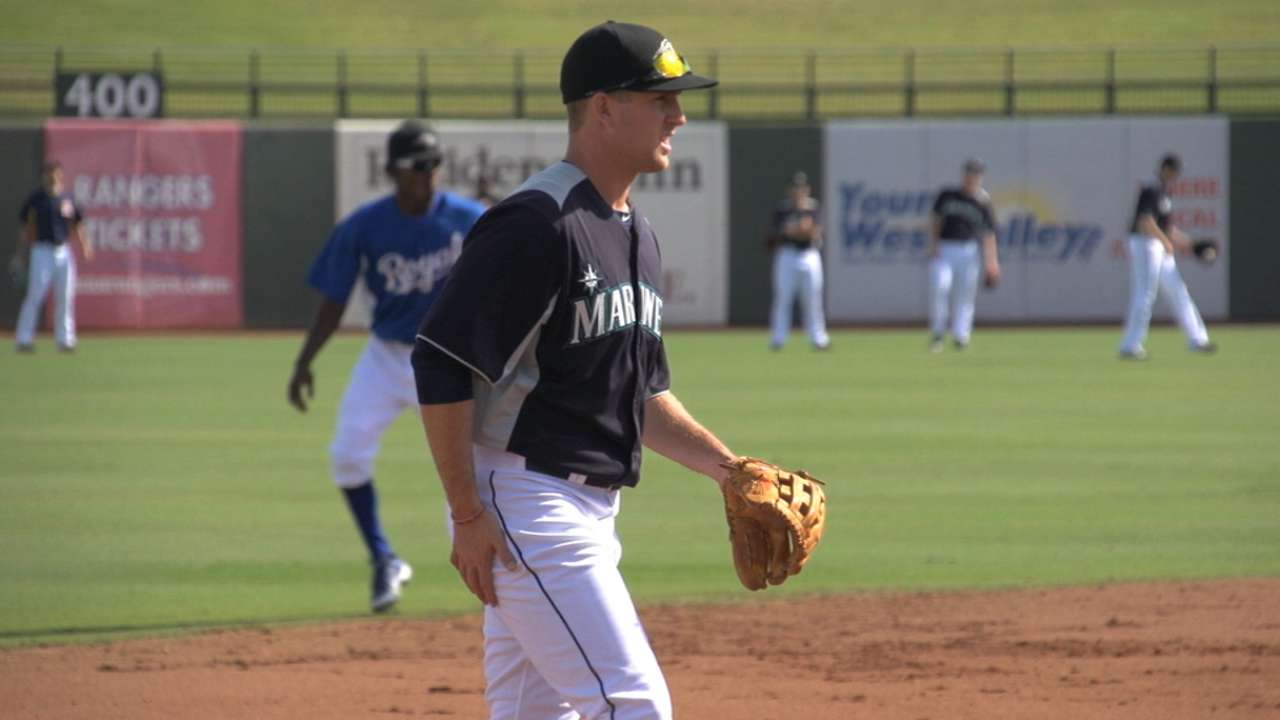 PEORIA, Ariz. -- Finding playing time and fighting for a position on the Major League roster is not going to be an easy challenge for youngsters in the Mariners' camp this Spring Training, given the raised expectations and arrival of additional veteran help to a club with its sights firmly set on contending for a postseason berth in 2015.
But one of the youngsters to keep an eye on is Patrick Kivlehan, an intriguing athlete and rising prospect in the Mariners' system. The former Rutgers football player has needed to make up for lost time after not playing baseball until his senior year of college, but he opened eyes with his productive bat in the Minors the past three years and now will take part in his first big league camp when Seattle's position players report to Peoria next week.
"I'm excited," Kivlehan said. "I was hoping for it after the year I had, to take the next step. That was my goal, to make big league Spring Training. To accomplish that was exciting and I couldn't be more pumped."
The Mariners love Kivlehan's right-handed production as he hit .295 with 32 doubles, nine triples, 20 homers and 103 RBIs in 138 games between Class A Advanced High Desert and Double-A Jackson last season, then led the Arizona Fall League with 22 RBIs while batting .280 with an .861 OPS in 24 games.
That AFL success showed just how far the 25-year-old has come, since he hit just .164 with a .428 OPS in 18 games as an over-matched prospect a year earlier in his AFL debut. Given that kind of improvement in 12 months against some of baseball's premier young talent, the Mariners are eager to see how Kivlehan's learning curve progresses.
"That was definitely important for me, to come back to the Fall League after having a rough one two years ago," he said. "I wanted to prove to everyone who may have doubted me then that I can do this."
The Mariners are trying to figure out now where the 6-foot-2, 210-pounder fits defensively.
"Kivlehan is an interesting scenario," acknowledged general manager Jack Zduriencik. "He's played third, first, left, center and right. He's a good athlete and a really tough kid. The one thing our guys in the Fall League said was he didn't leave any RBIs out here on the bases. He has a knack for driving in runs.
"We'll see," Zduriencik said. "He's come quickly, considering he didn't play three years in college. There's a lot of make-up time there. But he's also a very intense, hard worker that's kind of made up some time. I don't know. We'll find out when he rolls into Spring Training what happens."
The Mariners are listing Kivlehan as an outfielder, but he's ready for anything after playing 72 games at third last season, 39 at first and 22 in the outfield. He played primarily first base during the AFL campaign and says he's grown increasingly comfortable there, but enjoys playing the outfield as well.
"I really don't know, honestly, what it is nowadays," he said when asked what position he considers his own. "But I'll bring my first-base glove, I'll bring my infield glove and my outfield glove and kind of expect to do all of it. They listed me as an outfielder, but I really don't know. Wherever they tell me to go, I'll go play. Really, at this point, I'm comfortable at all three positions, so whatever they need."
Fellow Mariners prospect D.J. Peterson, who played alongside Kivlehan at High Desert, Jackson and in the AFL last year, figures his teammate can handle anything thrown his way.
"He's just a freak," Peterson said. "He hits like Hunter Pence, very unorthodox, but the guy finds the barrel. He plays outfield, first base, third base. If they wanted him to catch, I'd bet the guy could catch. If you wanted to play tennis, he could probably do that, too. He's an unbelievable athlete and just gets the job done."
Greg Johns is a reporter for MLB.com. Follow him on Twitter @GregJohnsMLB as well as his Mariners Musings blog. This story was not subject to the approval of Major League Baseball or its clubs.