Luebke, Johnson continue on road back from surgery
Padres pitchers share similar medical history, but timelines for return differ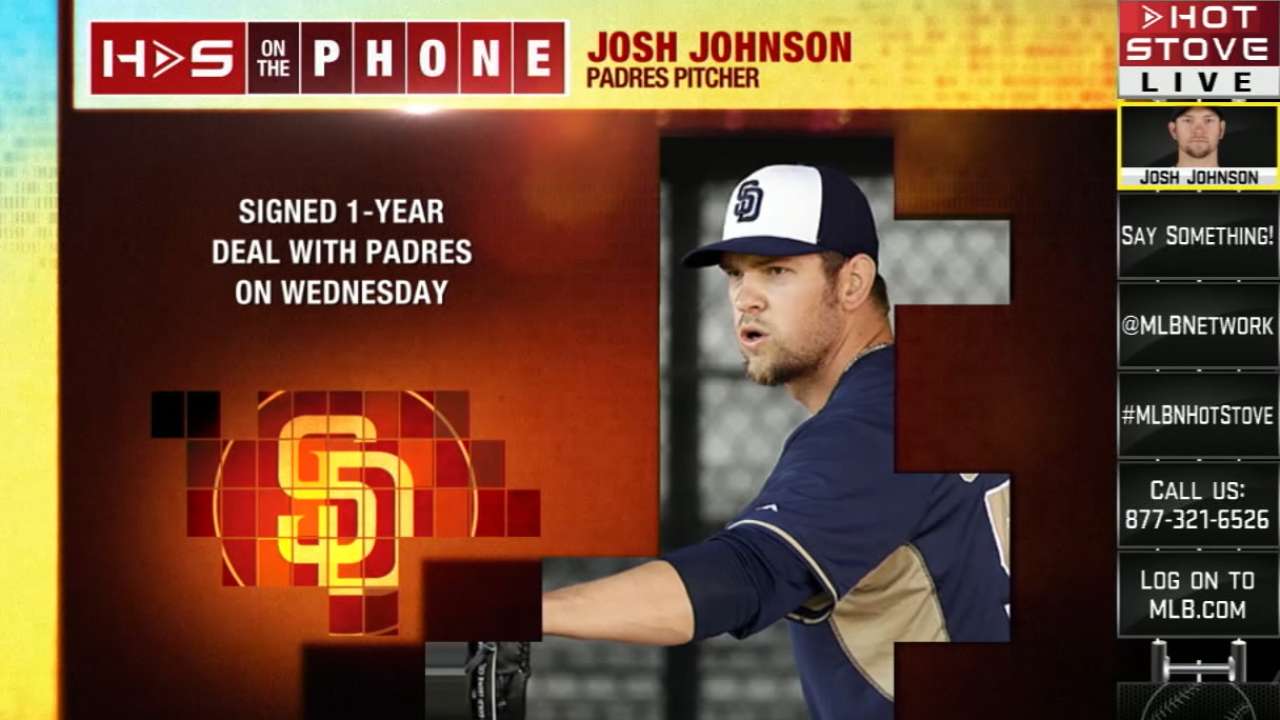 PEORIA, Ariz. -- The Padres have gone to great lengths to build up their pitching depth for the upcoming season and, at some point in 2015, could actually add to that mix should Josh Johnson and Cory Luebke return from Tommy John surgery.
Johnson and Luebke are essentially in the final stages of their rehabilitation period from the elbow surgery each had a year ago -- the second for both. Luebke, a left-hander, had his first Tommy John surgery in 2012. Johnson, a righty, had his first in 2007 while with the Marlins.
Both were in the Padres' clubhouse on Thursday, the day before the first workout of spring for pitchers and catchers. And while both will be able to take part in a lot of drills beginning with Friday's workout, their participation in terms of throwing will differ and will be slower than others.
"Their timelines are different," Padres manager Bud Black said. "J.J. is a little bit ahead of Cory right now with how he feels and how he's throwing. We'll regiment their throwing programs as dictated by their surgeons and the programs they're on.
"But our integration with them is mapped out. We have a schedule for those guys. They're doing fine."
Johnson, who had surgery last April, is throwing twice a week from 180 feet (two sets) and he expects that number to increase to three times a week beginning next week.
"It's going well. The progress has gone well. I'm getting good carry on the ball, which is huge," he said.
Luebke, who had his surgery last February, had a minor scare last month when he felt some soreness in the elbow. He shut down his throwing program for close to three weeks before resuming it on Tuesday, playing catch from 60 feet. He did so again on Thursday.
Luebke said he was looking forward to pulling on a uniform on Friday and taking part in drills, even the most mundane ones.
"Just going into a Spring Training feeling healthy again for the first time in a while is something that I'm looking forward to," he said. "Just doing the little things, fielding balls, just feeling like a baseball player again, will be great."
Luebke may have to remain behind when camp breaks on April 2 and stay for extended spring training before heading out on a Minor League rehab assignment to get innings to build his arm strength.
Johnson, who could potentially be back in the big leagues in May or June after a similar rehab stint, has learned from his first surgery not to look too far into the future -- no matter how tantalizing.
"I don't like to jump too far ahead," Johnson said. "The only thing you can control is what you're doing right now."
Corey Brock is a reporter for MLB.com. Keep track of @FollowThePadres on Twitter. This story was not subject to the approval of Major League Baseball or its clubs.