Hamels' comments on future don't irk Phillies
Amaro Jr., Sandberg say that everyone on the club just wants to win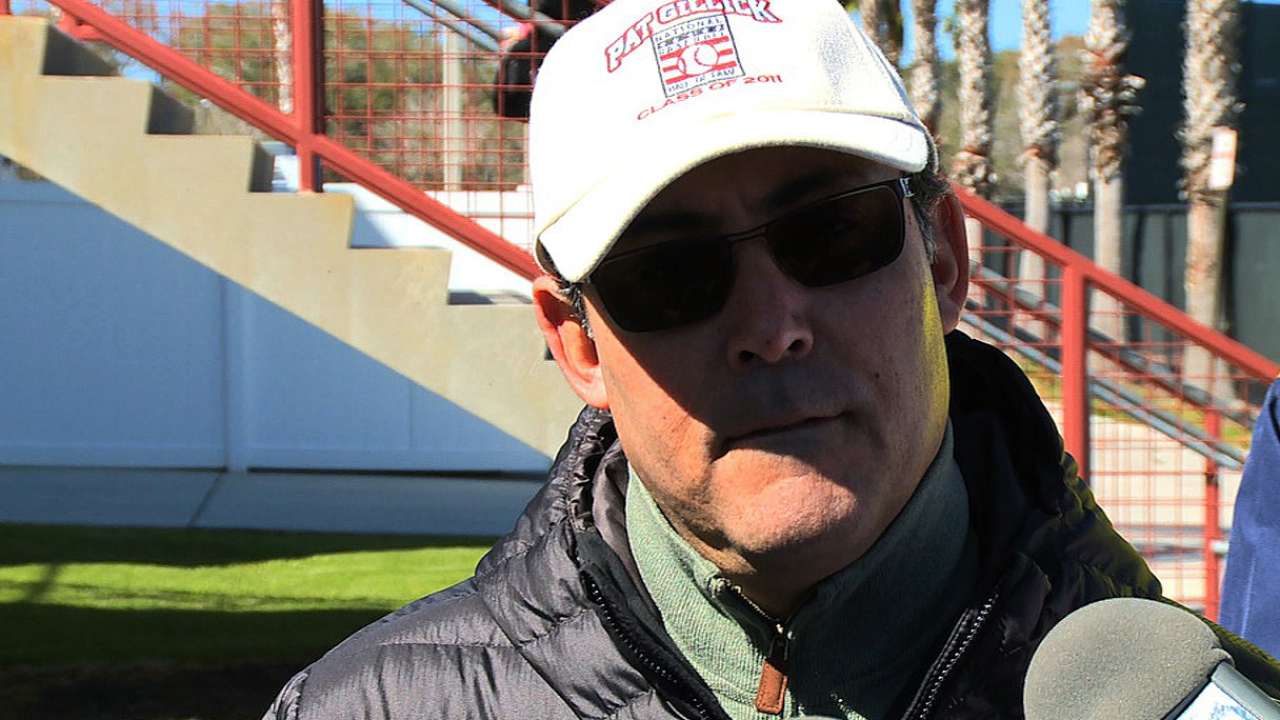 CLEARWATER, Fla. -- Manager Ryne Sandberg said on Wednesday that he thinks the Phillies have a "chance to surprise some people."
But then, Cole Hamels told USA Today that he wants to win and "I know it's not going to happen here."
It sounds like manager and pitcher are not on the same page. But Phillies general manager Ruben Amaro Jr. and Sandberg said on Thursday that they had no problem with Hamels' comments. How could they? The front office has said the organization is rebuilding for the future and the process could take at least a couple of seasons before the team can be a postseason contender.
"Maybe I would have liked for him to have chosen his words a little differently, but it's totally understandable," Amaro said on Thursday. "Cole wants to win. I think everyone is on the same page. We all want to win."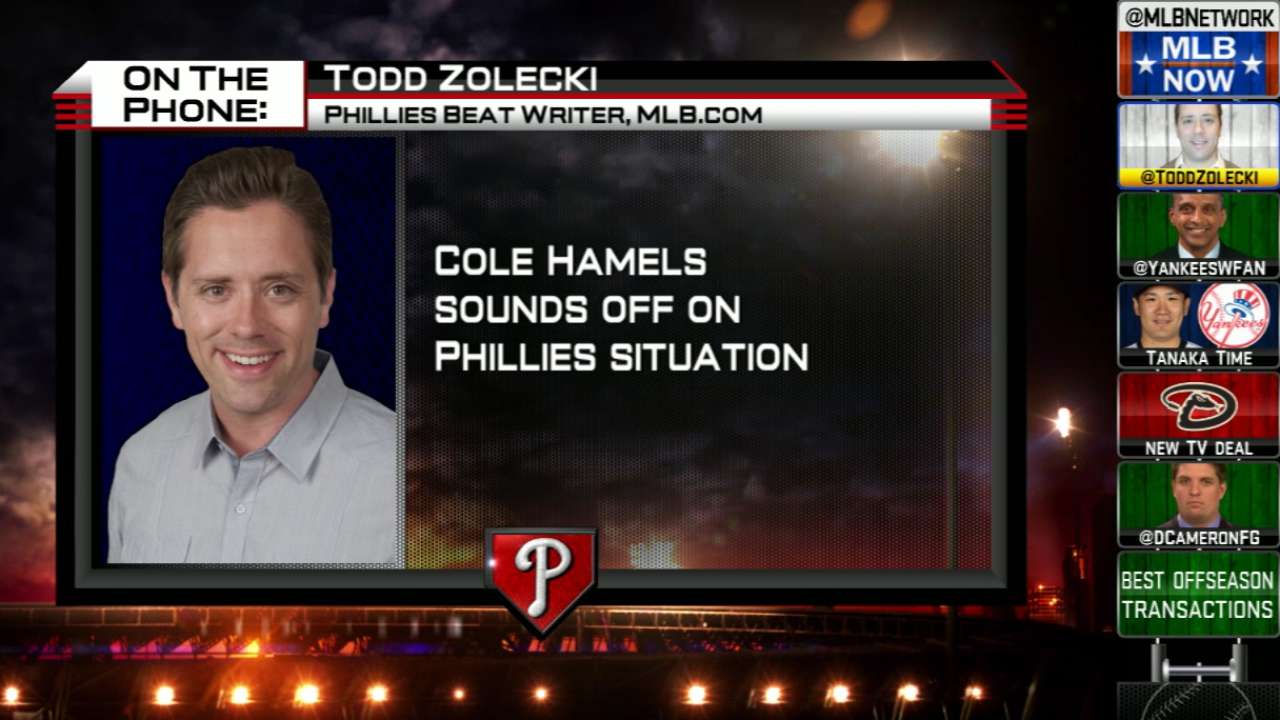 Sandberg said he spoke with Hamels about those words. He said Hamels told him that he made those comments "a while ago and it didn't reflect on his feelings coming into camp. I think it was unfortunate timing and it wasn't a reflection on how he feels coming into camp."
USA Today's Bob Nightengale wrote Wednesday's story. He said he interviewed Hamels for the story on Tuesday.
Perhaps Hamels completely changed his feelings from Tuesday to Thursday, when Phillies pitchers and catchers held their first workout at Carpenter Complex.
Perhaps Hamels simply does not want to ruffle any feathers.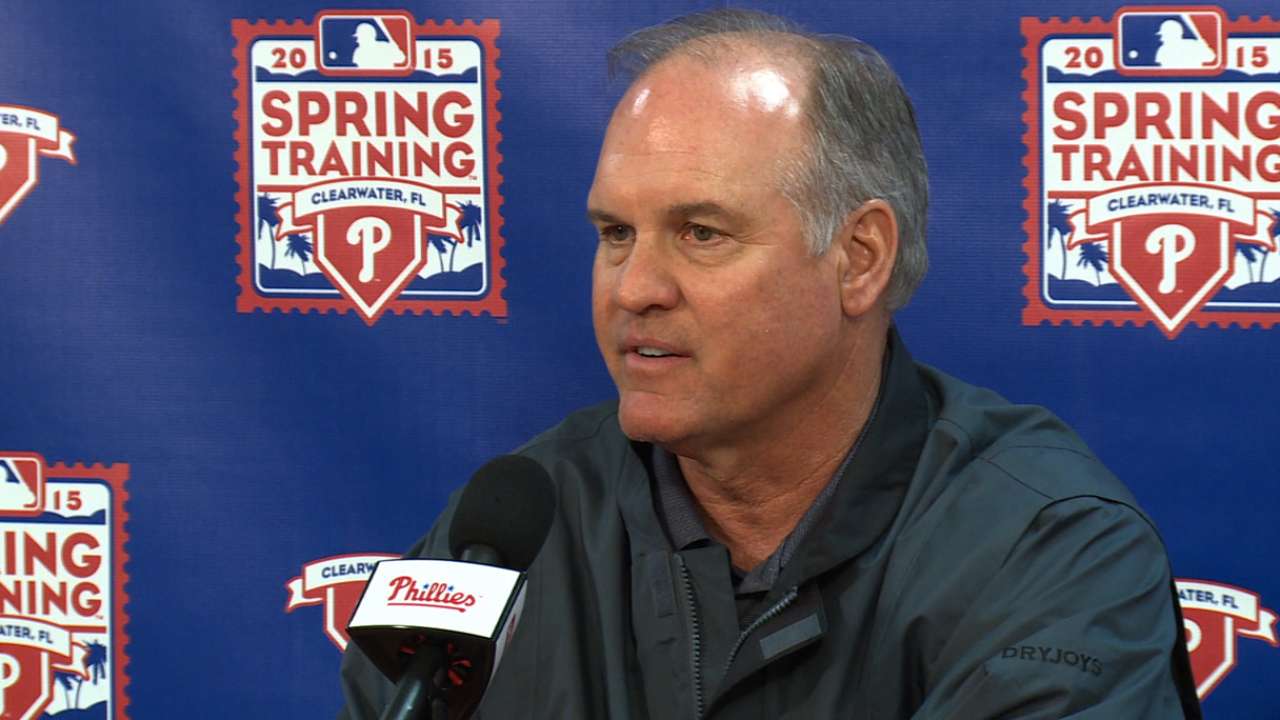 But Hamels has said numerous times that he does not want to spend his prime years on a losing team. He told USA Today his limited no-trade clause would not scuttle a trade to a contender.
"He's one of those guys that sits in the sweet spot for us," Amaro said. "He's going to be a tremendous asset if he stays with us, and if we get to the point where we move him, it's going to be because we get assets back that are going to move us forward. He's in our camp. I fully expect him to pitch on Opening Day for us. I'm glad to have him. He's one of the best pitchers in the game and I'm happy to move forward with him, and get us going back on track."
Amaro said he has talked to veterans like Hamels, Jonathan Papelbon and Cliff Lee since they have arrived in camp. Each player has indicated in the past that they would like to play for a winning team.
"There's a lot of talk about us rebuilding and these [veterans] being disgruntled and all of that stuff," Amaro said. "[But] these guys are all professionals, and they're going to play and pitch, and they're going to do their best to win baseball games for the Phillies, I'm sure of that."
Todd Zolecki is a reporter for MLB.com. This story was not subject to the approval of Major League Baseball or its clubs.