Street, Angels having 'good dialogue' in extension talks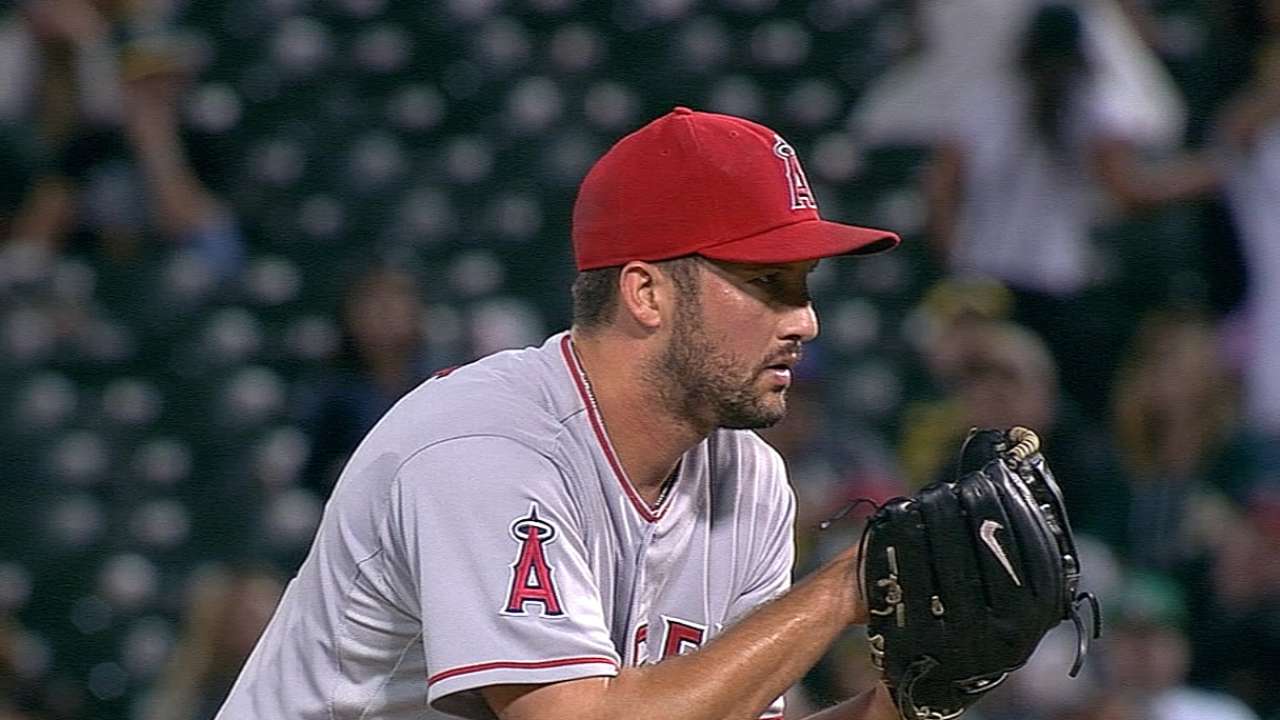 TEMPE, Ariz. -- Huston Street, who serves as his own agent, has been having "on and off" conversations with the Angels about a potential contract extension since December, and the veteran closer said Thursday that both sides are "on the same path."
There is no firm deadline for when an extension has to be agreed upon, Street said, but there's a mutual understanding that they won't let negotiations drag into the regular season if they aren't in the final stages.
The Angels exercised their $7 million club option on Street shortly after the 2014 season, and now the 31-year-old right-hander is slated to go into free agency this coming winter. Street characterized talks as "steady," adding that "both sides want to get something done."
"I think we've got a good dialogue going with both sides now," Street said. "Everybody is trying to be as straight up as they can. If something makes sense, it will get done. I've told them in my heart, I love the Angels, and as a closer, there's no better place to be than on a team that wins. My job needs a winning team for me to matter. And we've obviously got a winning team."
Street is looking for a four-year deal, but one that would probably scrap his 2015 salary and carry him through the 2018 season. The Angels are currently looking at three years. Street believes something between what 29-year-old Andrew Miller signed with the Yankees (four years, $36 million) and what 29-year-old David Robertson got with the White Sox (four years, $46 million) would be "justifiable and fair."
"I want to," Street said of staying with the Angels. "I'm not shy about that."
Street is coming off a career year, posting a 1.37 ERA and saving 41 games. With the A's, Rockies, Padres and Angels since 2005, Street has posted a 2.82 ERA with a 1.03 WHIP and 275 saves. And since 2012, Street leads the Majors with a save percentage of 94.2.
Street has been negotiating his contracts since July 2012, when he initially signed his two-year, $14 million extension with the Padres.
No big deal.
"It's no different than having a family and worrying about one of your kids being sick or your wife being pregnant, which she is now," Street said. "You compartmentalize those things. I've been through a lot of things in my career off the field and still played baseball. You get to the field and it's business, it's baseball; it's like anyone else with a job."
Alden Gonzalez is a reporter for MLB.com. Read his blog, Gonzo and "The Show", and follow him on Twitter @Alden_Gonzalez. This story was not subject to the approval of Major League Baseball or its clubs.