Lighter Sanchez ready to win back catcher's spot
Giants' backup backstop sustained pair of concussions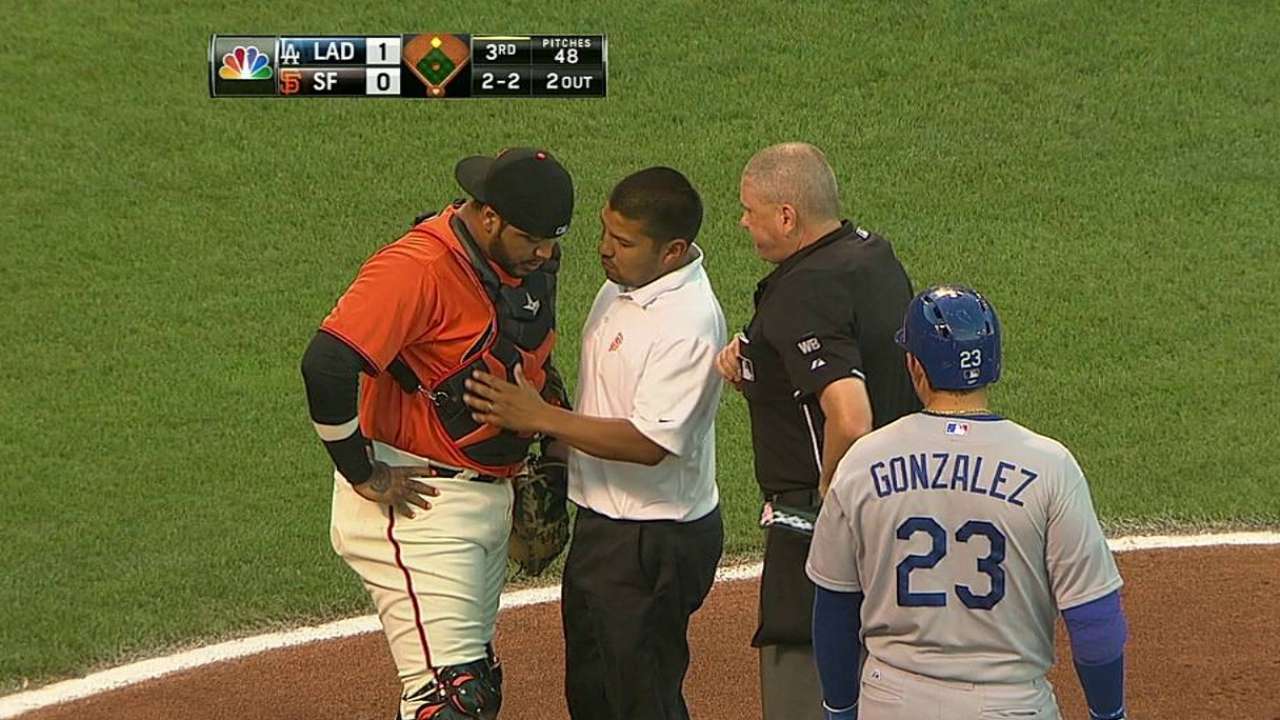 SCOTTSDALE, Ariz. -- The pleasure that Hector Sanchez derives from catching exceeds the pain it has caused him.
Such is the paradox of playing behind the plate, where catchers are susceptible to foul tips that can cause concussions. Sanchez endured not one but two concussions last year, limiting him to 66 games with the Giants and seven at Triple-A. Meanwhile, Andrew Susac wrested the backup catcher's job from Sanchez.
It was a frustrating year for the 25-year-old Venezuelan, who nevertheless reported to camp Wednesday bursting with enthusiasm but not at the waist, having lost an undisclosed, but significant, amount of weight.
"I feel really good," Sanchez said. "One hundred percent. 200."
Sanchez played winter ball in Venezuela, but didn't catch. He'll resume that chore Thursday, and he's looking forward to it, despite the hardship it has caused him.
"I don't know what I can say. I love it," Sanchez said. "It's my position. It's the only way I know to play baseball."
Sanchez offered praise for Susac, who might put him on the trading block.
"He did a really good job and he's a really good player," Sanchez said. "I just have to keep working hard and [club management] will make the decision. There's nothing I can do. It's out of my hands."
• Eli Whiteside, a reserve catcher with the Giants from 2009-12, has rejoined the club as a bullpen catcher. Whiteside replaces Bill Hayes, who was elevated to first-base coach.
"We're excited. He's a great addition to the staff," manager Bruce Bochy said Wednesday of Whiteside, who hit .214 with 10 home runs in 199 appearances as a Giant.
Whiteside, 35, divided the 2014 season between Triple-A and the Majors in the Cubs organization.
Said Bochy, "He's a guy who just finished playing. He'll be able to communicate well with the guys and he's very well-respected."
• Tim Flannery's departure left the Giants without a bunting guru. Bochy named several potential replacements: third-base coach Roberto Kelly, Minor League hitting instructor Steve Decker and bullpen coach Mark Gardner.
Kelly was a versatile hitter during a 14-year Major League career in which he hit .290. Decker's steeped in the art of instruction. Gardner, a former pitcher, was adept with the bat, recording eight sacrifice bunts in three different seasons.
• Though position players aren't due to report to camp until Sunday, many of them already have begun working out informally, including right fielder Hunter Pence and the projected starting infield of first baseman Brandon Belt, second baseman Joe Panik, shortstop Brandon Crawford and third baseman Casey McGehee
Chris Haft is a reporter for MLB.com. Read his blog, Haft-Baked Ideas, and follow him on Twitter at @sfgiantsbeat. This story was not subject to the approval of Major League Baseball or its clubs.