MLB.com Columnist
Bill Ladson
Williams welcomes challenge of returning to postseason
Nats manager addresses topics, including bolstering of roster, in Q&A with MLB.com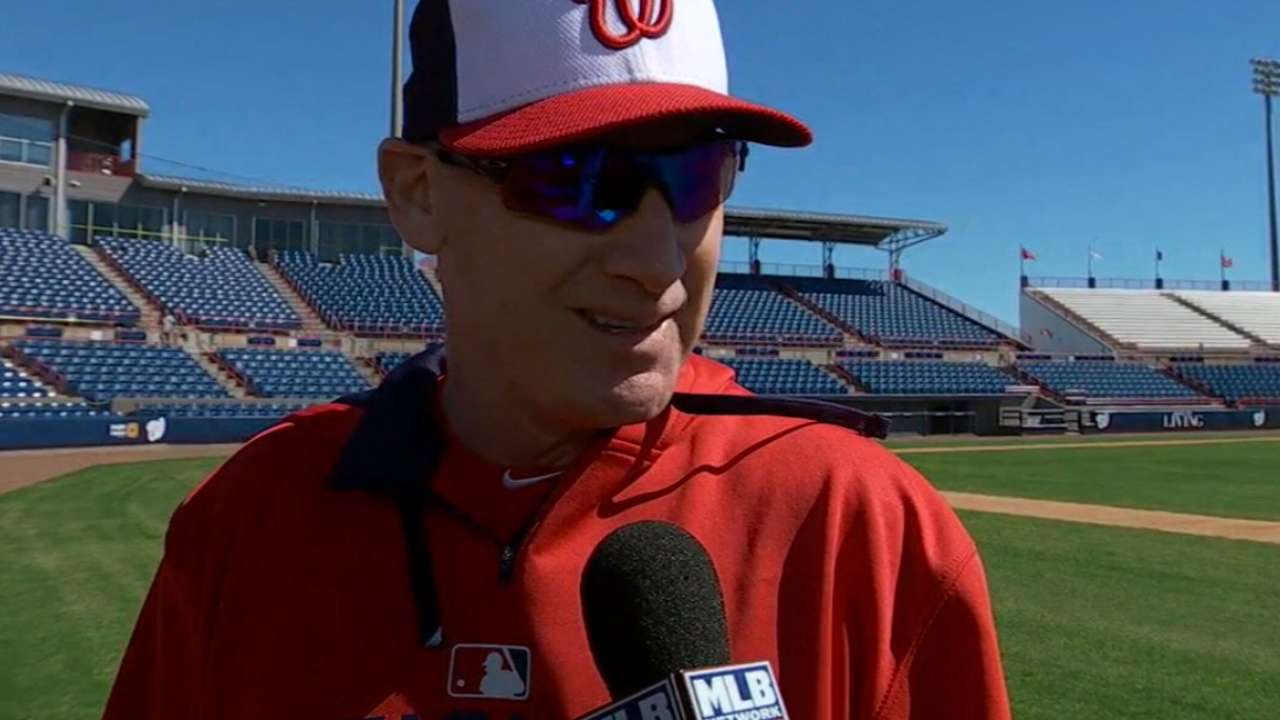 In his first year as manager, Matt Williams guided the Nationals to the National League East title, but they were eliminated in the NL Division Series against the Giants last October.
This year, the Nats have the talent to go as far as the World Series. It doesn't hurt that they signed right-hander Max Scherzer to a long-term deal.
MLB.com caught up with Williams on Wednesday to talk about the Nationals and their chances of reaching the postseason in back-to-back seasons.
MLB.com: Coming into camp, what do you like about your team?
Matt Williams: It's the overall feeling. [General manager] Mike Rizzo made some important moves for us. Max Scherzer certainly. We have some guys who are non-roster invitees and have loads of experience. There is going to be some good competition in that regard. There will be a lot of work this spring. There are guys in some new positions and that will take a lot of effort, a lot of attention like Zim [first baseman Ryan Zimmerman] and Yuni [second baseman Yunel Escobar]. We have to find out about Jayson Werth's progression throughout the spring and see where he is at. I think the overall mood is that we have a good team, we have to work hard, do things right. We have a chance to compete every day, which is great.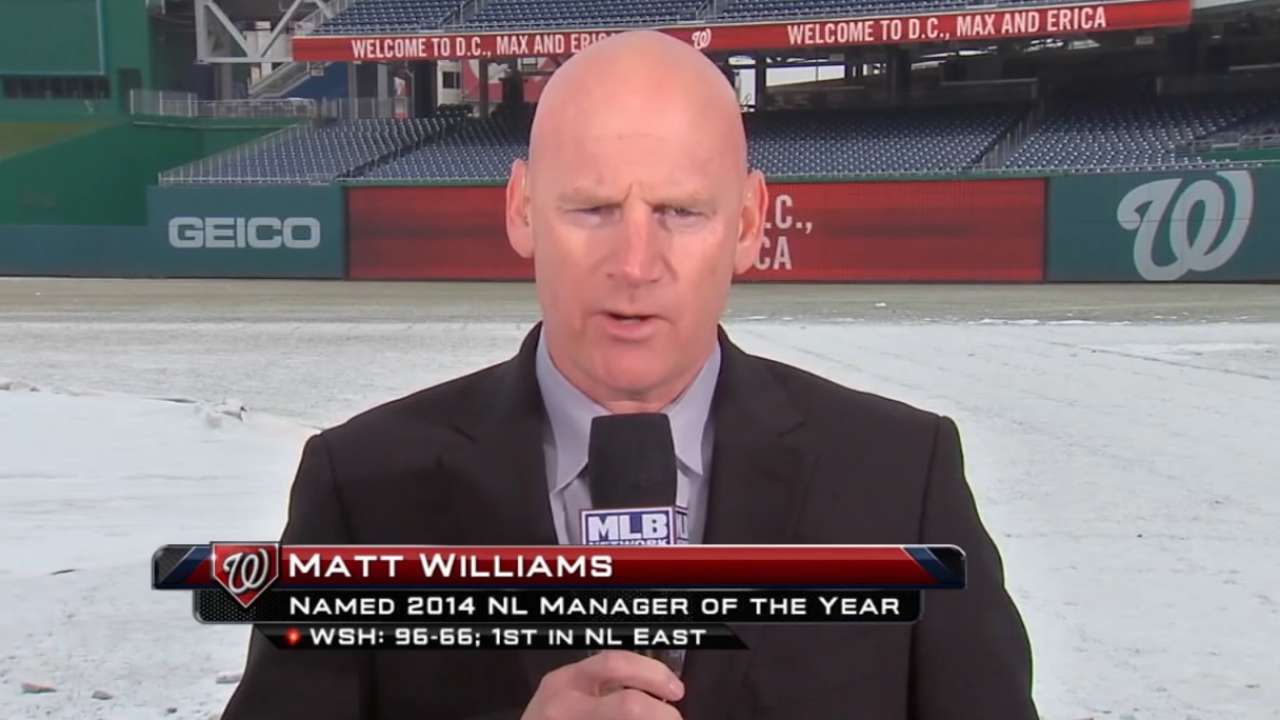 MLB.com: You said you would like to see more consistency with the offense. Is that still the case?
Williams: Sure. We know offense in general is down throughout Major League Baseball. It's not so much batting average, on-base percentage for me. We want to pick up the easy RBI. We want to move the guy over so we can pick up that RBI. That's where I think we need to concentrate on -- making sure if that guy is on third, we want to get him in. It's like everybody else. But we have to concentrate on doing a good job of that.
MLB.com: Is it safe to say the front office has given you a better team than last year?
Williams: Yes. It's a different look to this year's team. We have Max, but we also lost Clip [Tyler Clippard], Sori [Rafael Soriano]. From a starting pitching perspective, I don't think anybody could ask for more. We have Casey [Janssen] in the back of the bullpen with experience. It's a little different look, but we have the ability through the course of the game to compete every day. That's all we ask for.
MLB.com: How huge is it to have a healthy Bryce Harper, a healthy Zimmerman and a healthy Wilson Ramos?
Williams: It's good. They were healthy coming into last year. During the course of the season, you never know. As we saw from last year, strange things could happen. But it's part of the game, and you deal with it and move on. We would love to have those guys healthy all year for us and for them. It's hard when you get hurt as a player and you spend the rest of the season trying to make up, and it never works the way you want it to work. Everybody is coming in feeling good. Everybody has been working hard this winter. I know they are itching to get back here and start. We are excited about it.
MLB.com: For the first time, you have some distractions with Jordan Zimmermann and Ian Desmond becoming free agents after the 2015 season. How will you prevent those distractions from affecting this team?
Williams: We've talked to both of them. They are professional guys. They know they can't dictate -- one way or the other -- what's going to happen this year. What they can do is go out and play. Both of them are extremely prideful. That -- in itself -- will not allow them to be distracted. Therefore, we will not be. They love to play. They know there is opportunity out there for them after this year -- whether it's with us or anybody else. That doesn't take away having desire to win and give us another chance to get back to the playoffs and see where we could go with that.
MLB.com: You did a great job last year. Do you feel pressure with the team you currently have?
Williams: Yeah, you have to. You must in order to do a good job. I said it last year when I was given the job: "Who wouldn't want this opportunity, for crying out loud? Who wouldn't want to be the manager of this team?" I can tell you there will be guys lining up. So I appreciate that, I understand that. There's pressure that comes along with that. But that's the way it should be. It should be that way because we have a great group of guys here. We have an opportunity to go out and win. It happened for us last year, but we must do the things that are required to get back to where we got to last year. The process doesn't change. The personnel, there are some differences. But the game is always the same. You have to do things right. Some of the things we did last year were great. The baserunning was fantastic, catching the ball was fantastic. The pitching was at the top of the league. We want to continue that. We want to get better at things that we can make improvements on. That's the focus. We are excited.
MLB.com: This is the last year of your contract, and I know you have two club options. Do you think they will be picked up?
Williams: Mike and I are talking about it. I feel good about it. I feel good about where the Nationals are at. I feel good about our prospects this year. Those are the things I'm concentrating on. My situation is not anywhere in the focus of what we are doing right now. We are ready to play. That stuff will work itself out.
Bill Ladson is a reporter for MLB.com and writes an MLBlog, All Nats All the Time. He also can be found on Twitter @WashingNats. This story was not subject to the approval of Major League Baseball or its clubs.