MLB.com Columnist
Phil Rogers
Ricketts' commitment to Epstein changed everything for Cubs
Belief in World Series-winning executive allowing team to reap benefits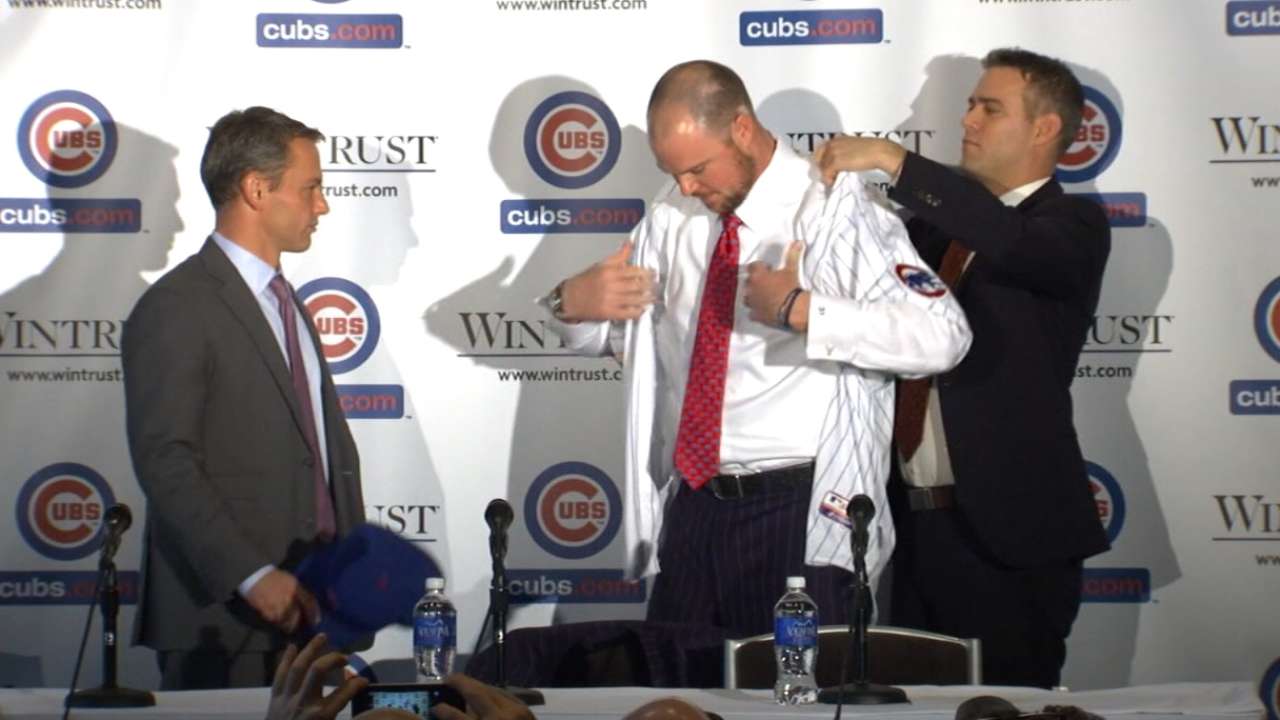 MESA, Ariz. -- Three years ago, when Curt Schilling offered his endorsement of Theo Epstein's potential impact on the Cubs, the words practically screamed off the page.
"If he spends the same amount of time [in Chicago] he spent in Boston, you'll have a World Series," said Schilling, a key piece for the Red Sox's World Series championship teams in 2004 and '07. "I don't question that for a second."
Having orchestrated Boston's first World Series parade in 86 years, Epstein came to Chicago in search of baseball's Holy Grail -- otherwise known as the Cubs' first championship since 1908.
A stroke of rare, un-Cubs-like timing put Epstein in position to talk to owner Tom Ricketts with one year still left on his deal with the Red Sox. Ricketts knew he'd have to pay heavily to get a deal -- not just signing Epstein but giving him unprecedented resources to build baseball's deepest front office -- and committing himself to the relationship was the smartest move he's made.
Look at the Cubs now.
There are two seasons left on Epstein's five-year, $20 million deal, and he has largely succeeded on his preliminary goal, building the pipeline of young talent that in Boston he identified as "a player development machine."
The heavy lifting lies ahead for him alongside his carefully selected manager (Joe Maddon) and front man (Jon Lester). But the organization is to a point where nobody should be surprised if Ricketts rewards Epstein and his top assistants -- general manager Jed Hoyer, senior VP of player development and amateur scouting director Jason McLeod and assistant GMs Randy Bush and Shiraz Rehman -- with contract extensions at some point in 2015.
Looking toward the future, it's going to be interesting to see if Ricketts' commitment to following the tenets laid down by men like Branch Rickey and Whitey Herzog remains as strong when the team at Wrigley Field becomes a consistent 90-game winner. Epstein saw other clubs hire away some of his top assistants, including Hoyer, McLeod and Josh Byrnes, while he was in Boston, but he received a huge endorsement last summer when McLeod pulled his name out of the GM search that ultimately led the Padres to A.J. Preller.
McLeod is from San Diego, and he's almost always found near the top of lists ranking future general managers. But he discovered he was too invested to leave Chicago, while the Cubs remain a work in progress.
"I just really believe in the vision and the direction," McLeod said at the time. "I really want to be here when we win."
Or, using Lester's choice of words in conversations with Epstein, when Chicago fans "burn this city down again" after the Cubs win a World Series.
When Epstein met Chicago reporters for the first time in October 2011, three turbulent weeks after the Red Sox had started a stunning reboot by dismissing Terry Francona, Epstein said he would "bring in some of the best and brightest from outside the organization" but wouldn't make a clean sweep of the front office.
Epstein has since made many difficult personnel moves, but he has held onto Bush and Tim Wilken, who had been the scouting director under Epstein's predecessor, Jim Hendry. Senior scout Gary Hughes, a trusted associate of Hendry's, left to join the Red Sox, but Hughes' son, Sam Hughes, has climbed through the ranks to become a national crosschecker.
This was the type of organization building Ricketts expected when he hired Epstein, a move he has said felt right "after 10 or 15 minutes of conversation." For his part, Epstein has said he first was intrigued by the possibility of working for Ricketts when he saw Wilken's Draft in 2011.
Traditionally, the Cubs had handicapped themselves with low spending on amateurs, but Ricketts opened the purse strings for the last uncapped Draft. After taking Javier Baez in the first round and Florida high school slugger Dan Vogelbach in the second round, the Cubs targeted some tough-to-sign guys in later rounds, including pitcher Dillon Maples and high school outfielder Shawon Dunston Jr. Wilken coveted another outfielder, Bradley Zimmer, but he couldn't buy him out of his commitment to the University of San Francisco; he was the 21st overall pick in 2014 to Cleveland.
"As the Cubs' Draft went on, we were sitting around in [the Red Sox] Draft room, and we could tell what they were doing," Epstein said. "We said, 'Hey, they get it. They're finally getting it.' ... That got my attention, the attention of a lot of other people in the game. ... It was a significant moment."
In his nine years in Boston, the Red Sox spent $1.2 billion on payroll, an average of $133.4 million. They ranked in the top four in the Majors every year and returned an average of 93 wins, two fewer than the annual goal set by Epstein.
His first three Opening Day payrolls in Chicago totaled $305.8 million, down from $413.2 million. While finishing last in the NL Central every year behind managers Dale Sveum and Rick Renteria, the Cubs opened a state-of-the-art Spring Training facility in Arizona and a new complex in the Dominican Republic.
They also took a farm system that was ranked in the middle of the pack and turned it into the best in baseball. They did this despite the spending limits that were put in place in 2012 and changes in the compensation system for teams losing free agents, which closed a loophole that Epstein had exploited while with the Red Sox.
Everyone knows about the Cubs' high-level prospects -- the guys like Kris Bryant, Addison Russell, Jorge Soler, Kyle Schwarber, C.J. Edwards and Albert Almora (all of whom are ranked in the top 60 by MLB.com). But for the first time in the organization's history, they have built up deep layers of talent in the Minors.
It was heavy spending on international amateurs in 2013 that set the table for the acquisition of All-Star catcher Miguel Montero in December. That trade -- one in which the key piece was 20-year-old Dominican right-hander Jeferson Mejia, who stands at 6-7 and could develop into a front-line starter -- illustrates how the Cubs have positioned themselves to make future deals.
In one of Epstein's early moves, he bypassed Cubs icon Ryne Sandberg to hire Sveum as his manager, a move which prompted Sandberg to jump to the Phillies' organization. It was early proof of what Red Sox owner John Henry had said about Epstein, that he's "not afraid to be ruthless."
There was an awkwardness to Epstein dismissing Sveum two seasons into a three-year deal and allowing Renteria to work only one season in his three-year deal. But Epstein wasn't going to let Maddon get away once Andrew Friedman's jump from Tampa Bay to the Dodgers had allowed Maddon to declare himself a free agent, even though his contract ran through 2015.
Maddon has said that Epstein's get-it-done offer of $25 million for five years made leaving the Rays an easy decision. He's picked the right time to jump into the quest for the Grail.
"Why would you not want to accept this challenge?" Maddon said. "In this city, in that ballpark, under these circumstances, with this talent, it's an extraordinary moment. Not just in Cub history but in baseball, today's game, this confluence of all these items coming together at the same time."
At 60, Maddon is 19 years older than Epstein. But he insists "60 is the new 40," and the two seem perfectly suited for each other.
If Epstein could get back one game from his time in Boston, it would be Game 7 of the 2008 AL Championship Series. Maddon's Rays beat Lester, 3-1, at Tropicana Field, with rookie David Price working around his leadoff walk in the ninth to get the save.
During a six-year run that began that season, Maddon's teams won 91.7 games per year, with an average Opening Day payroll of $57.9 million. They were second to the Yankees in victories while ranking 28th in spending, ahead of only the Pirates and Padres.
Nothing guarantees success, of course. Not a president of baseball operations with two World Series rings. Not a manager who took nothing and turned it into one of the most efficient rosters in the Majors.
But Ricketts couldn't have made smarter investments than spending heavily to get Epstein, then doubling down on Maddon. The odds have swung to the Cubs' side of Wrigley Field, and figure to stay there as long as Ricketts keeps the gang together.
Phil Rogers is a columnist for MLB.com. This story was not subject to the approval of Major League Baseball or its clubs.