Inbox: What are the Twins' plans for Escobar?
Beat reporter Rhett Bollinger fields fans' questions
MINNEAPOLIS -- Spring Training is nearly here, as Twins pitchers and catchers are set to report to the newly renovated CenturyLink Sports Complex in Fort Myers, Fla. on Sunday.
It was a busy offseason for the Twins, who saw Hall of Famer Paul Molitor named manager and fill out the rest of his coaching staff. The Twins also added Ervin Santana, Torii Hunter and Tim Stauffer via free agency.
But as always, there are plenty of questions that need to be resolved this spring and with that in mind, here's the final Twins Inbox of the offseason:
Submit a question for the Inbox.
Can you provide some insight into the lack of discussion by any news outlet on Eduardo Escobar ? He had a great 2014 and seems to be an afterthought. Wouldn't he be an attractive trade candidate based on club control and his offense/defense?
-- Tim B., Pacifica, Calif.
The upcoming shortstop battle between Escobar and Danny Santana has been well-documented heading into Spring Training and figures to be one of the key things to watch this spring. But Santana -- given his breakout rookie season -- figures to be the heavy favorite to start at his natural shortstop position after moving from center field.
Escobar, 26, had an impressive year in 2014, hitting .275 with 35 doubles while providing steady defense, but looks like he is headed to a utility role. Escobar would be an attractive trade candidate, but it doesn't appear the Twins are ready to go that route just yet. They like having depth up the middle and Escobar provides that as a quality middle infielder.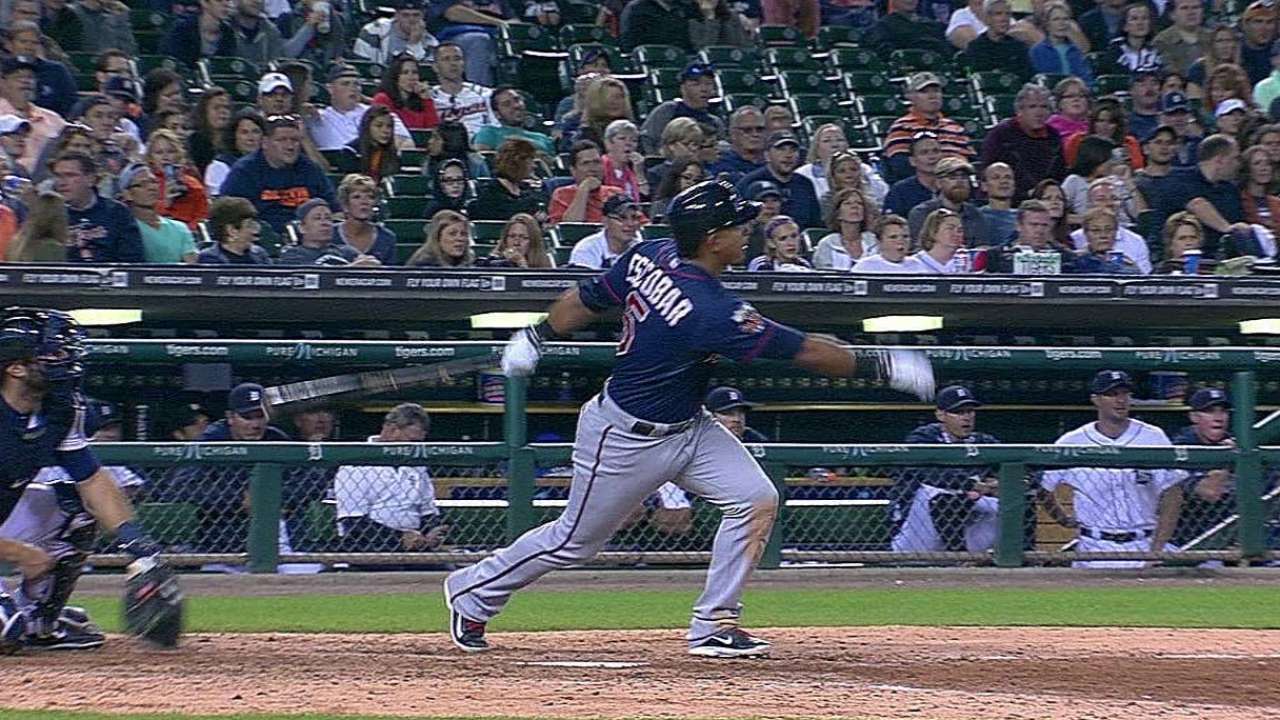 Will the Twins ever move Joe Mauer, who continues to prove he is not the hitter he used to be, down in the order?
-- Matthew F., Richfield, Minn.
While Mauer obviously had a down year by his standards, it's easy to forget how productive he still was just two seasons ago before he suffered a concussion while catching. Mauer was an All-Star in 2013 and hit .324/.404/.476 in 113 games before the concussion, which is right in line with his career slash line of .319/.401/.459.
Mauer, who turns 32 on April 19, also no longer has to deal with the rigors of catching for a second straight year, so the Twins believe he'll bounce back offensively this season. Any talk about moving him down in the order is way too premature at this point. And for those asking about a potential trade, that's not happening either for a multitude of reasons, including his no-trade clause.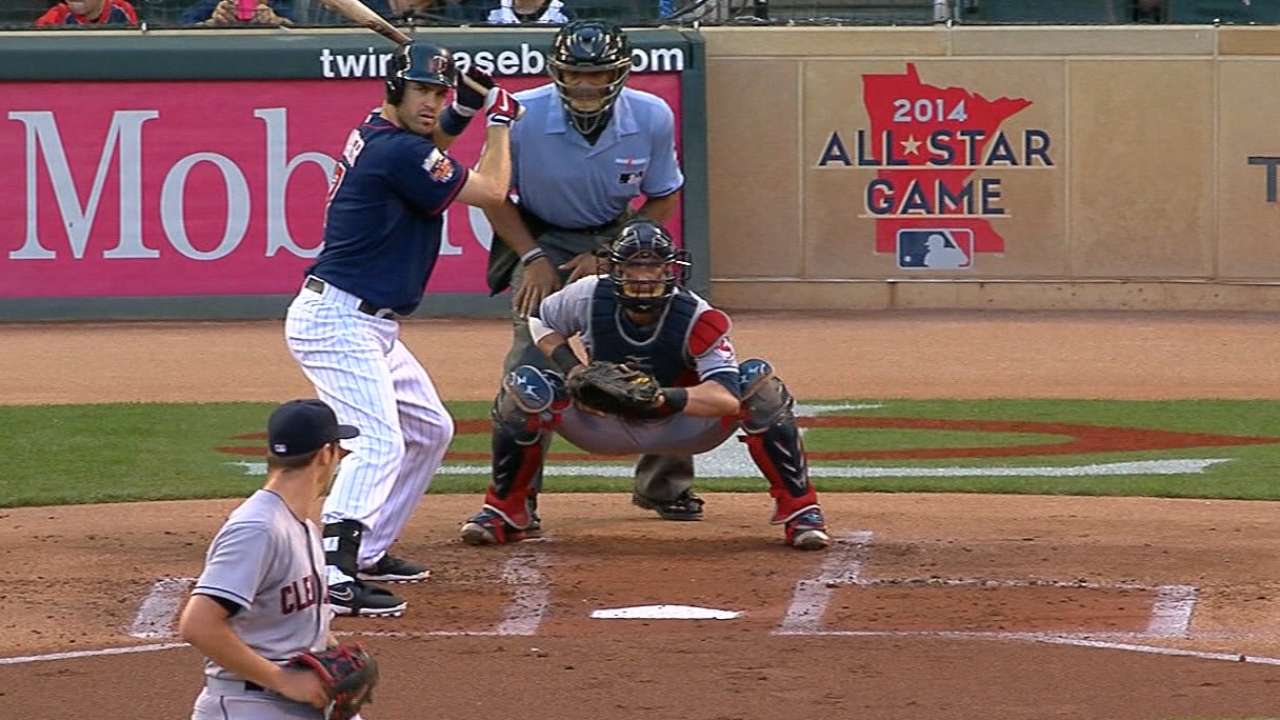 Do you see Blaine Boyer making the big league roster after having a productive 2014 in San Diego?
-- Jeremy L., Omaha, Neb.
Boyer is a non-roster invitee to Spring Training, but he certainly has a shot to make the bullpen. The 33-year-old posted a 3.57 ERA with 29 strikeouts and eight walks in 40 1/3 innings with the Padres last season, his first year in the big leagues since 2011. The right-hander will get his chance this spring, but not being on the roster might hinder him.
Who will most likely be odd man out between Jordan Schafer, Eddie Rosario and Aaron Hicks for center field and fourth outfielder?
-- Everett J., Stillwater, Okla
At this point, Hicks is the favorite to be the starting center fielder with Schafer as the fourth outfielder but both could be used in a platoon-like role, with Hicks occasionally sitting against right-handers in favor of the left-handed hitting Schafer. Shane Robinson, a non-roster invitee, will also be in that mix.
Rosario, a former Top 100 prospect by MLB.com, had a nice showing in the Arizona Fall League, but struggled at Double-A last season and is likely to start the year at Double-A Chattanooga.
What's the story on Jason Wheeler? He's a big lefty that made it from Class-A Advanced up to Triple-A last year for a start. Nothing is ever mentioned about him, though. With our shortage of lefties, is there any chance he makes it up this year as a starter if Tommy Milone struggles again in 2015?
-- Rob S., St. Cloud, Minn.
Wheeler tends to get overlooked by the fans and media, but the Twins like what they have in him and added him to the 40-man roster this offseason. Wheeler, a 6-foot-6 lefty, posted a 2.68 ERA across three levels last year, including a 2.80 ERA in 12 starts at Double-A.
He doesn't have plus-stuff, however, striking out just 115 batters in 158 innings. But he is durable, as he led Twins Minor Leaguers in innings last year and has made at least 26 starts in each of the last three years. So he's not flashy, but he could be on Minnesota's radar this season now that he's on the 40-man roster.
Rhett Bollinger is a reporter for MLB.com. Read his blog, Bollinger Beat, and follow him on Twitter @RhettBollinger. This story was not subject to the approval of Major League Baseball or its clubs.