Kang hopes to succeed for Bucs, Korean baseball
Infielder could help former league develop into international pipeline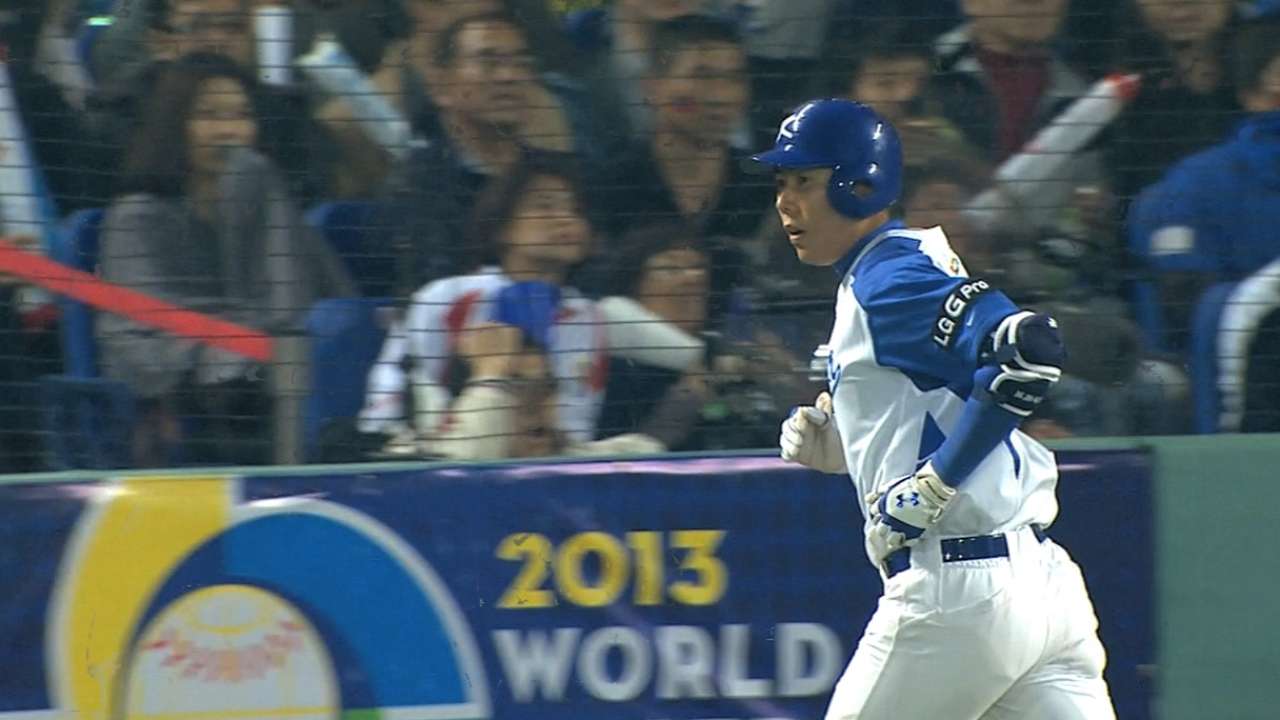 BRADENTON, Fla. -- The Pirates will spend most of this spring trying to figure out exactly what they have in Jung Ho Kang. Pirates fans likely will do the same, watching their new infielder closely throughout Spring Training.
But nobody is more invested in Kang's transition from the Korean Baseball Organization to Major League Baseball than Kang himself -- not just for his sake, but to set a precedent for others to make the same leap.
Kang became the first position player to jump from KBO to MLB this offseason when he signed a four-year, $11 million deal with the Pirates. If he's successful, he hopes his former league will develop into another international pipeline for big league talent.
"I feel a little responsibility and a little bit of pressure, but I want to do well so that I can probably open up the market for other position players to come along here," Kang said through interpreter Jae Han. "I think that there's a few, maybe a lot [who can], but it all kind of depends on me, how I do and how I adjust to here.
"If I perform well, then there's a lot of players who might have a chance to come over here as well."
Though position players aren't required to report to Spring Training until Monday, Kang arrived at Pirate City last week. He's working out, taking batting practice and getting to know some of his teammates.
The language barrier is the most obvious difficulty facing Kang -- Han sat beside him at his locker Wednesday morning -- but his teammates have been doing their best to work around it.
"They're trying to use the easy words, so everything's good," Kang said, laughing. "I can talk with them."
Kang raised some eyebrows before coming to America when he reportedly said, "If I get an opportunity to play consistently, I think I can play better [than shortstop Jordy Mercer]," essentially stating his intent to win the job in camp.
Kang clarified those remarks Wednesday, saying he's most comfortable at shortstop but is willing to do anything the Pirates ask of him.
"That was a little bit of a misinterpretation. I don't want to steal his position. It's all about competition," Kang said. "I want to have a friendly competition with all of the players and work along with all of them -- like a synergy.
"It's not like I'm stealing it, but if I get a chance, I would like to play shortstop. If I get another opportunity at another position, I'm open to playing another position."
But that's a matter for another day. For now, Kang is just getting used to his new surroundings at Pirate City.
"I'm having a lot of fun," he said. "I'm enjoying it."
Adam Berry is a reporter for MLB.com. Follow him on Twitter at @adamdberry. This story was not subject to the approval of Major League Baseball or its clubs.