Decision expected today in Rosario's arbitration case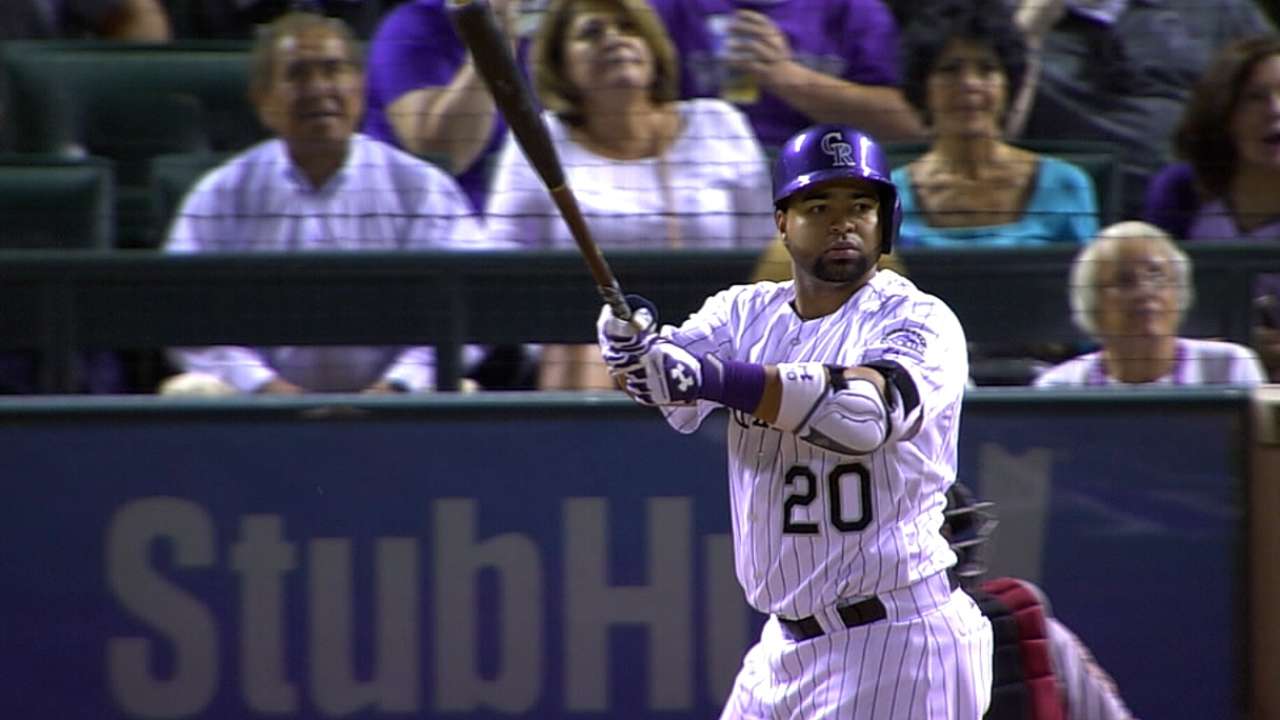 SCOTTSDALE, Ariz. -- The Rockies and Wilin Rosario are expected to receive a ruling today on their arbitration case to determine the catcher's 2015 salary, according to The Associated Press.
Rosario, who turns 26 on Feb. 23, batted .257 with 13 home runs and 54 RBIs last season and batted .291 with 21 homers and 79 RBIs in 2013. During Tuesday's hearing, Rosario requested $3.3 million, while the team stated its case for a $2.8 million salary. With the sides unable to come to a compromise, a three-judge panel will pick one of the figures for Rosario's 2015 salary.
Teams have won five of the eight arbitration cases that have been decided so far this offseason. According to the AP, six cases are scheduled for this week, the largest number of hearings since 2001, when teams went 8-6 against players.
Rosario's case is just the fourth arbitration case to go to a hearing in Rockies history. Pitcher Dennys Reyes won his case in 2002, and the Rockies won cases against pitcher Sun-Woo Kim in '06 and pitcher Brian Fuentes in '08.
The Rockies have acquired Nick Hundley to be their No. 1 catcher after going with Rosario for the last three seasons. However, the club has penciled in Rosario to catch and play occasionally at first base -- and possibly the outfield -- in an attempt to get his bat in the lineup against left-handed pitching.
The Rockies, however, have a logjam at the position. Michael McKenry is coming off a career-best .315 batting average in 57 games and received an increased share of playing time last season while Rosario dealt with a left hand injury and a lengthy absence because of the flu.
The Rockies could revisit trade possibilities before or during Spring Training, swapping the catching surplus to fill another need. The Rockies listened to offers for Rosario during the winter but found none to their liking.
The Rockies' commitments to 17 signed players will be $95.9 million or $95.4 million, depending on Rosario's arbitration decision. Last year's $93.581 million Opening Day payroll is a club record. There are still eight spots, with most of those slots going to low-service-time players who will make between $500,000 and $502,000.
Unless the Rockies rid themselves of a large salary before the season begins, the payroll could eclipse $100 million if some of the veteran non-roster players make the squad. Reliever John Axford, for example, would get a $2.6 million salary for breaking camp with the big league club.
For a National League West comparison, although the Padres made a major splash with a flurry of trades and the signing of free-agent right-handed pitcher James Shields, their 2015 commitment to 19 signed players is $93.643 million -- close to what the Rockies are paying their 17 signed players. One reason the teams are close, however, is the Dodgers are paying all but $3.25 million of outfielder Matt Kemp's $21.25 million for 2015. Responsibilities shift next year, with the Padres paying $18.25 million of Kemp's $21.75 million salary.
Thomas Harding is a reporter for MLB.com. Read his blog, Hardball in the Rockies, follow him on Twitter @harding_at_mlb, and like his Facebook page, Thomas Harding and Friends at www.Rockies.com. This story was not subject to the approval of Major League Baseball or its clubs.