Matheny may consider several lineup combinations
Much of roster set, but Cards must finalize batting order and rotation, sort bullpen jobs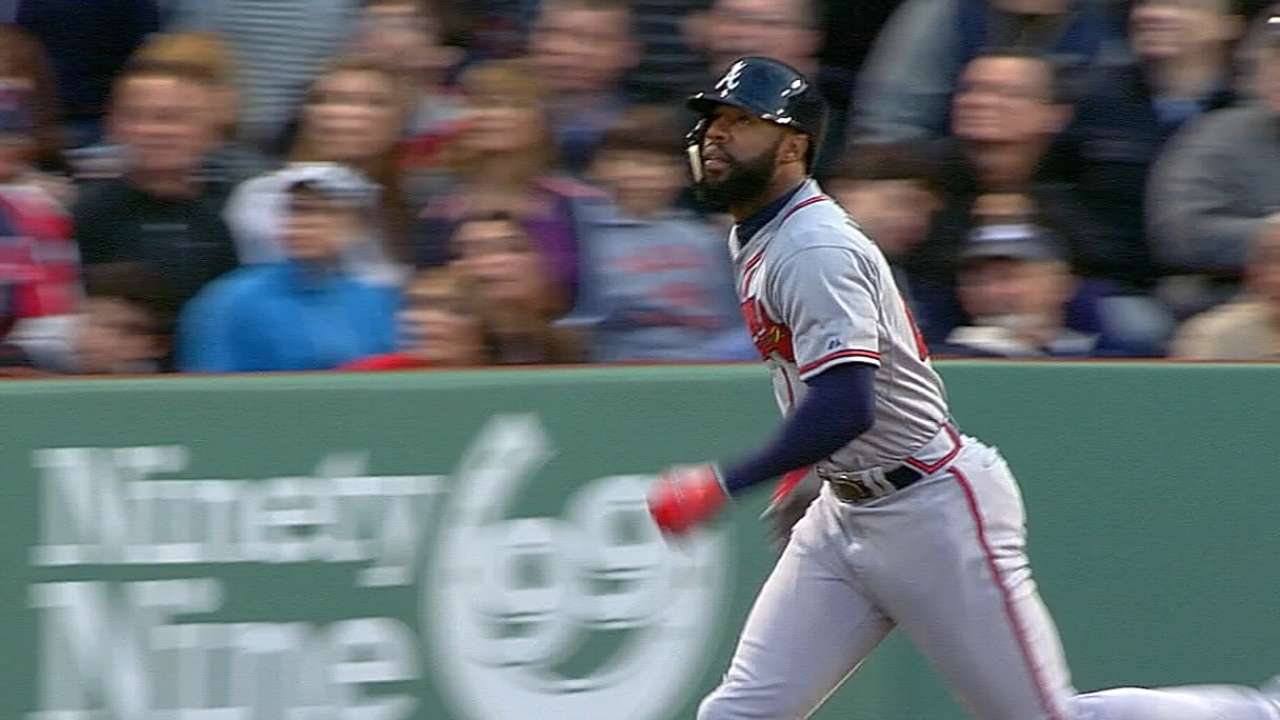 JUPITER, Fla. -- There's likely been no more frequent question posed to manager Mike Matheny this winter than the one concerning the lineup he'll write this season.
The peppering started after the Cardinals acquired Jason Heyward in a four-player November swap with the Braves. Heyward has profiled as both a leadoff hitter and middle-of-the-order bat for Atlanta in the past, leaving everyone curious as to what role he'd likely fill in St. Louis.
Though Matheny has softened some speculation by noting that he'll use Spring Training to mix and match lineups before settling one for Opening Day, projections still make for a fun discussion in the meantime. So with the fifth part of the Cardinals' Spring Training preview package, MLB.com attempts to look into the crystal ball and predict how the lineup, rotation and bullpen will look coming out of camp in a little more than six weeks.
Of course, much can change over the next several weeks, particularly on the pitching end. The Cardinals must finalize their rotation and sort a few bullpen roles. Health and spring performance will be among the many factors in how various position battles unfold.
Nevertheless, here is one guess as to how it will all shake out:
2014 record
90-71, first place in the National League Central
Projected batting order
1. 3B Matt Carpenter:
.272 BA, .375 OBP, .375 SLG, 8 HR, 59 RBIs in 2014
2. RF Heyward:
.271 BA, .351 OBP, .384 SLG, 11 HR, 58 RBIs, 20 SB in 2014
3. LF Matt Holliday:
.272 BA, .370 OBP, .441 SLG, 20 HR, 90 RBIs in 2014
4. 1B Matt Adams:
.288 BA, .321 OBP, .457 SLG, 15 HR, 68 RBIs in 2014
5. SS Jhonny Peralta:
.263 BA, .336 OBP, .443 SLG, 21 HR, 75 RBIs in 2014
6. C Yadier Molina:
.282 BA, .333 OBP, .386 SLG, 7 HR, 38 RBIs in 2014
7. 2B Kolten Wong:
.249 BA, .292 OBP, .388 SLG, 12 HR, 42 RBIs, 20 SB in 2014
8. CF Jon Jay:
.303 BA, .372 OBP, .378 SLG, 3 HR, 46 RBIs in 2014
Projected rotation
1. Adam Wainwright, 20-9, 2.38 ERA in 2014
2. Lance Lynn, 15-10, 2.74 ERA in 2014
3. John Lackey, 14-10, 3.82 ERA in 2014
4. Michael Wacha, 5-6, 3.20 ERA in 2014
5. Carlos Martinez, 2-4, 4.03 ERA in 2014
Projected bullpen
Closer: Trevor Rosenthal, 45/51 saves, 3.20 ERA in 2014
RH setup man: Jordan Walden, 2.88 ERA in 2014
LH setup man: Marco Gonzales, 4.15 ERA in 2014
Jenifer Langosch is a reporter for MLB.com. Read her blog, By Gosh, It's Langosch, and follow her on Twitter @LangoschMLB. This story was not subject to the approval of Major League Baseball or its clubs.