Swisher aiming to lead with early camp start
Veteran outfielder eager to get to work, excited for Indians' potential in 2015
GOODYEAR, Ariz. -- The offseason began in August for Nick Swisher. That gave the veteran Indians outfielder nearly two extra months to rest and recover from his two knee surgeries, but also to reach the stir-crazy point of the winter when players want to start Spring Training again.
Needless to say, Swisher wanted to get to Arizona earlier this year.
"It's been such a long time for me," Swisher said on Tuesday morning. "My excitement level, my passion and fire, it's back, man. I'm excited to just get going."
Swisher and the rest of Cleveland's position players are not required to report to camp until Sunday, but many players have already made the trek to the desert. In Swisher's case, he felt it was important to have an earlier arrival both in terms of the rough season he endured last year and the potential he feels the current team has for the upcoming season.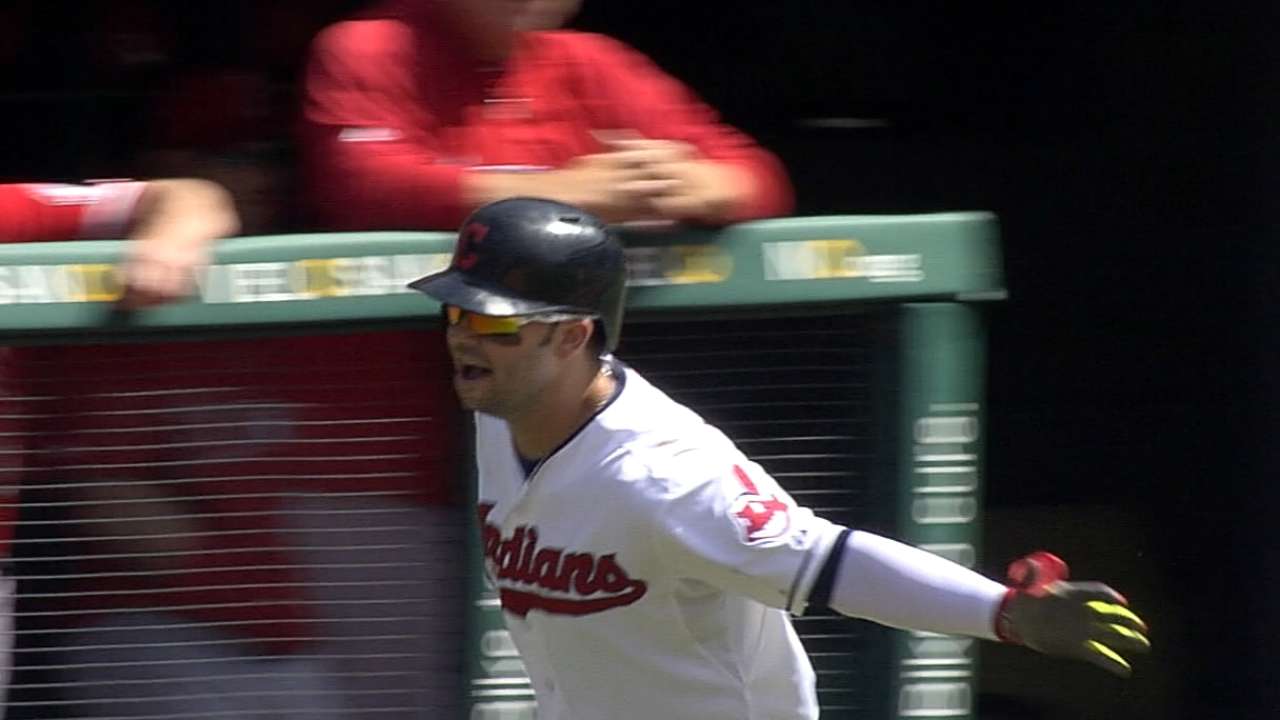 New additions Brandon Moss and Gavin Floyd were among the players in the clubhouse on Tuesday on the eve of the reporting date for Cleveland's pitchers and catchers. Corey Kluber, Yan Gomes and a long list of others were also coming and going throughout the complex this morning. Sitting at his locker, Swisher surveyed the room and expressed excitement over the weeks and months ahead.
"I'm just trying to set a tone," Swisher said of arriving early. "This has the chance to be a very, very special year for this organization. When you have those opportunities, you have to take them, because opportunities like this don't come along all the time. Every team, every year, it's different guys. This year, we have such a great mix."
The 34-year-old Swisher was also happy simply to have the chance to return to camp.
Over the offseason, there was speculation about the Indians exploring potential trade scenarios to move Swisher and his contract, which has the potential to pay him $44 million over the 2015-17 seasons. General manager Chris Antonetti never called Swisher to discuss such a scenario, so the outfielder took that as a sign that the trade rumors did not have serious legs.
"Chris and I have a great relationship," Swisher said. "It wasn't like there was a lot of stuff out there. It was offseason chatter, just like there is every offseason. This is a classy organization. Ever since I came over here, 'respect' is a big word in here. So I wasn't worried about that stuff. They would've called way ahead of anything."
Swisher, who underwent surgery on both knees on Aug. 20, has been cleared for full hitting and throwing activities, and he began working through a running program three weeks ago. His goal is to be ready to be in the lineup and on the field for Opening Day, though Cleveland plans on monitoring his progress closely in the coming weeks.
In 97 games last year, Swisher hit just .208 with eight homers, 42 RBIs and a .608 OPS -- career lows in each category. Within the past few weeks, he has posted photos on social media that featured him donning a shirt that read: "Prove People Wrong." Swisher laughed when asked if he was trying to send a message by wearing that slogan across his chest.
"There's no message. I just like the shirt," said Swisher, whose friend in New York created the clothing line in question. "I have nothing to prove. What do I have to prove? I'm just going to go out and be me, and that's plenty enough."
Jordan Bastian is a reporter for MLB.com. Read his blog, Major League Bastian, and follow him on Twitter @MLBastian. This story was not subject to the approval of Major League Baseball or its clubs.