MLB.com Columnist
Mike Bauman
'Matheny Manifesto' more than just about baseball
Cardinals manager writes a new book on how to achieve success in sports and life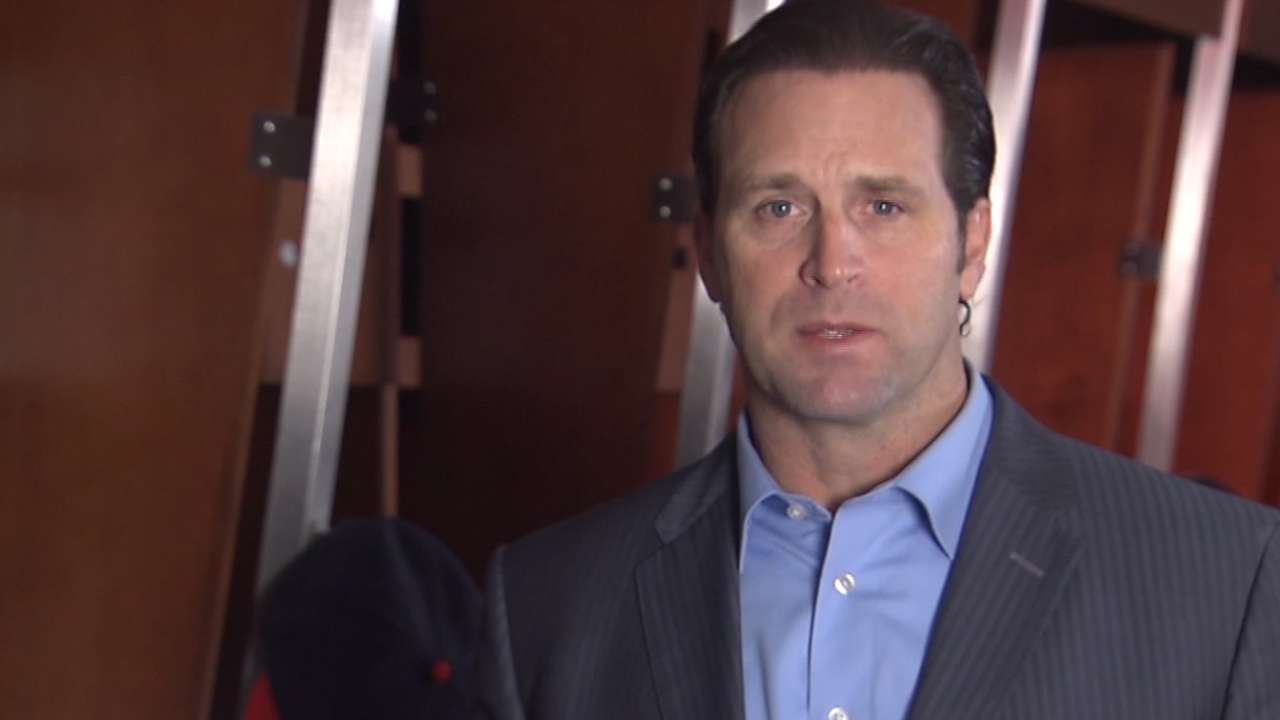 When the St. Louis Cardinals named Mike Matheny manager after the departure of the legendary Tony La Russa, one prominent reaction was:
"How can the defending World Series champions be turned over to a rookie manager?"
Here's how: What the Cardinals were getting was much more than "a rookie manager." They were getting an individual of real substance. Cards general manager John Mozeliak knew that, even if many other people didn't.
What followed with Matheny at the helm have been three straight appearances in the National League Championship Series, two NL Central Division championships and one appearance in the World Series.
That looks a lot like success.
If you have any questions at all about what Matheny is all about, apart from being a success as a big league manager, the answers are contained in Matheny's book, "The Matheny Manifesto: A Young Manager's Old-School Views on Success in Sports and Life" written with Jerry B. Jenkins.
As someone who has known Matheny for more than 20 years, I can safely say that where he is coming from at a given moment is never in much doubt. He will not likely be following up his managerial career by seeking elective office. He is much longer on candor than on diplomacy. I mean that as a distinct compliment.
Here is the example that vaulted Matheny into wide public view, apart from managing one of baseball's most storied franchises. Matheny had a highly successful baseball career, becoming known, with four Gold Glove awards, as one of the best catchers in the game. He was regarded as a student of the game, whose pitch-calling and handling of pitching staffs was the product of considerable diligence and applied intelligence.
But Matheny, now 44, was forced out of the game at age 35, because of the cumulative effects of concussions. After a period of recuperation and before he returned to baseball on a fulltime basis, he was approached about coaching a youth baseball team.
The people making this request probably didn't expect everything they received with Matheny. But in retrospect, asking Matheny to manage a baseball team is an invitation not to a series of tactics, but to a worldview of character and values and personal commitment, not to mention complete accountability.
Matheny wrote a letter to the prospective parents of the youth team players, detailing both his beliefs and his explanation of how this team was going to be run differently than any other team they had experienced.
He invited them to his home and read the letter. Here's the first sentence:
"I've always said I would coach only a team of orphans. Why? Because the biggest problem in youth sports is the parents."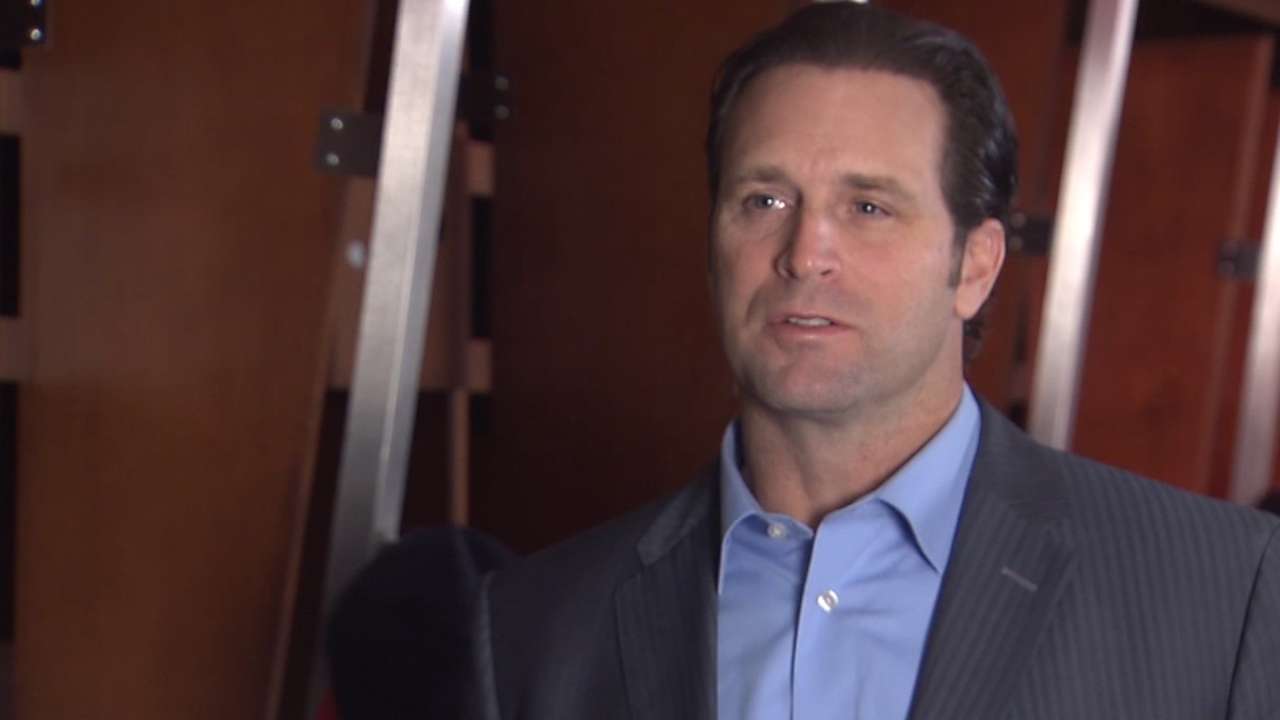 That would be the essential Mike Matheny. The letter went on to describe the sort of typical parental behavior that would be a thing of the past with this club and the focus on the boys, which was all that was going to matter.
The letter eventually went viral on the Internet. It struck a nerve. It rang a bell. It was truth revealed. It was Mike Matheny combining his love of the game with a belief system that didn't allow for selfish, self-indulgent and self-centered parental behavior.
That was where "The Matheny Manifesto" originated. Matheny would not typically put himself forward as much as that title suggests, but you can't beat the alliteration.
The same overall belief system is still in place as the manager of the St. Louis Cardinals. Matheny is a devout Christian, a faith-based individual. As such, his life can be an example of those beliefs, but he does not beat anybody over the head with his religion.
His favorite figure in coaching -- and this should come as no surprise -- is not one of the baseball managerial greats, but John Wooden, the legendary UCLA basketball coach. Wooden appeals particularly to Matheny, not primarily because of his astounding record, but because of his areas of emphasis, such as character, teamwork, selflessness, and sacrifice for the common good.
This individual development within the team context, Matheny believes, is the template for success.
"Throughout my career, I've found that the organizations and coaches who emphasize winning at all costs win either only in the short run or not at all," Matheny writes. "But the ones who focus on the people, pursue perfection, strive for excellence, and emphasize getting the process right seem to also win the most over the long haul. They build great teams, and winning seems to follow."
Sounds like the perfect marriage between the manager and the Cardinals organization. There is obviously a lot of baseball, the game, in this book, a complete chronicle of the ups and downs of Matheny's playing career. But it always is the story of a journey; a hopeful journey toward growth and understanding.
Matheny throughout is a determined fellow. He once played 126 games -- at catcher -- on a knee with both torn cartilage and a torn posterior cruciate ligament.
"People who know me -- I mean really know me -- will find it strange that I have written a book," Matheny writes. "I've never cared about being in the spotlight, being known, being somebody. Don't get me wrong, I want to make a difference and I strive to do things with excellence, but it really never has been to make a name for myself."
Maybe in that sense it is surprising that Mike Matheny has written a book. What is not surprising is that the book contains so much useful insight; into baseball, and through that, into life.
Mike Bauman is a national columnist for MLB.com. This story was not subject to the approval of Major League Baseball or its clubs.