Sarah's Take: Padres focus on offensive production
Obtaining, evaluating good hitters will make team competitive in NL West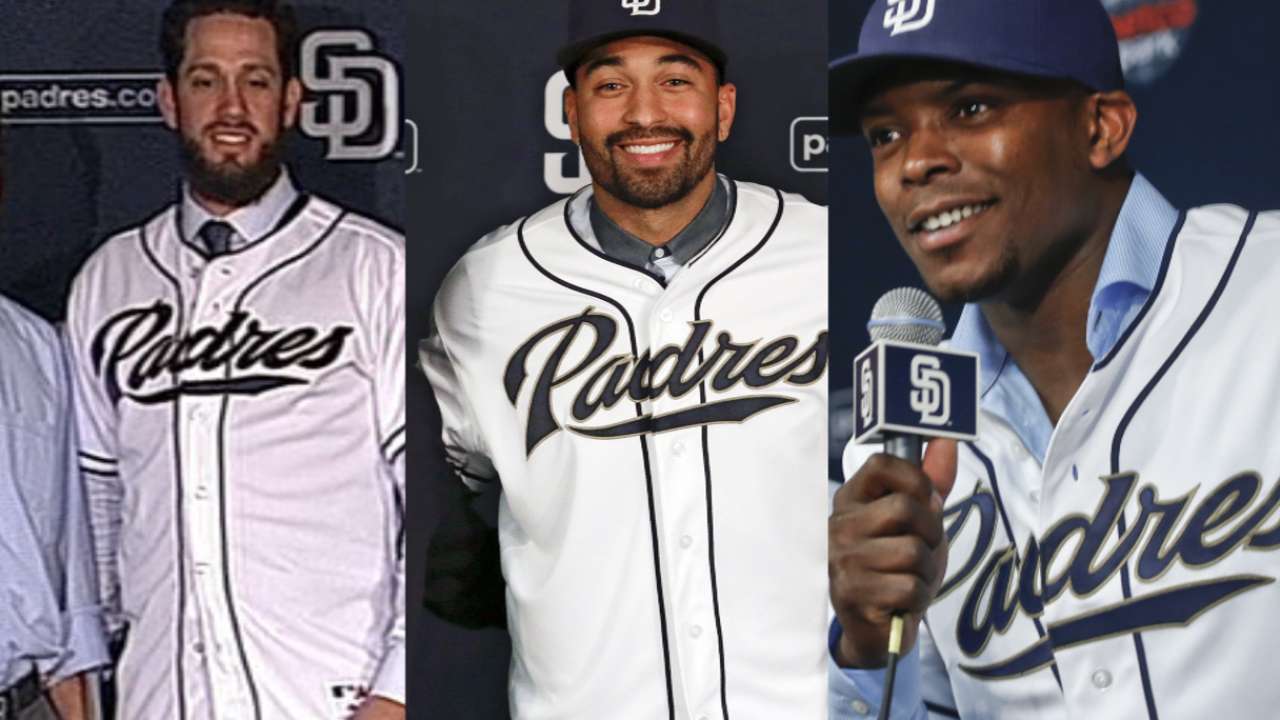 Spring Training begins later this week, ending the long offseason for baseball fans. This offseason has been filled with much action, but seeing actual games being played gives us an indescribable thrill that most people wouldn't understand unless they were baseball fans. Even watching an exhibition game is better than just talking about baseball.
This offseason every team in the National League West has gone through many changes in hopes of becoming more competitive. Last year this division produced the NL Wild Card team that went on to win the World Series. No team was satisfied with its performance.
Only the World Series champion San Francisco Giants have the same general manager, but the Arizona Diamondbacks are the only team within the division that has a new manager, which is odd. Most of the time when a team replaces its general manager, it usually allows the new general manager to pick a new manager to work with. Not doing this pays a tribute to all of the managers in the division.
In the recent past, some members of the media have expected the San Diego Padres to dismiss Bud Black. After all, the team has had ownership instability and hasn't been to the playoffs since 2006. Black has proven himself able to manage under difficult circumstances, and he doesn't complain about things that he can't control. He doesn't mind teaching at the Major League level. With his experience as a pitching coach for the Los Angeles Angels before becoming a manager, he knows how to handle a pitching staff, a crucial aspect of a manager's job.
Black's patience has been rewarded this offseason. The Padres, with a new ownership group and a new front office, have spent a lot of money trying to make the team more competitive. Black has a new kind of pressure on him. If his team doesn't perform up to lofty expectations, he could be gone after this season. Although it's unfair, it happens in baseball regularly.
Since Petco Park opened in 2004, the Padres have struggled offensively. Most hitters dislike going there because the ballpark's dimensions make it more difficult to hit home runs. Furthermore, the cool ocean atmosphere, especially at night when most games are played, makes the the air heavy and home runs hard to hit. This makes what Adrian Gonzalez accomplished as a Padre more remarkable than it would have been anywhere else.
Contrary to a common belief, scoring runs is crucial to the success of a team. Pitching is important, but if a team doesn't score any runs, it won't win a game no matter how brilliant its pitching staff is. Last year the Padres scored the fewest runs in the NL and had the third fewest home runs in the Major Leagues. Something needed to be done about the Padres' offensive shortage. The new front office has spent most of the offseason trying to rectify the situation.
Despite last week's signing of James Shields, the last available top free agent starting pitcher, the Padres' primary focus this offseason, as it should have been, has been improving their offensive production. They didn't just obtain good hitters, but they also tried to evaluate the hitters to see if they could adapt to the spacious Petco Park and have success there. Two of their new players have played many games there.
Trading for Matt Kemp was brilliant for the Padres. Even though a medical examination revealed Kemp has arthritis in his hips, he should perform well in Petco Park. After having a serious ankle injury in 2013 that threatened his playing career, many people were skeptical that he would be able to return to the level of play he had earlier in his career, but in the second half of 2014, Kemp had the highest slugging percentage in baseball. The Dodgers probably wouldn't have gone to the playoffs without his offensive contributions. I was surprised that they would consider trading him to any other team even though I knew they would be trading at least one outfielder. Yes, Kemp has lost a step, making him unable to play center field. However, trading him to a division rival was surprising.
Acquiring Justin Upton from the Atlanta Braves was another fantastic pickup for the Padres and should further strengthen their offense. The number of strikeouts (171 strikeouts in 2014) by Upton frustrated the Braves, but he had the fourth most home runs and third most RBIs in the league. At 27, he is in his prime, though he has been in the Major Leagues since 2007. If the Padres can figure out how to shorten his swing in attempts to decrease the number of strikeouts, they should have a good power hitter.
For the first time since 2010, the Padres should be a factor in the NL West. Having a highly competitive division is good for baseball overall.
Sarah D. Morris can be reached at sarahmorris27@gmail.com. This story was not subject to the approval of Major League Baseball or its clubs.