MLB.com Columnist
Anthony Castrovince
Where we stand heading into camp, NL edition
A breakdown of the offseason moves of all 15 National League teams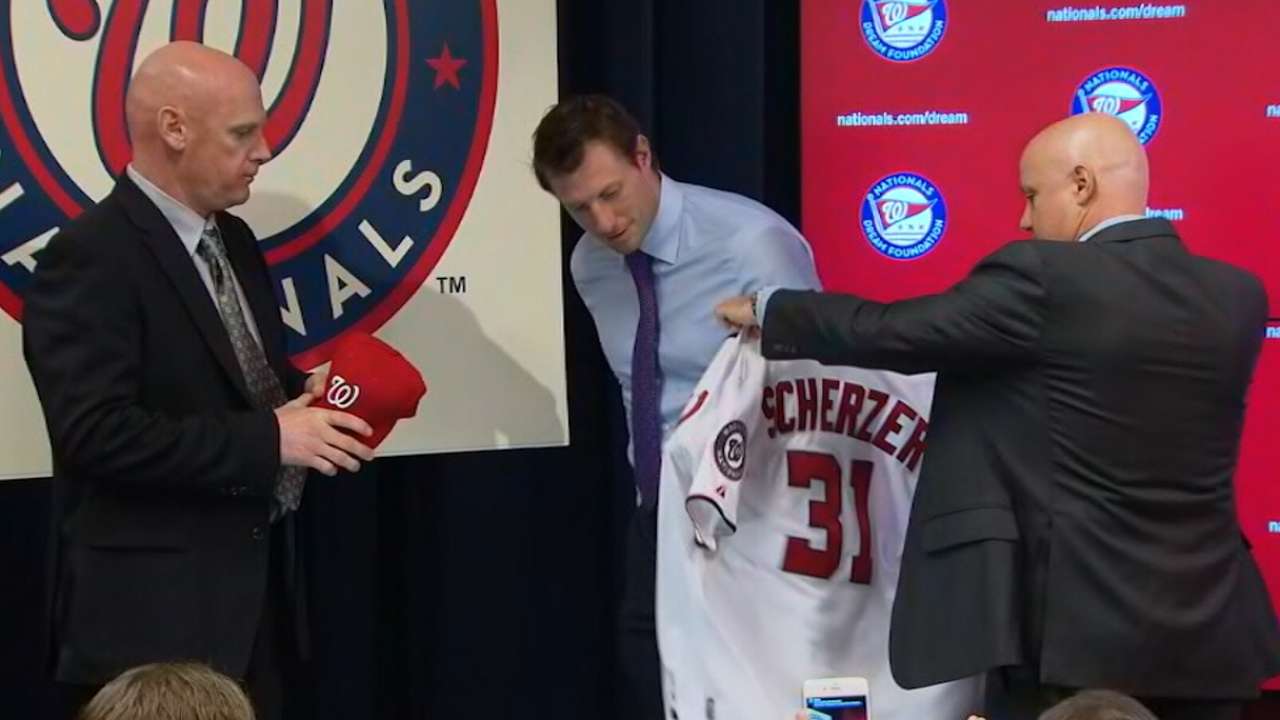 With Spring Training camps opening this week in Florida and Arizona, we're analyzing what the offseason has wrought. We could still see some minor or major moves made between now and Opening Day, but this is the outlook as pitchers and catchers report.
We started with the American League clubs on Monday. Now, the National League:
Nationals
2014 record: 96-66
2015 PECOTA projection: 91-71
File under: "World Series or bust"
The Nats could have stood pat and still been considered a popular pick to win the NL East. They did not stand pat. Instead, they made an unprecedented investment in a free-agent pitcher, putting Max Scherzer at the forefront of an already stellar rotation. They also shored up second base with Yunel Escobar, who has to make a transition from shortstop. With Jayson Werth coming off shoulder surgery, Denard Span coming off sports hernia surgery and Adam LaRoche gone via free agency, there are questions about the offense, certainly, and Casey Janssen joins a bullpen that will have to get by without setup man Tyler Clippard. But the Nats' deep rotation and roster make them look as October-bound as any team.
Dodgers
2014 record: 94-68
2015 PECOTA projection: 97-65
File under: "World Series or bust"
The arrivals of Andrew Friedman, Farhan Zaidi and Josh Byrnes mean the Dodgers made significant shifts in the front office. But the lineup (with Matt Kemp, Dee Gordon and Hanley Ramirez gone, Jimmy Rollins, Howie Kendrick and Yasmani Grandal brought aboard and rookie Joc Pederson likely starting in center field) and rotation (with Brett Anderson and Brandon McCarthy landing the back-end spots) saw major changes, too. The result is a team that profiles much better defensively and should be more cohesive in the clubhouse. Don't overlook the bullpen, either. The Dodgers also made some low-profile swaps for Joel Peralta, Chris Hatcher, Adam Liberatore and Juan Nicasio to rebuild the bullpen around Kenley Jansen.
Cardinals
2014 record: 90-72
PECOTA projection: 89-73
File under: "World Series or bust"
Oscar Taveras' untimely death forced the Cards to make a big decision about right field, where they opted to trade four years' worth of Shelby Miller and young pitching prospect Tyrell Jenkins for just one guaranteed year of right fielder Jason Heyward and two years of reliever Jordan Walden. It was a risky trade, but Heyward provides dynamic defense and a potential boost at or near the top of the order. The Cards have to hope his power comes back, because they were frustrated in that department last year. Moving Miller puts all the more importance on Adam Wainwright and Michael Wacha staying healthy.
Pirates
2014 record: 88-74
2015 PECOTA projection: 81-81
File under: "Enough of that Wild Card stuff"
The Pirates knew they couldn't afford to keep Russell Martin, so they made a proactive trade for a good pitch framer in Francisco Cervelli. They re-signed Francisco Liriano but not Edinson Volquez, who is ostensibly replaced by the return of A.J. Burnett. They also dealt Travis Snider, which means right field is Gregory Polanco's job to lose. Flexibility arrived in the form of Korean power hitter Jung Ho Kang and Sean Rodriguez, both of whom can man multiple infield spots, and Corey Hart provides insurance should Pedro Alvarez not latch on at first base. Bottom line: The Bucs have a deep and flexible roster, and the pitching staff should remain strong.
Giants
2014 record: 88-74
PECOTA projection: 84-78
File under: "What are the odds of an odd-year title?"
If any club had the option of resting on its laurels, it was the Giants. Some will say they've done just that, in a sense, because the offseason has been relatively quiet. They didn't sign Jon Lester, and Pablo Sandoval and Michael Morse departed. They re-signed Jake Peavy, Ryan Vogelsong and Sergio Romo, added Nori Aoki and acquired Casey McGehee in a trade, so those moves all either rate more on the low-profile scale or fit the organizational formula for stability, which, after three titles in five years, is impossible to take issue with.
Brewers
2014 record: 82-80
2015 PECOTA projection: 80-82
File under: "Let's shake off that second half"
The Brewers' fall from standings grace in the second half last season was precipitous. It remains to be seen if this winter has put them in position to be more like the first-half version of the Brew Crew. Adam Lind is a big offensive upgrade at first base, but durable starter Yovani Gallardo was sent to Texas for three young players, including shortstop Luis Sardinas, who is good insurance should Jean Segura not show improvement. That trade opened up a rotation job for Jimmy Nelson, who needs to show better control. The bullpen needs reinforcements after the losses of Zach Duke, Tom Gorzelanny and Francisco Rodriguez (who could end up returning). Jonathan Lucroy's hamstring injury is a frustrating early development.
Braves
2014 record: 79-83
PECOTA projection: 75-87
File under: "Looking long-term"
The Braves were a middling team last year, and some bad contracts and pending free agencies (Justin Upton and Heyward) prompted bold action on the part of new president of baseball operations John Hart that better situates the ballclub for 2017, when a new home park is scheduled to open. Upton, Heyward and Evan Gattis (who would have been miscast as an outfielder, with catcher and first base accounted for) were all dealt for young talent (Miller, Jenkins, Max Fried, Aaron Northcraft and Mike Foltynewicz are some of the more notable names from those deals). The Braves didn't totally punt on 2015, as they signed Nick Markakis, Jason Grilli, Jonny Gomes, A.J. Pierzynski and others, but the primary motivation of this offseason was to acquire young, controllable pitching and get the payroll back in working order for the long-term.
Mets
2014 record: 79-83
2015 PECOTA projection: 81-81
File under: "Unfinished business?"
The early strike for Michael Cuddyer augments the lineup, though it remains to be seen how much, given a significant shift in home ballparks, from Coors Field to Citi Field, for the versatile veteran slugger. What's most notable about the Mets' offseason is what didn't happen, as the pitching depth was kept intact and the shortstop position was not addressed. That could change in Spring Training, though. For now, the Mets are banking heavily on bouncebacks by David Wright and Curtis Granderson (in a reshaped Citi Field) and a strong rotation boosted by the return of Matt Harvey.
Marlins
2014 record: 77-85
2015 PECOTA projection: 80-82
File under: "Frisky Fish"
A $325 million investment in Giancarlo Stanton was the Marlins' biggest move, but far from the only one. By dealing most notably for Gordon, Mat Latos, Dan Haren, and Martin Prado and signing Morse, the Marlins have put themselves in good position to possibly contend in the East. There is not enough space to properly analyze all of these moves, but the main takeaway is that this team, which took significant developmental steps forward last year, probably has fewer question marks than did the 2012 version, and getting Jose Fernandez back from injury will help it all the more. Miami is a contender.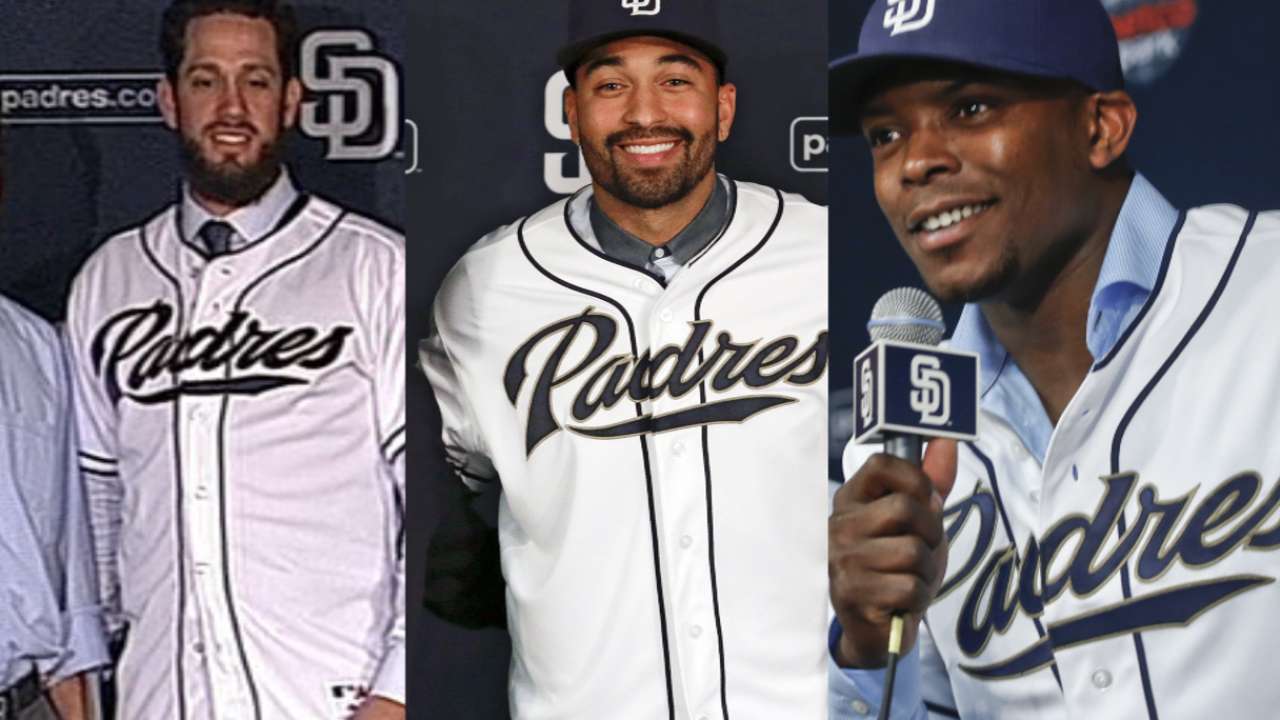 Padres
2014 record: 77-85
2015 PECOTA projection: 85-77
File under: "Winter winners"
The Padres lost 85 games last year with a good pitching staff but an almost historically unproductive offense. To say they've improved both areas is an understatement, as new general manager A.J. Preller had arguably the biggest offseason in baseball. Kemp, Upton, Wil Myers, Derek Norris and Will Middlebrooks add major right-handed thump to the lineup, and San Diego seized the late-winter opportunity to land James Shields. The re-signing of Josh Johnson and addition of Brandon Morrow are two lottery cards that could pay off. There are questions about the Padres' outfield defense and infield production, but there's no denying they have become an exciting ballclub in a hurry.
Reds
2014 record: 76-86
2015 PECOTA projection: 79-83
File under: "Still in win-now mode"
Dealing away Latos and Alfredo Simon weakens the Reds' biggest strength, which was their rotation. At the same time, the club seemingly boosted its lineup with a trade for Marlon Byrd. There was a time when rebuilding and contending had to be mutually exclusive actions, but that might no longer be true in this age of competitive parity. Whatever the case, the Reds clearly need bounceback seasons in health and performance from Joey Votto, Jay Bruce and Brandon Phillips, and they need young pitchers like Tony Cingrani, Anthony DeSclafani or Raisel Iglesias to step up in the rotation. Otherwise, Johnny Cueto could be the next Reds' starter on the trade block come July.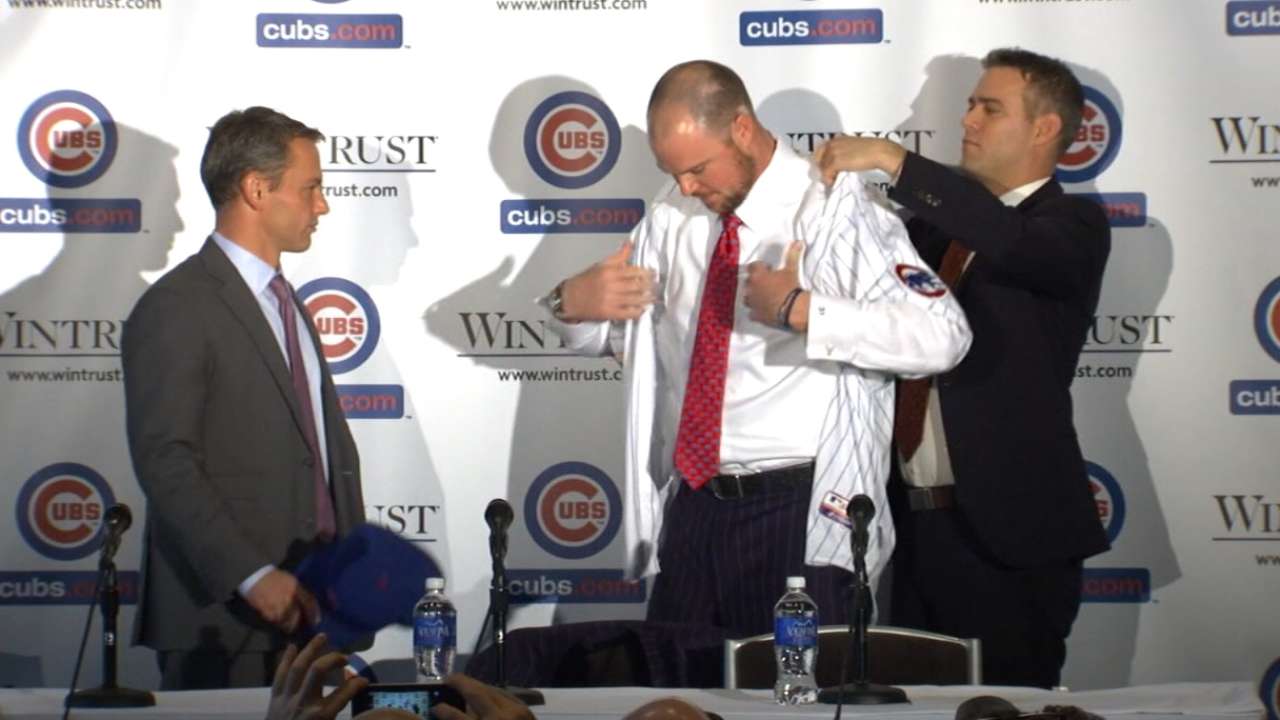 Cubs
2014 record: 73-89
PECOTA projection: 81-81
File under: "Back to the Future II was a great flick"
Joe Maddon's availability probably sped up the Cubs' timetable a bit, as it prompted the front office to be more aggressive on the free-agent and trade fronts than initially expected. This is still a club that needs its young assets in the lineup to reach and find their footing at the big league level, which could take some time. But the additions of Lester, Miguel Montero and Dexter Fowler and the return of Jason Hammel make it clear the Cubs are no longer rebuilding but intends to win sooner than later. The Cubs are on the rise.
Phillies
2014 record: 73-89
2015 PECOTA projection: 70-92
File under: "Still 'pheeling' out the trade market"
The Phillies acknowledged that it's time to rebuild with the trades that dealt away Rollins and Byrd, yet Cole Hamels, Cliff Lee, Jonathan Papelbon, Chase Utley and Ryan Howard remain on the roster. In some cases, that could change between now and Opening Day or certainly between now and the July 31 Trade Deadline. But until then, the Phillies' attempt to shed payroll and acquire impact young talent feels largely unfinished. They've got 10 players slated to account for more than $120 million of the payroll, and GM Ruben Amaro Jr. is working to address that.
Rockies
2014 record: 66-96
2015 PECOTA projection: 71-91
File under: "Health would help"
It was a quiet winter for new GM Jeff Bridich, as arguably the Rockies' most meaningful moves were the free-agent departures of Cuddyer (netting a compensatory Draft pick) and Anderson. They signed starter Kyle Kendrick, brought in part-time catcher Nick Hundley and gave Minor League deals to veteran relievers John Axford and Rafael Betancourt, among other minor moves, but the gist of the situation remains the same: Troy Tulowitzki and Carlos Gonzalez need to stay healthy. If they do, the Rockies will be better both on the field and from a trade-leverage standpoint.
Diamondbacks
2014 record: 64-98
2015 PECOTA projection: 73-89
File under: "Bounceback candidate"
The D-backs carried a franchise-record payroll into 2014 and were an injury-riddled disappointment. Under new leadership with Tony La Russa and Dave Stewart and with a new manager in Chip Hale, they'll look to climb the standings in an improved NL West. They'll look to do so without Montero, Didi Gregorius and Wade Miley, who were all sent packing. The most interesting addition is Cuban import Yasmany Tomas, a big-bodied power hitter who will try to stick at third. Trade acquisitions Jeremy Hellickson, Rubby De La Rosa, Allen Webster and Robbie Ray improve the rotation, and healthy seasons from Paul Goldschmidt and Mark Trumbo would improve the lineup.
Anthony Castrovince is a reporter for MLB.com. Read his columns and follow him on Twitter at @Castrovince. This story was not subject to the approval of Major League Baseball or its clubs.