MLB.com Columnist
Lyle Spencer
Production on the road offers truest test
Giants' Posey among those who are better away from the home ballpark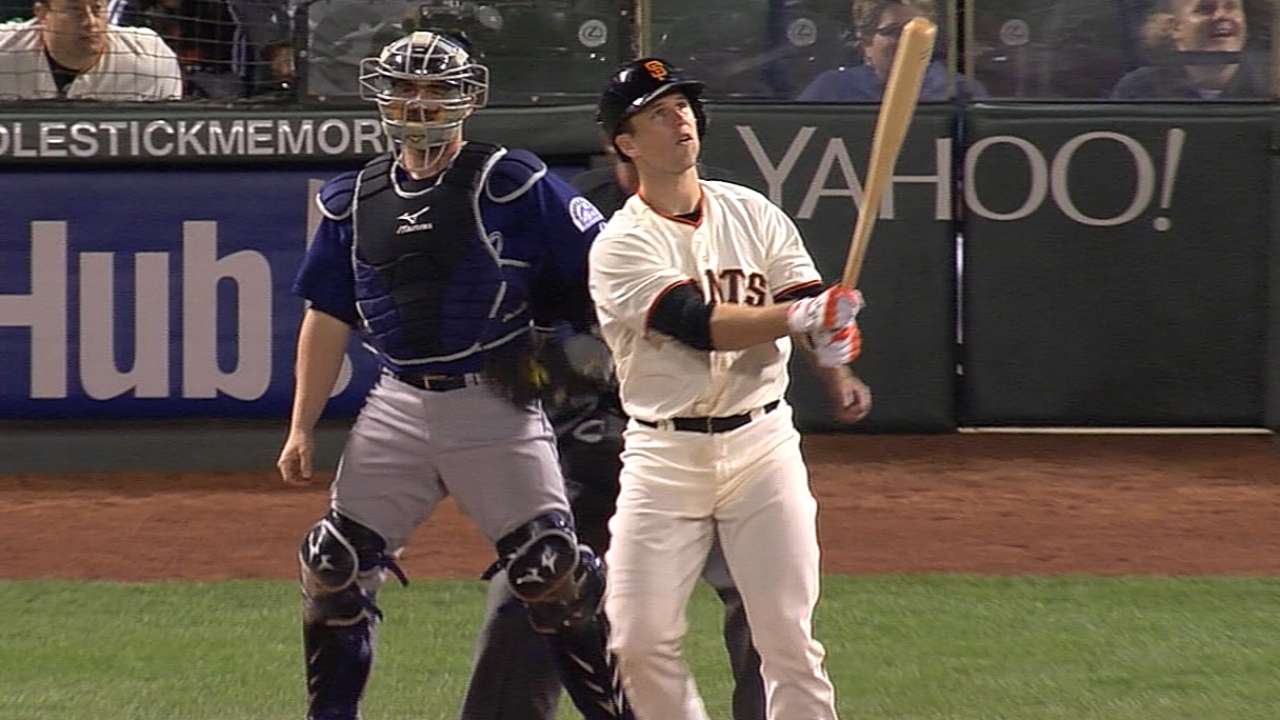 As great as Buster Posey is, you can't resist wondering what numbers he would produce playing in a home yard more conducive to his hitting style and skills than AT&T Park, with its distant reaches in his power zones of center and right-center fields.
The Giants' three-time World Series-champion catcher has a .328/.396/.523 career line on the road with 50 homers and 193 RBIs, compared to .287/.350/.448 with 33 homers and 159 RBIs in San Francisco. Home sweet home isn't always Buster's mantra.
There are no perfect, foolproof formulas for evaluating comparative performances by players and teams. Too many variables come into play. But if you're looking to get as close to the truth as possible, take to the road. It provides the fairest, truest test.
Away from the comforts -- and frustrations -- of home, a relatively even playing field is in play across 81 road games. All the verification you need is found in the extreme split personality of the 2014 Rockies. At home they rocked: 500 runs scored, .902 team OPS. Leaving Coors Field, they produced 255 runs with a .636 OPS.
The raw numbers told us Colorado had the most productive offense in the National League with 755 runs, averaging 4.67 per game. But how can a team that's dead last in scoring on the road, averaging 3.15 runs, have the league's most formidable attack? It can't, and it doesn't.
That distinction belonged to the Dodgers, who averaged an NL- best 4.81 runs on the road, 4.05 at Dodger Stadium. The Mets (4.23 runs) and Giants (4.2) trailed the Dodgers as the second- and third-best road offenses.
Nothing close to the Mile High disparity exists in the American League. The Angels had the most productive offense on the road (5.07 runs per game) and overall (4.77), edging the Tigers (4.85 road runs, 4.67 overall).
The most hitter-friendly AL park in 2014 was found in Minnesota, where Target Field ranked third in the Majors behind the Rockies and D-backs. The Cardinals, Nationals and Red Sox rounded out the top six.
For pitchers, the West was definitely the best. Five of the six most run-depressing parks belonged to the Mariners, Padres, Dodgers, Giants and Angels. Only the Mets, third between the Padres and Dodgers, had a park as favorably disposed to pitchers.
Judging by road ERAs, the best pitching staffs in the AL belonged to the Royals (3.10), Athletics (3.28) and Mariners (3.43). The NL's elite were the Nationals (3.19), Cards (3.60) and Dodgers (3.63). Kansas City (James Shields) and Oakland (Jon Lester, Jeff Samardzija) have taken hits, while Washington welcomes Max Scherzer, enhancing an already deep rotation.
The Majors' individual ERA leader on the road in 2014 -- surprise -- was Cardinals ace Adam Wainwright at 1.72. He was followed by the Phillies' Cole Hamels (1.82), Dodgers four-time reigning MLB ERA champion Clayton Kershaw (1.85), the Angels' Garrett Richards (2.11), the Mariners' Felix Hernandez (2.21) and Giants World Series hero Madison Bumgarner (2.22). Corey Kluber, the Indians' AL Cy Young Award winner, was eighth at 2.49, behind Royals lefty Danny Duffy's 2.41.
The toughest to hit on the road was Richards, holding batters to a .179 average -- just ahead of Francisco Liriano's .180 for the Pirates.
The Padres' new outfield of Matt Kemp, Justin Upton and Wil Myers should dramatically impact an offense that produced the fewest runs (535, 3.3 per game) and lowest OPS and OBP (.634 and.292) in the NL.
The Astros, Mariners and Red Sox, saddled with the three most ineffective AL offenses last season, have made impressive improvements. Houston added Evan Gattis and Colby Rasmus behind AL batting champion Jose Altuve, Seattle signed AL home run king Nelson Cruz, and the Red Sox muscled up with Hanley Ramirez and Pablo Sandoval.
The assumption that Cruz, the former Texas bopper, benefitted by hitter-happy conditions in Baltimore doesn't hold true. Of Cruz's 40 homers, 25 left road yards. Seattle's Safeco Field has intimidated some hitters, but Cruz's big drives leave any park.
Cruz's .930 road OPS left him tied for fourth in the Majors with Toronto's Jose Bautista. Detroit's Victor Martinez was the leader at 1.015, followed by Posey (.941) and Jose Abreu (.938) of the White Sox. Pittsburgh's Andrew McCutchen (.924), the Angels' Mike Trout (.922), Detroit's J.D. Martinez (.913) and Boston's David Ortiz, Washington's Jayson Werth and the Dodgers' Yasiel Puig, all at .894, were road warriors.
Posey (.348) was the Majors' road batting champ, with Victor Martinez (.346) on his heels. J.D. Martinez (.325), the Mets' Daniel Murphy and the Mariners' Robinson Cano (both .322) complete the top five. The Royals' Eric Hosmer and Altuve, both at .318, also delivered away from home.
A low-key, introspective gentleman who resists headline-grabbing remarks, Posey will continue to call games, block pitches, drive in clutch runs and shake hands after wins. But you can't help wondering what his numbers would look like playing half of his games in, say, Coors Field.
Posey's career line in 37 games and 154 plate appearances in Denver is .412/.468/.654, with eight homers, nine doubles and 29 RBIs.
Just walk the guy, Rockies.
Lyle Spencer is a reporter for MLB.com. This story was not subject to the approval of Major League Baseball or its clubs.