'Pitchers and catchers report': No finer phrase as #BaseballBegins
MLB players, staff tell us what four beautiful words mean to them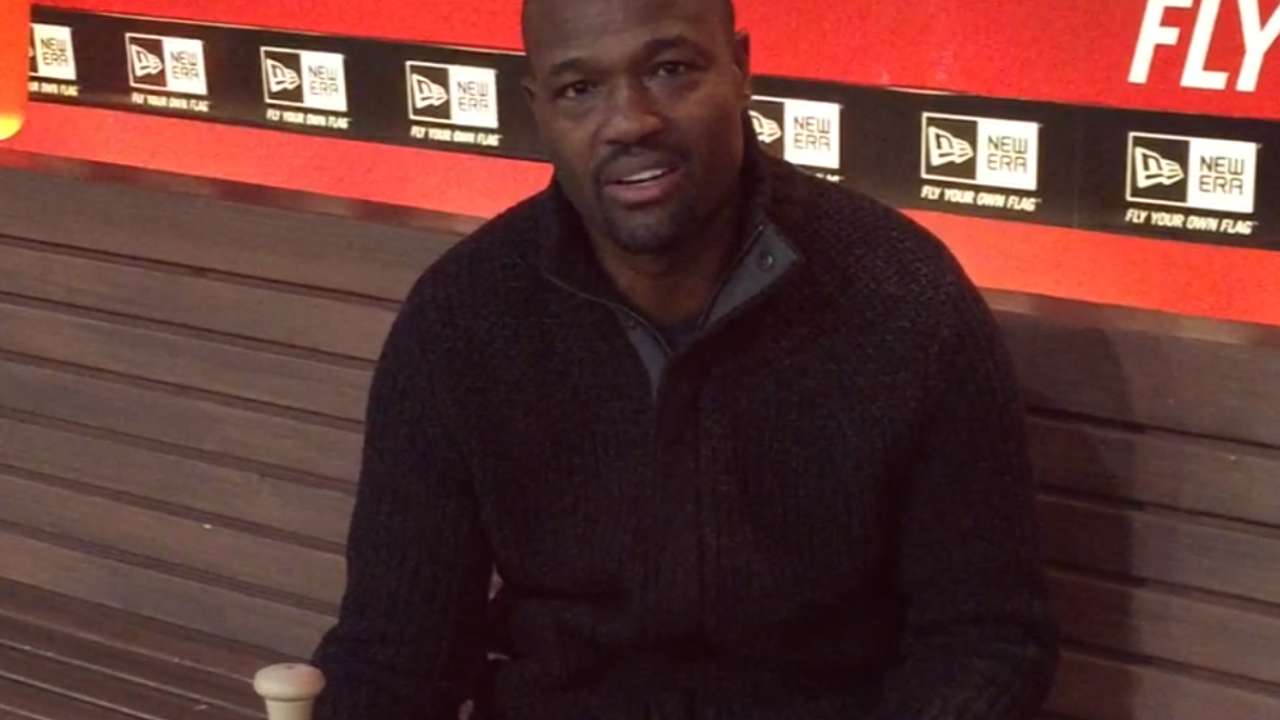 The big week is here. "Pitchers and catchers report" to Spring Training starting on Wednesday in Florida and Arizona, and we are asking people around Major League Baseball what those four beautiful words mean to them.
Join the conversation and be sure to use #BaseballBegins in your tweets.
Marshall Jennings, head groundskeeper of Salt River Fields at Talking Stick, Cactus League home of the D-backs and Rockies:
"For me, those words mean that the preparation for a new season begins right here at our facility. It means that for the next six weeks, our staff will be here every single day doing whatever it takes to assist the teams with their on-field needs in hopes of it translating to a successful regular season."
Braves pitching coach Roger McDowell, a 12-year veteran and reliever on the 1986 Mets world champions:
"It just means it's time to go. It's time to begin a new season and to get to know your guys. I think of guys like (Bobby) Cox, who even after they retire, when this time of year comes around, they're still ready to go. Your body clock quickly adjusts to this time of year. When you have that 5:30 (a.m.) alarm, you probably wake up at 5:25 because mentally you have already prepared yourself for that. It's that time of year when football is over and basketball is at the All-Star break. It's time to start Spring Training."
Beautiful weather in Sarasota! Sorry everyone in Bmore. Excited to get spring training started. #orioles pic.twitter.com/h7TSmogzEg

- Zach Britton (@zbritton) February 16, 2015
Giants batterymates Buster Posey and Matt Cain, interviewed during the AT&T Pebble Beach National Pro-Am, where they played before heading for camp in Scottsdale, Ariz.:
"I was just saying [while] walking off: 'It's time to get rid of the little, light golf club and start swinging a heavier bat,'" Posey said. "It's time to get it going when this is over with. It's a fun way to make the transition."
"That's what's fun about coming out here before Spring Training -- being able to shut down the offseason, come out here and play a bunch of golf and then knowing I'm done with it and I don't have to worry about playing golf during the season," Cain said. "I get my fix and get on with it."
Eddie Mujica in the pen earlier today. #SoxSpring pic.twitter.com/mQWLcpGRpj

- Boston Red Sox (@RedSox) February 16, 2015
Bristol ?? AZ.. Ready for another great year and to get things going for 2015 #cubs

- Justin Grimm (@GrimmReaper51) February 16, 2015
Getting some fishing in before it is time to #dowork #mariners pic.twitter.com/UJA1RXgsHM

- Nelson Cruz (@ncboomstick23) February 15, 2015
Frank Catalanotto, a 14-year infielder-outfielder (1997-2010) with the Tigers, Rangers, Blue Jays, Brewers and Mets:
"Those four words had a lot of meaning to me, especially between the ages of 18 and 36 when I was playing professionally. Living in New York during the offseason, I couldn't wait to get out of the cold weather and I welcomed Spring Training. It meant that I was going to warm weather, I was going to see my teammates again and I was going to play the game that I was passionate about. There always seemed to be that sense of hope as well. No matter how good or bad others thought the team would be, I always felt like this could be our year and that we go all the way. I seem to miss the game the most when I hear those four words in February."
Some rainmakers heading out to @BringerOfRain20 #BlueJays #BaseballBegins pic.twitter.com/wBPWX46eaq

- Marucci (@MarucciSports) February 11, 2015
Come on spring! pic.twitter.com/I67SUPZsYr

- Pat Parris (@PatParrisTV) February 16, 2015
Previous: Clint Hurdle, Derrick Hall, Dmitri Young, Carl Pavano, Joe Garagiola Jr., Jason Hammel, Jeff Conine, Dave St. Peter, Curtis Granderson
Mark Newman is enterprise editor of MLB.com. Read and join other baseball fans on his MLB.com community blog. This story was not subject to the approval of Major League Baseball or its clubs.