After 20 seasons, Giambi calls it a career
Veteran slugger shares statement thanking family, fans and more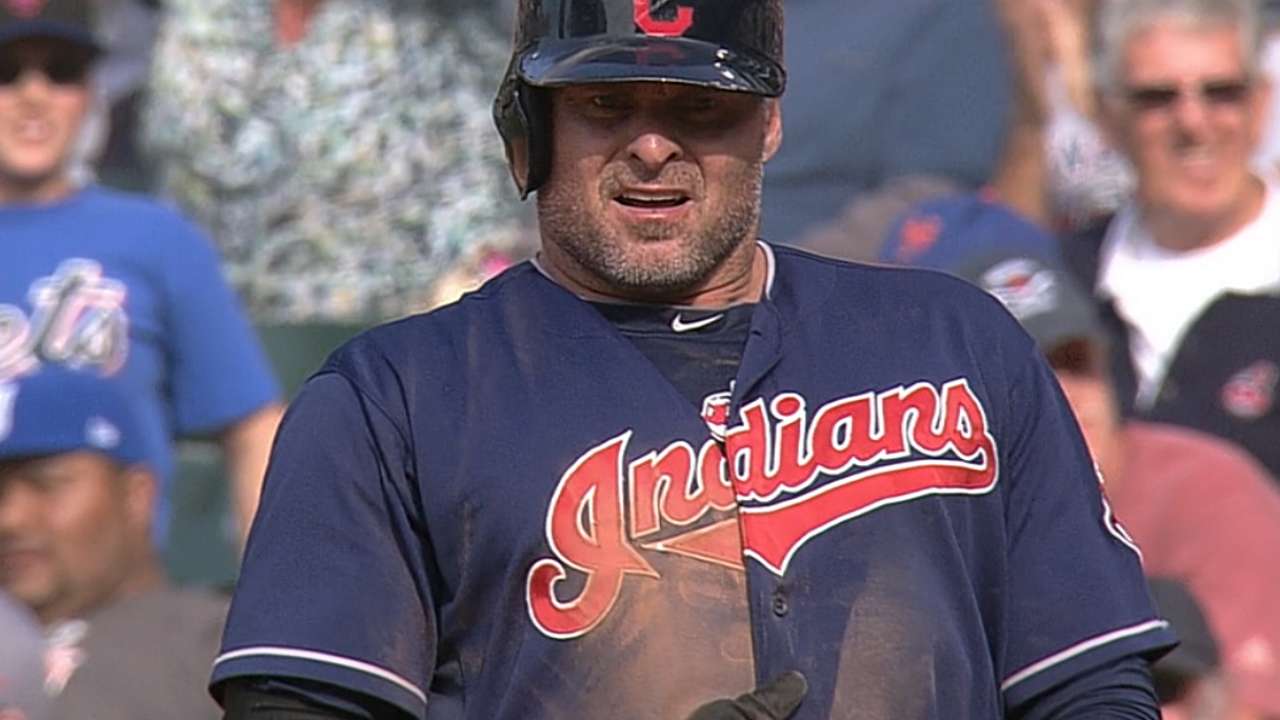 CLEVELAND -- Jason Giambi spent this offseason weighing whether to step away from baseball after a Major League career that spanned two decades. The veteran slugger maintained a media silence throughout the winter months, choosing to consider the decision in private with his family.
On Monday, the 44-year-old Giambi took the final step in a storied career, announcing his retirement from the game of baseball. The former designated hitter and first baseman had stints with the A's, Yankees, Rockies and Indians, evolving from an MVP-caliber slugger in his prime to a clubhouse leader and bench player in his final two seasons in Cleveland.
Giambi felt he had accomplished as much as any player could hope for in the big leagues.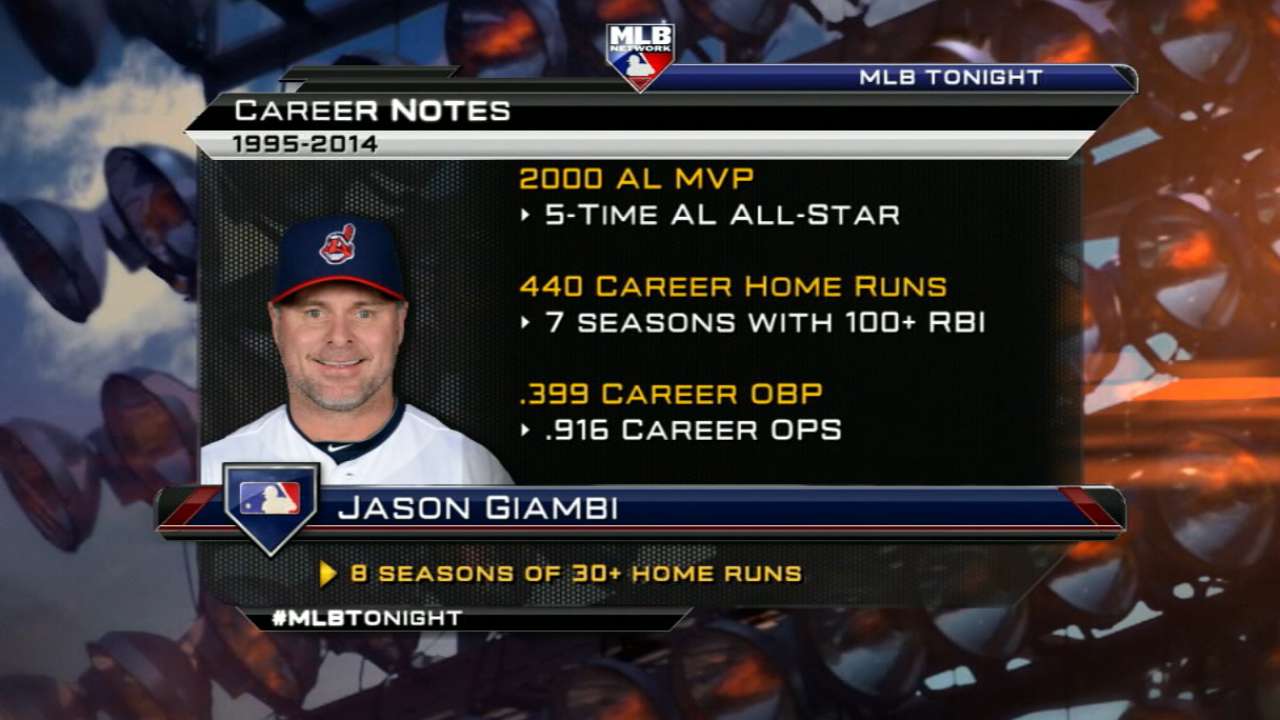 "I've done everything I possibly can in my career," Giambi said in an exclusive interview with the New York Daily News. "From making the big leagues to superstar to bench player to mentor, I've done every role you can possibly do in this game. I have two young ones and I want to get an opportunity to spend that time in their young lives. I want to be there to watch them grow."
Toward the end of last season with the Indians, Giambi hinted that the idea of being at home with his family had a strong pull on him. He joked often that he was "Mr. Mom" these days and spending time with wife, Kristian, and their two chidren, 3-year-old London and 1-year-old Tristan, was becoming the priority for a player who likened himself to a rock star earlier in his career.
That career includes parts of 20 seasons, in which Giambi posted a .277/.399/.516 slash line to go along with 440 home runs, 405 doubles, 1,227 runs, 1,366 walks and 1,441 RBIs in 2,260 games. He was a five-time All-Star and finished in the top five in voting for the American League Most Valuable Player Award three times, winning the honor with Oakland in 2000.
Giambi is one of only 20 players in Major League history to amass at least 400 homers, 1,200 runs, 1,300 walks and 1,400 RBIs with an OPS of .900 or better.
Over the past two seasons with the Tribe, which utilized Giambi as a designated hitter and pinch-hitter, he hit .171 with 11 home runs and 36 RBIs in 97 games (246 at-bats). Last year, Giambi appeared in only 26 games due to three stints on the disabled list with a variety of health woes.
That does not mean Giambi did not have an impact in Cleveland.
"Jason is one the most special people I have ever been around," manager Terry Francona said on Monday. "I wish him nothing but the best in retirement and look forward to the day when he wants to put a uniform on again."
Francona has made his affiinity for Giambi no secret. Throughout the slugger's time with the Tribe, Giambi had "carte blanche" (as Francona put it) to call team meetings when he felt it was necessary. Giambi took many of the young players under his wing, acting as a kind of extra coach to go along with his part-time role on the field.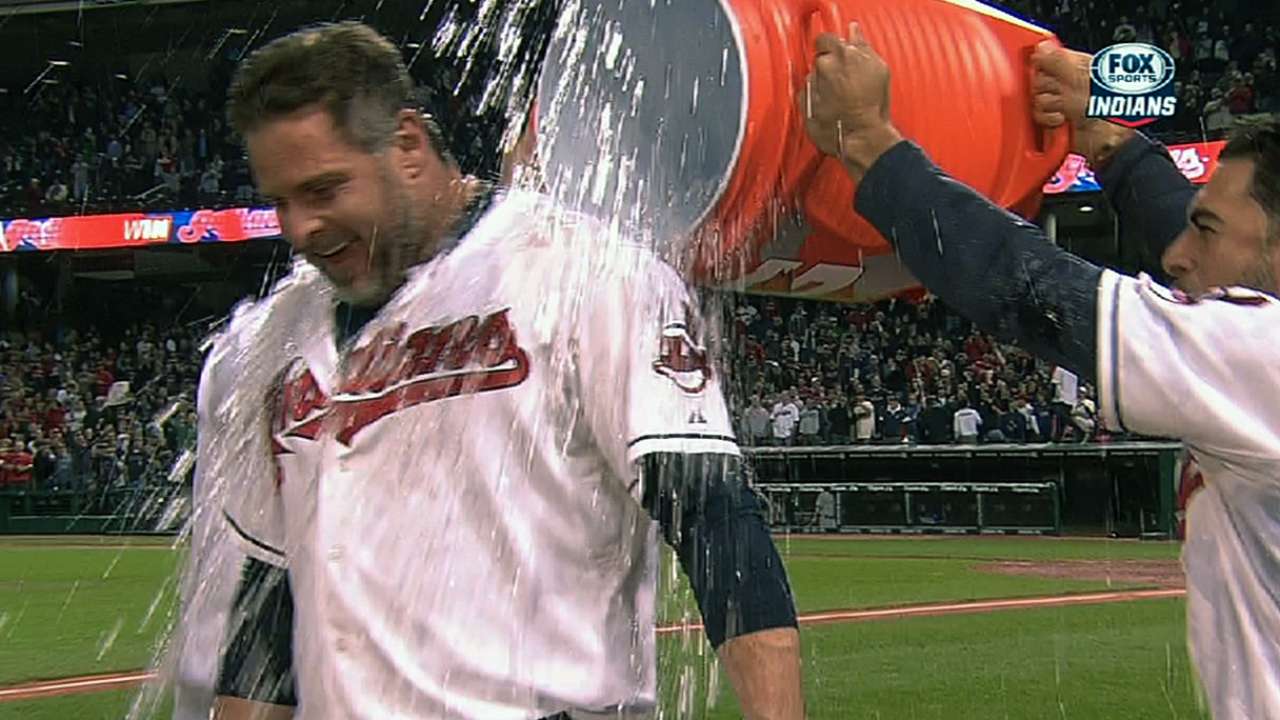 During the 2013 season, Giambi carved his name into Cleveland lore with a dramatic walk-off home run against the White Sox on Sept. 24. The two-run pinch-hit blast off Addison Reed powered the Indians to their fifth win in a row within a 10-game winning streak that sealed a spot in the AL Wild Card Game. With that shot, Giambi broke his own record as the oldest player in baseball history to hit a walk-off homer.
That was just one of many memorable moments from Giambi's two-year stay in Cleveland.
The Indians have made it known throughout this offseason that Giambi is welcomed to a role within the team's front office, if the veteran wants to stay in the game. It is not clear what kind of job Cleveland has offered, but it would likely be an advisory role in the front office or a Minor League instructional role. Giambi has informed the Indians that he is considering taking a year off to spend time with his family.
"Nothing really has changed with Jason," Indians general manager Chris Antonetti said recently. "Tito and I have both stayed in touch with 'G' and told him that we'd love to keep him in the organization in some capacity. We haven't gotten more specific than that at this point."
Giambi's career was not without controversy, though.
Giambi was involved in the BALCO performance-enhancing drugs investigation and, while never delving into specifics, he has apologized publicly for wrongdoings early in his career. Giambi's earnest contrition was instrumental in salvaging his reputation and he remains widely-respected throughout the game. Before Giambi signed with the Indians, he interviewed for the managerial opening with Colorado.
"Some of us have to walk through the darkness to find the light," Giambi told the Daily News. "I did that. The human being you see today is the result of everything that I went through. It turned me, hopefully, into this mentor that helped the kids in Colorado and Cleveland, and hopefully the most incredible father for my kids."
In a statement given to the Daily News, Giambi made a point to thank the many people in his life in and outside of baseball who helped him achieve all he did in his career. Now, he plans on taking time to consider where retirement will lead him.
"Ever since I was 5 years old, all I wanted to be was a baseball player," Giambi was quoted as saying. "I got to live that dream for 20 years. There's a part of me that's sad that it's ending, that I'll never be a player again; but I have these two new gifts in London and Tristan to have fun with."
Jordan Bastian is a reporter for MLB.com. Read his blog, Major League Bastian, and follow him on Twitter @MLBastian. This story was not subject to the approval of Major League Baseball or its clubs.