Rockies enter spring built around strong lineup
Depth off bench should bring offense added flexibility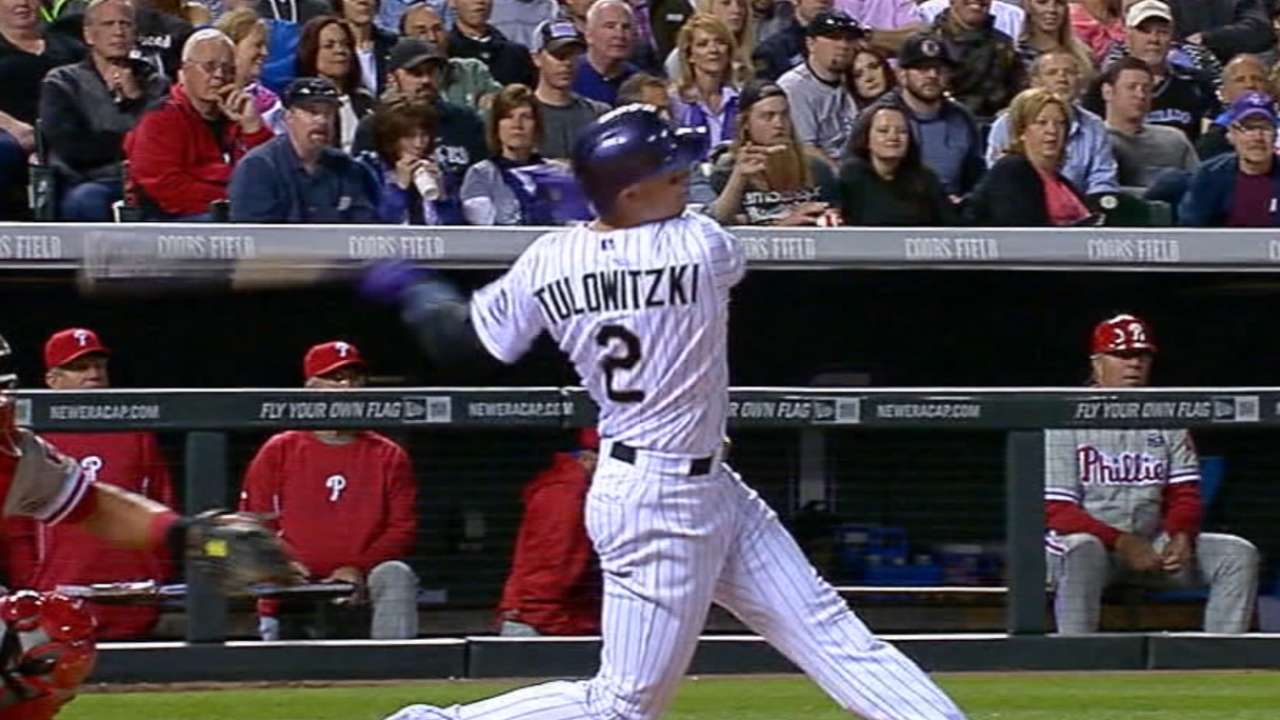 SCOTTSDALE, Ariz. -- The Rockies led the National League in batting with a .276 average and runs at 755, even though shortstop Troy Tulowitzki (left hip) didn't play past July and outfielder Carlos Gonzalez (left middle finger, left knee) played in pain before undergoing surgery in August.
Although they need to produce enough to be somewhere close to break-even on the road (their history has three playoff appearances but just one winning season on the road), the lineup still is the team's strength.
It goes deeper than the projection you see here. The infielders all bat left, but right-handed hitters Drew Stubbs and Brandon Barnes can help balance things, especially against difficult lefties in the National League West. With Stubbs available to play all three spots, Barnes comfortable in either corner and Charlie Blackmon able to slide to a corner, and all three of them with experience as leadoff men, there are plenty of options.
The addition of catcher Nick Hundley moves Wilin Rosario into a backup role, but his power and history of success against lefty pitching could open time for him behind the plate, at first base when Justin Morneau needs a break, and possibly in the outfield in double-switch situations. There also is a chance, with catcher Michael McKenry out of options but coming off his best offensive year, the Rockies can carry three catchers.
With the aforementioned bench options and infielder Daniel Descalso signed for two years, Spring Training will see several players who saw time last year compete for roster spots. Those are left-handed hitting first baseman-corner outfielder Ben Paulsen, righty-hitting first baseman-corner outfielder Kyle Parker and switch-hitting middle infielders Rafael Ynoa and Cristhian Adames.
2014 record
66-96, fourth in the National League West
Projected batting order
1. CF Charlie Blackmon :
.288 BA, .335 OBP, .440 SLG, 19 HR, 72 RBIs in 2014
2. LF Corey Dickerson:
.312 BA, .364 OBP, .567 SLG, 24 HR, 76 RBIs in 2014
3. RF Carlos Gonzalez :
.238 BA, .292 OBP, .431 SLG, 11 HR, 38 RBIs in 2014
4. SS Troy Tulowitzki:
.340 BA, .432 OBP, .603 SLG, 21 HR, 52 RBIs in 2014
5. 1B Justin Morneau:
.319 BA, .364 OBP, .496 SLG, 17 HR, 82 RBIs in 2014
6. 3B Nolan Arenado:
.287 BA, .328 OBP, .500 SLG, 18 HR, 61 RBIs in 2014
7. 2B DJ LeMahieu :
.267 BA, .315 OBP, .348 SLG, 5 HR, 42 RBIs in 2014
8. C Nick Hundley:
.243 BA, .273 OBP, .358 SLG, 6 HR, 22 RBIs in 2014
Projected rotation
1. LHP Jorge De La Rosa, 14-11, 4.10 ERA in 2014
2. RHP Jhoulys Chacin , 1-7, 5.40 ERA in 2014
3. RHP Kyle Kendrick , 10-13, 4.31 ERA in 2014
4. LHP Tyler Matzek, 6-11, 4.05 ERA in 2014
5. RHP Jordan Lyles , 7-4, 4.33 ERA in 2014
Projected bullpen
Closer: LaTroy Hawkins, 23-for-26 saves, 3.31 ERA in 2014
RH setup man: Adam Ottavino , 3.60 ERA in 2014
LH setup man: Rex Brothers , 5.59 ERA in 2014
Thomas Harding is a reporter for MLB.com. Read his blog, Hardball in the Rockies, follow him on Twitter @harding_at_mlb, and like his Facebook page, Thomas Harding and Friends at www.Rockies.com This story was not subject to the approval of Major League Baseball or its clubs.