Thome HOF worthy according to ex-Sox mates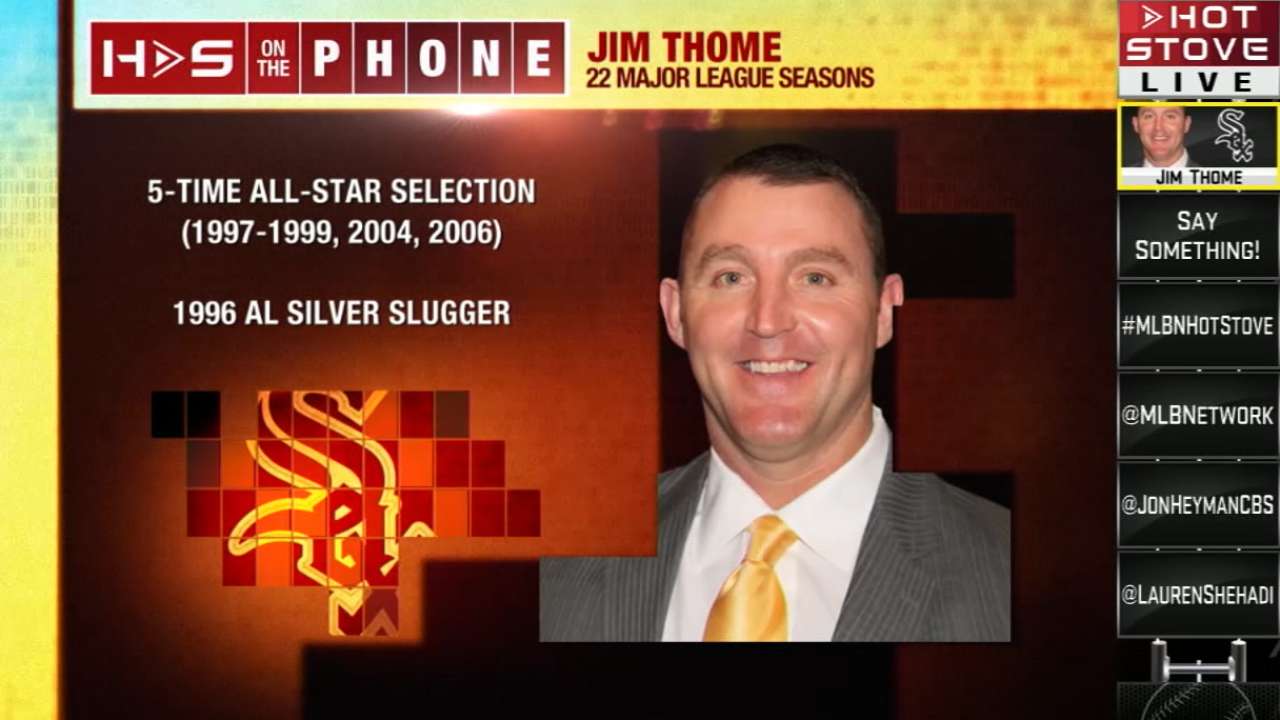 CHICAGO -- When Aaron Rowand was traded from the White Sox to the Phillies around Thanksgiving of 2005, coming off his major contributions to the historic White Sox World Series championship run, he received a surprise phone call shortly after the deal was finished.
That call came from Jim Thome, who was moving from the Phillies to the White Sox as part of the same move.
"I had never sat down and had a conversation with him, other than on the field and saying hello to him and stuff," said Rowand, speaking recently at SoxFest, where Thome also was in attendance. "But he called me the day after the trade.
"He got my number from somebody in the organization and he said, 'Hey, I wanted to talk to you about Philly a little bit and about the reporters,' and this and that and the other.' Just out of the blue.
"And then, he and I talked for about an hour, talking about all the reporters here in Chicago. He wanted to know about Chicago and all that kind of stuff," Rowand said. "I remember getting off the phone going, 'He really is the nicest guy in baseball.'"
Rowand played two years for the Phillies before moving on through free agency to the Giants, where he won his second World Series title. Thome launched 134 homers with a .933 OPS over four seasons with the White Sox, where he currently serves as a special assistant to general manager Rick Hahn.
Thome finished with 612 homers, 1,699 RBIs, a .402 on-base percentage and a .554 slugging percentage during a 22-year-career, statistics that should stand up as a strong first-ballot Hall of Fame case when he's eligible in 2018. Rowand and Joe Crede, who was a teammate of both mainstays in this '05 deal, would like to change the rules where Thome and the Hall of Fame are concerned.
"He's a guy they just need to put in the Hall of Fame and not even wait for five years," Crede said of Thome. "He's the epitome of a baseball player."
"There's no reason for him to wait," said Rowand, who has remained friends with Thome. "Just the greatest dude ever."
Scott Merkin is a reporter for MLB.com. Read his blog, Merk's Works, and follow him on Twitter @scottmerkin. This story was not subject to the approval of Major League Baseball or its clubs.