Bond of friendship remains strong for 2005 Sox
Reunion at SoxFest shines light on World Series champions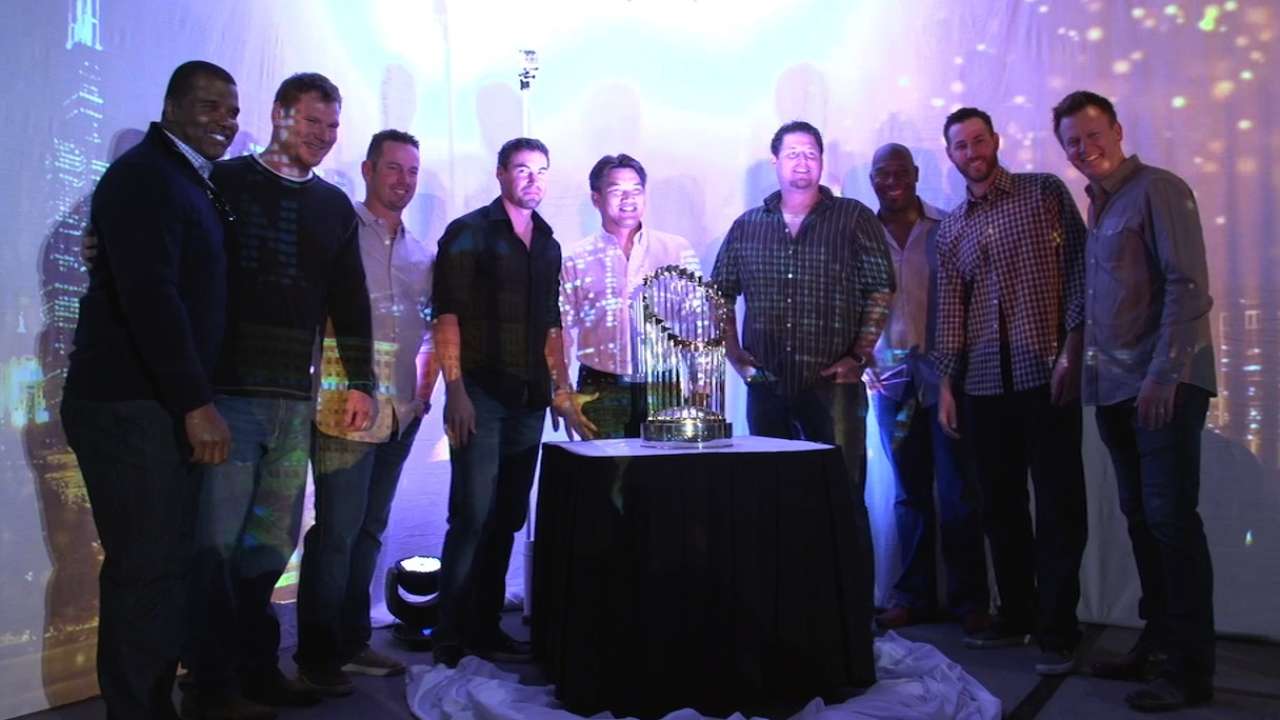 CHICAGO -- The location was a large suite in the Hilton Chicago on Michigan Avenue, featuring a sweeping view of the snowy Lake Shore landscape on a Sunday afternoon in late January. The subjects in question were Aaron Rowand and Joe Crede, two integral members of the 2005 White Sox World Series championship team, in town for SoxFest and the beginning of the 10-year-title anniversary celebration.
And the question at hand seemed simple enough: Which one of their former '05 teammates from an 11-1 postseason run to immortality surprised them either with their actual Chicago appearance or their physical appearance at SoxFest? Crede and Rowand's play-by-play over the next minute or so of this 10-minute sitdown quickly pointed out that the unshakeable chemistry built 10 years ago had not faded with a decade's time.
"[Bobby] Jenks, I thought he looked good," said Crede, who was an All-Star, Silver Slugger Award winner and one of the game's slickest fielding third basemen during his 10-year-career, in taking a first shot at the inquiry.
"Yeah, Jenks looked good. And [Tadahito] Iguchi, because he's still playing," continued Rowand, whose hard-nosed style of play served as part of the inspiration for the White Sox iconic '05 Grinder Rules. "Gar [Jon Garland] looks exactly the same, too, and Scotty Pods, he still looks like Adonis."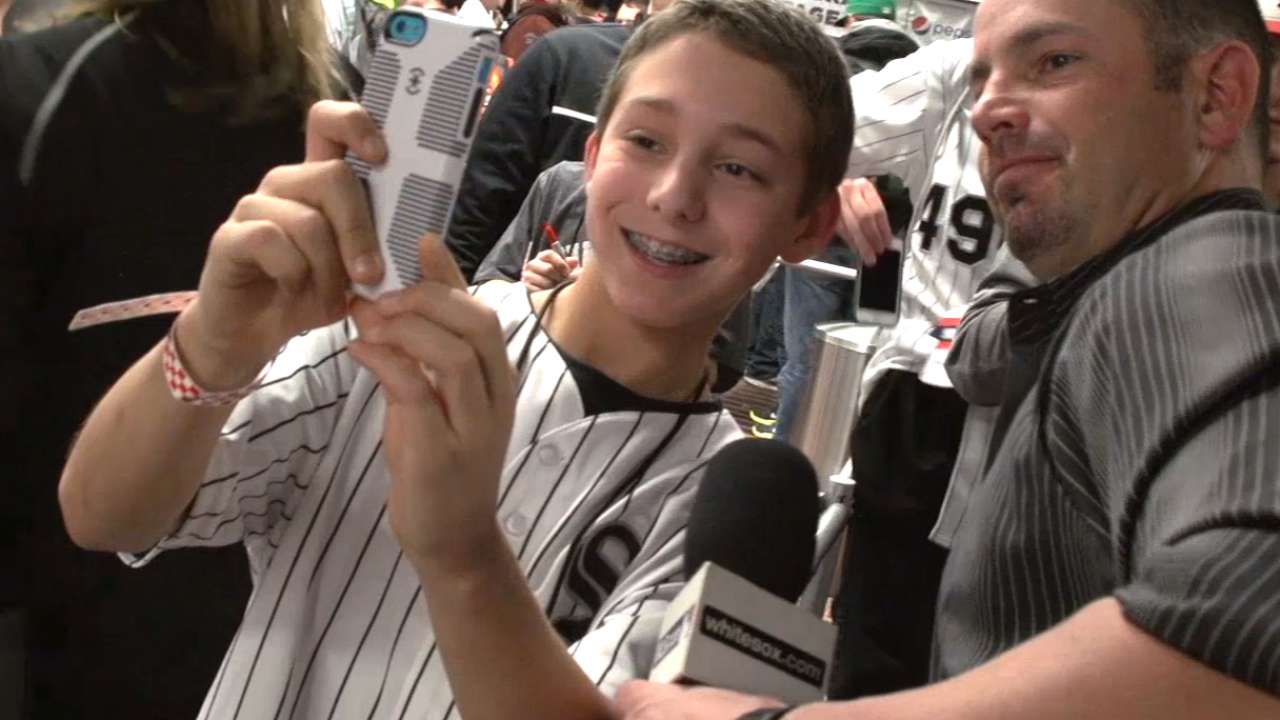 "Everyone looks exactly the same. Except for us. We look old," said Crede with a laugh. "What's wrong with us?"
"I don't know what's going on," a smiling Rowand said.
Every championship team, in pretty much any sport, seems to develop its own personality over the course of a long season full of peaks and valleys. Some of those characters live on forever, such as the 1985 Super Bowl champion Bears. Some seem to fly a bit under the radar outside of their own city, with the '05 White Sox serving as a perfect example despite winning 110 games.
Not all of those winning teams got along or still get along as well as this White Sox squad did or does. That '05 group anchored on Chicago's South Side was a multi-national force, featuring players from Japan, Cuba, Venezuela, the Dominican Republic and the United States, not to mention many U.S. states such as Arizona, California, Texas and Florida. But there was no language barrier among friends working toward a common, ultimate goal.
Ken Williams, the current White Sox executive vice president and architect of the '05 champions, recalls it not being uncommon for groups of seven or eight players frequently going out together to lunch or dinner. The eight players representing '05 at SoxFest picked up the friendship from right where they left it.
"It was a diverse team, whether it's language, countries or whatever," Rowand said. "Everybody still hung out together. It didn't matter whether you were Dominican, Cuban, Japaense, American, Venezuelan. Everybody hung out together and enjoyed being around each other. That's what was so neat about that team."
"With everybody getting along so well, it was like you almost knew what they were going to say before they said it," Crede said. "Kind of like a brother. You didn't really have to speak the language."
Rowand, Crede and A.J. Pierzynski, who was preparing for the upcoming 2015 season with the Braves and was unable to attend SoxFest, became close friends that year. It wasn't a clique as much as it was a lifelong bond forged, with the Rowand and Pierzynski families traveling together to Cooperstown last July to enjoy Frank Thomas' Hall of Fame induction.
This trio brought Steve Perry and Journey's "Don't Stop Believin'" into play as an almost honorary championship anthem for '05, stemming from an innocuous night out in Baltimore.
"We are all kind of goofy," Rowand said. "Joe and I have been friends for a long time. We came up playing together. You bring A.J. into the mix and the banter and the back and forth, and the constantly making fun of each other, I think it just brought us closer. Good fit, and we just enjoyed being around each other."
That ongoing enjoyment shared by Crede and Rowand became evident throughout every one of their SoxFest activities and entertaining panels in front of a room full of devoted fans, including this final interview before returning home to their families. At one point, Rowand gave a detailed answer about that chemistry factor on a championship team and how it still played out 10 years later.
Crede, looking down at his phone to make sure his flight still was on time in the bad weather, was caught off guard as Rowand finished and added with a laugh, "What Aaron said."
"You are answering first from now on," Rowand countered.
In '05, the White Sox featured an ability to handle close games from the season's outset and never felt without a chance for victory, regardless of the deficit or the inning. They didn't have one ace, per se, but instead they had four or five starters who gave them a chance to win without having to score many runs every night.
They also developed a special connection existing 10 years later, even when these players don't see each other for years in between.
"Whether you win a World Series or not, every team has its own heartbeat and its own personality," Rowand said. "It's all those moments that kind of mold that. Especially when you win, it brings you even closer. When you come back out here and you haven't seen each other for a long time, it's funny how that personality hasn't changed. It's pretty neat."
So what about 10 years from now? How will this group then be remembered? Crede, now a cattle farmer in his home state of Missouri, had an even greater curiosity.
"What will I look like in 10 years? That's the question," Crede said. "This 10 years really seemed like we won last year from the way the fans interacted with us and the memories they brought up, the way they supported us."
"Our fans and the players and the organization embrace that team because it was a great group of guys that played really good baseball and enjoyed each other and had fun with each other in the clubhouse and outside the clubhouse," Rowand said. "You don't have the kind of chemistry on every team. It will be even better in the next 10 years because all the guys that are playing right now won't be, so there will be more guys here and have more of what we got to experience this year."
Scott Merkin is a reporter for MLB.com. Read his blog, Merk's Works, and follow him on Twitter @scottmerkin. This story was not subject to the approval of Major League Baseball or its clubs.