Maddon will experiment with lineup possibilities
Manager considering several combinations for new-look Cubs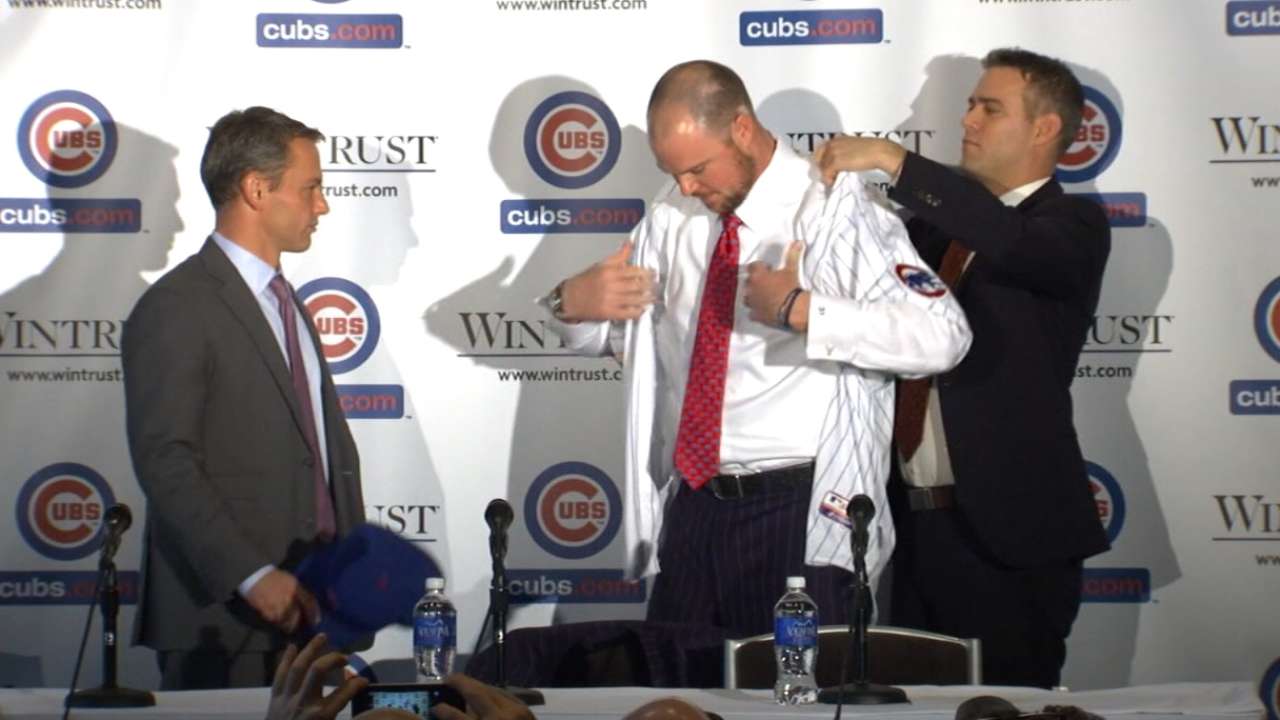 MESA, Ariz. -- At the Cubs Convention in January, manager Joe Maddon admitted he had not started scribbling possible lineup combinations, saying he has "zero preconceived notions right now."
However, Maddon has been doing some research on lineups, particularly about the pluses and minuses of having the pitcher bat eighth. He's done his research, talking to Tony La Russa about the tactic. Maddon did insert his pitcher into the No. 8 spot seven times with the Rays. The last Cubs pitcher to bat eighth? Jeff Samardzija, who did so Sept. 8, 2012, under manager Dale Sveum.
Maddon also has had a pitcher bat third, although not intentionally. Andy Sonnanstine did so in May 2009 because of a lineup card mistake when Maddon accidentally had two players listed at third base and no designated hitter.
Speaking of lineups, remember Opening Day 2014? Rick Renteria's starting nine included Emilio Bonifacio in center, Junior Lake in left, Starlin Castro at shortstop, Anthony Rizzo at first, Mike Olt at third, Welington Castillo catching, Nate Schierholtz in right, Darwin Barney at second, and Samardzija on the mound. If there's one constant, it's that things change.
No matter who Maddon uses, the feeling is that the Cubs will have an improved lineup this year.
"It's always dangerous to write up a lineup card in January because guys can get hurt," Cubs general manager Jed Hoyer said, "but there's no doubt that guys batting sixth, seventh, and eighth now will be more experienced, more talented and certainly have better on-base skills than they have in the past."
Since Maddon won't offer possible combos, the following is strictly speculation. One thing to note: Maddon does like Arismendy Alcantara's versatility, and may use him everywhere -- second base, center field, leading off. As for the rotation, keep in mind contractural obligations may play a role in deciding the final five (which is why no Kyle Hendricks on the list).
Here is the fifth in a series of Spring Training previews, leading up to Thursday when pitchers and catchers report to Arizona.
2014 record
73-89, fifth in National League Central
Projected batting order
1. CF Dexter Fowler :
.276 BA, .375 OBP, .399 SLG, 8 HR, 35 RBIs in 2014
2. LF Chris Coghlan :
.283 BA, .352 OBP, .452 SLG, 9 HR, 41 RBIs in 2014
3. 1B Rizzo:
.286 BA, .386 OBP, .527 SLG, 32 HR, 78 RBIs in 2014
4. SS Castro:
.292 BA, .339 OBP, .438 SLG, 14 HR, 65 RBIs in 2014
5. 2B Javier Baez :
.169 BA, .227 OBP, .324 SLG, 9 HR, 20 RBIs in 2014
6. RF Jorge Soler :
.292 BA, .330 OBP, .573 SLG, 5 HR, 20 RBIs in 2014
7. 3B Olt:
.160 BA, .248 OBP, .356 SLG, 12 HR, 33 RBIs in 2014
8. C Miguel Montero :
.243 BA, .329 OBP, .370 SLG, 13 HR, 72 RBIs in 2014
Projected rotation
1. Jon Lester , 16-11, 2.46 ERA in 2014
2. Jake Arrieta , 10-5, 2.53 ERA in 2014
3. Jason Hammel , 10-11, 3.47 ERA in 2014
4. Travis Wood , 8-13, 5.03 ERA in 2014
5. Edwin Jackson , 6-15, 6.33 ERA in 2014
Projected bullpen
Closer: Hector Rondon , 29/33 saves, 2.42 ERA in 2014
RH setup man: Pedro Strop , 2.21 ERA in 2014
LH setup man: Zac Rosscup , 9.45 ERA in 2014
Carrie Muskat is a reporter for MLB.com. She writes a blog, Muskat Ramblings, and you can follow her on Twitter @CarrieMuskat. This story was not subject to the approval of Major League Baseball or its clubs.