Panama youth in full bloom at Super NIT
From humble baseball beginnings, team faces MVP Banditos in USSSA tourney title game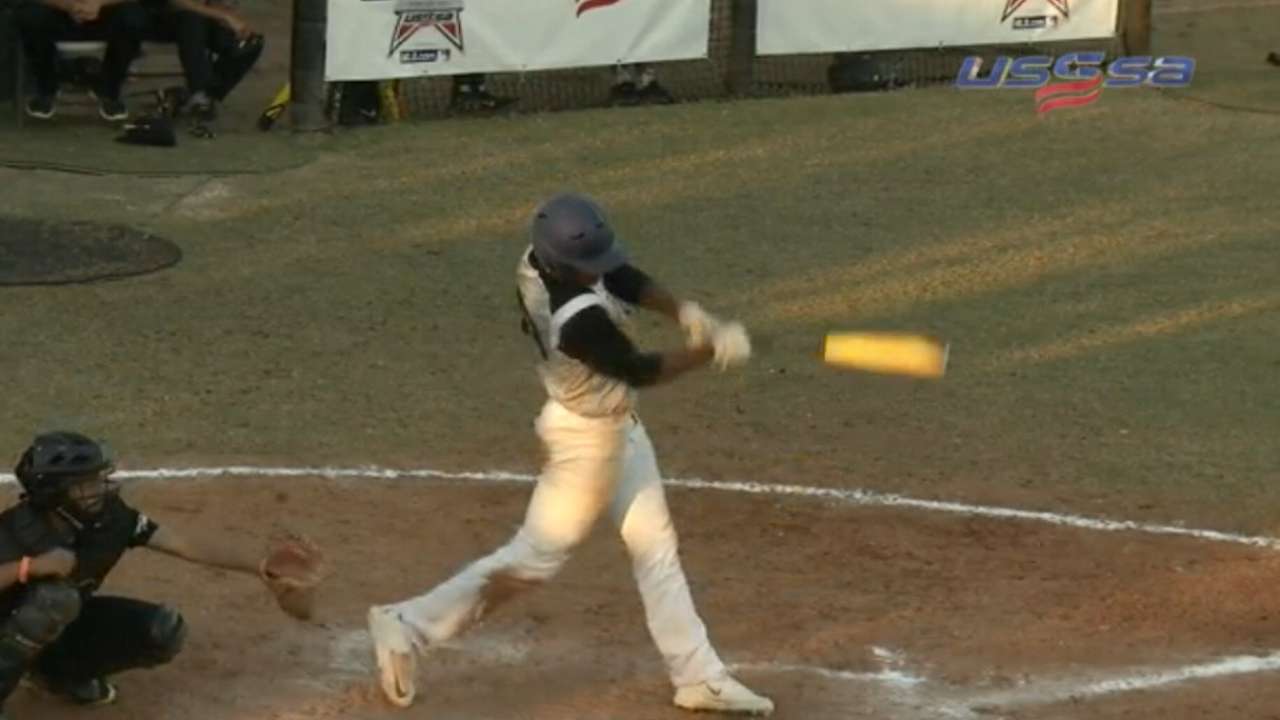 They're more than a thousand miles from home, and playing in circumstances that must feel even further away. The boys from Team Panama are making themselves comfortable in a tournament sponsored by the United States Specialty Sports Association, and they're one win away from another title.
Panama, a team put together by Tomas Guerra, the former consul general of Panama in Miami, won the 12-and-under championship for the USSSA last season. Half the players are based in Miami and the other half travel from their homeland in the hope that baseball can change their future. Now, they're on the verge of victory in the USSSA Presidents Day Super NIT in Southwest Ranches, Fla.
The Panamanian team won a 7-0 semifinal leg against the Florida-based Miramar Canes on Sunday, and its final game against the MVP Banditos will be broadcast live on MLB.com on Monday at 1 p.m. ET. Panama will be playing for national pride and to hopefully gain notice for scholarships to high school or college here in the United States, and Guerra said he's proud of the way his team has played.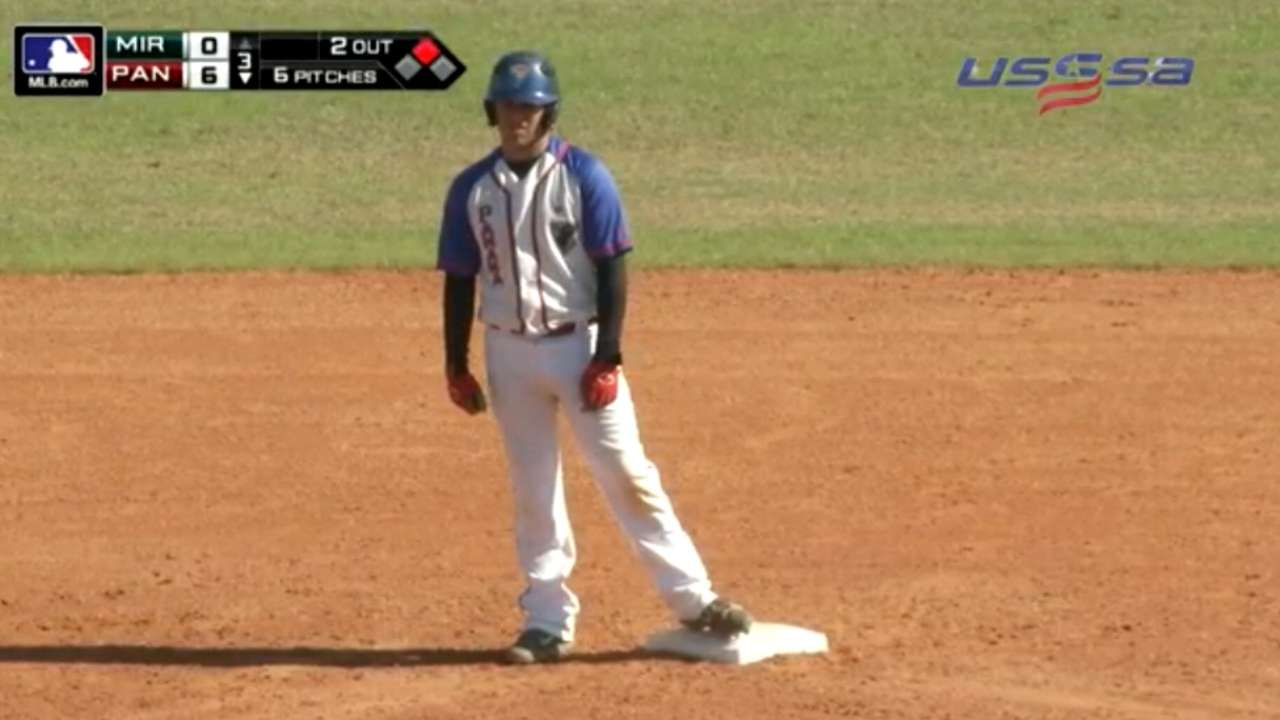 "I've got kids that travel eight hours from a city in Panama to come here," said Guerra. "These are kids from low-income neighborhoods, tough neighborhoods. Baseball is an expensive sport for Panama, and they don't really have the tools to play there: the shoes, the bats, the gloves. They come from fields with poor conditions. Once they play here, it's amazing. And being on TV, it's a fantasy for them."
Guerra said one of his players lives in a remote area and that his family doesn't have access to the Internet. But it's no problem. The player's parents simply trek through their village to find an Internet cafe or somebody who can help them connect to watch the game from afar.
Guerra has been running the Team Panama feeder program in Miami for four seasons, and his coaches have started going deep into the countryside to find potential players. This year, the hitting coach called Guerra from the road and said he couldn't find anything except high-caliber prospects.
"He's in the middle of nowhere. There's nothing but cows and chickens. But he's seeing kids that are Major League ballplayers as soon as you put the tools on them," said Guerra. "That's the way we do it. We find kids that don't really have access to play the game. We find players and we have tryouts and we bring the best of the best. Once we get the kids who have potential, we bring them here. And when they come here, they don't have Playstation or anything like that. Baseball is for real for them."
They play in the hopes of being noticed, and they dream of one day being the next Mariano Rivera or Rod Carew or Carlos Lee. Soccer may be Panama's most popular sport, but baseball has a growing profile, and Guerra's kids know the game can lead to a better education and a better life.
Team Panama will face off against the MVP Bandito program in Monday's title game, a rematch with several of the players they played in last summer's 12-and-under title game. The Banditos advanced with a 7-3 victory over the West Pine Cobras in Sunday's second game.
Monday will also feature two All-Star Games -- the Class of 2019 at 4 p.m. and the Class of 2018 at 7 p.m. -- broadcast on MLB.com after the title game. The first game will feature Orlando Hernandez Jr., son of former big leaguer Orlando "El Duque" Hernandez, and a host of other talented young players.
Guerra wants his players to relax and enjoy the moment, and he's hoping they realize all their dreams in time. But for now, he wants them to just look around and remember everything that happens.
"It's a life thing. Having an opportunity like this can make you a little bigger. It can make you a little more conscious of life," Guerra said of his young players. "I've got some kids that you seat them at the table and you bring them lasagna and they ask, 'Coach, what's this?' They've never eaten lasagna before. They come here to celebrate Christmas and they stay at my house. Even if they don't make it in baseball, we've shown them something that can change their life. When they go back to Panama, they know there's something else besides the town where they live. They sleep on it and they dream on it."
Robert Moya won the 13-and-under Home Run Derby at the USSSA tourney on Sunday night, and Alex Lopez won the 14-year-old division by blasting 10 shots out of the ballpark. Five of those homers were measured at more than 400 feet, punctuating an exciting day of baseball in Fort Lauderdale.
The Presidents Day Super NIT is just an early-season tournament, but Guerra's team is excited for the opportunity to play on a grand stage. His boys will be ready to face off against MVP Bandito in Monday's championship game, and they're hoping to make their families and their country proud of them.
"My best ballplayer, his father makes about $400 a month," said Guerra. "He lives with his wife and with his little daughter and with his son, who might be the next best pitching prospect from our country. The kid has everything: The physical tools to have a Major League future, and the discipline he has is amazing. When you go to his house and you see his family, they're just surviving. His father wants him to have an education, because he's worried about what might happen after he's gone. They're a poor family, and that's their story. He knows that this is his opportunity and he wants to make it work."
Spencer Fordin is a reporter for MLB.com This story was not subject to the approval of Major League Baseball or its clubs.