#BaseballBegins means a time of renewal
Bonds between teammates are strengthened when it's time for pitchers and catchers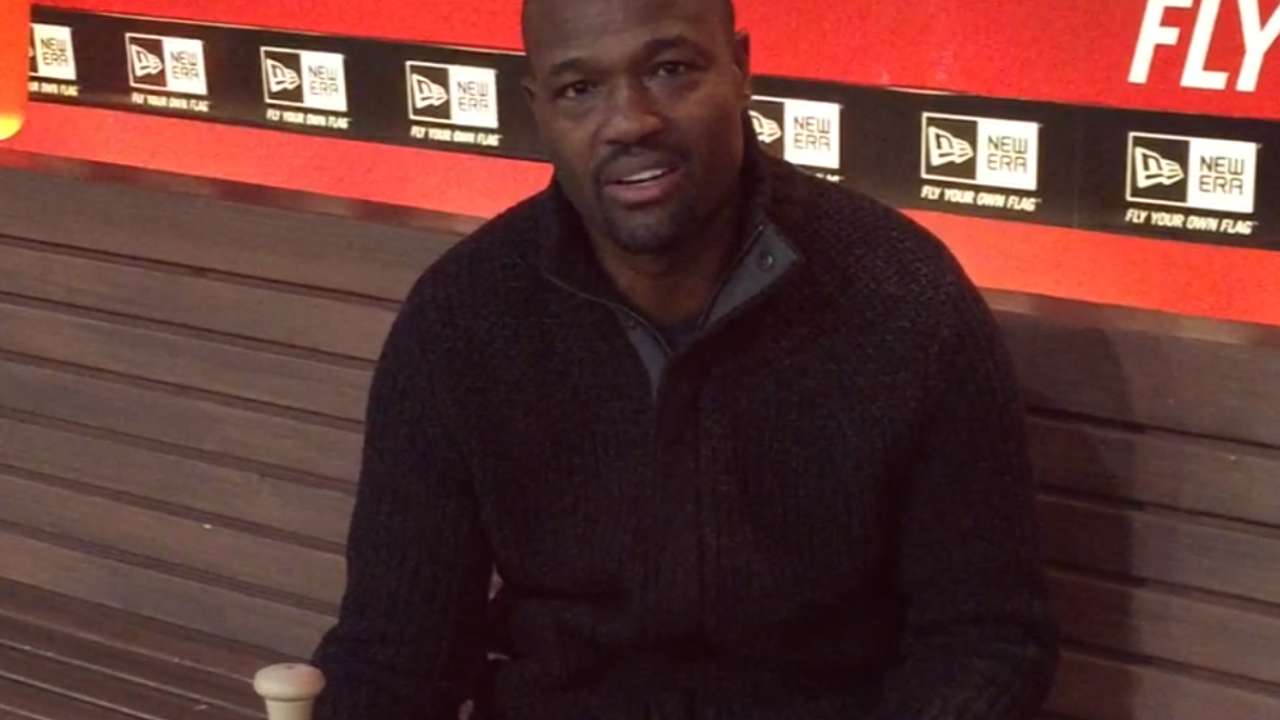 "Pitchers and catchers report" are four of the most beautiful words in the English language. Everything old is new again. As another Spring Training gets underway on Wednesday in Florida and Arizona, we are asking people around Major League Baseball what those four words mean to them.
Join the conversation and be sure to use #BaseballBegins in your tweets.
Jeff Conine, "Mr. Marlin," a 17-year Major Leaguer who played on both of the Marlins' World Series champions and is currently the club's special assistant to the president:
"For me, it's the start of my year. Being a player who played for quite a while, toward the end of my career I didn't really start doing baseball stuff until Jan. 1, and you looked forward to those four words. Now, in my current position, I'll be an instructor at Spring Training -- helping the young guys out -- and that phrase is still a beauty to my ears.
"Seeing the teammates again, it's like a big fraternity, and you go away for the summer and get back to your buddies and talk shop. I remember what it was like at the start of our first World Championship season in 1997, that first day at Spring Training. The whole offseason, we knew that Wayne Huizenga and Dave Dombrowski had put together something special -- and Jim Leyland had just taken over as our new manager. From that first introduction of his staff to us, we all felt comfortable. We were 26-5 that Spring Training -- it was crazy how many games we won. We clicked right away."
Tommy Lasorda, the Dodgers' special advisor to the chairman and Hall of Fame manager:
"It means another day of Spring Training. That's what I will live for. I enjoy it so much. I've been going to Spring Training for many, many years, and I love every minute of it. I've said many times, if the Dodgers want to get rid of me, just tell me I can't go to Spring Training. And I'd say, 'I've gotta go, some way.'"
Paul Siler, CEO of USA Baseball
"Very simply, it means hope. Especially being a Cubs fan, it's the chance to hold on to hope again -- at least through April. It means the sound of a ball slamming into the web of a leather mitt, echoing through a stadium. It means the sound of the ball resonating off the sweet spot of a piece of ash and piercing through the air. It means gazing across a field of the most beautiful grass you ever get to see. It means hot dogs become an acceptable food to order again. It means remembering all those times in the car when my dad used to quiz me on the historical-stat leaders and the retired-jersey numbers of his beloved Yankees and how once again, we'll get to connect in a way we haven't been able to for months. It means the cathedrals of dirt and grass will soon open their doors and invite us all in. It means it's time for the most hallowed of American sports traditions. It's time for baseball."
Mariners broadcaster Dave Sims:
"Pitchers and catchers, to me, means warm weather. Up here in the Northeast [where I live], we've been getting pounded by cold weather and a lot of snow. But [it means] warm feelings: You think of pitchers and catchers, the start of a new season, and a new beginning gets you fired up. The Mariners, this year, with all the acquisitions that have been made since we last put on the cleats back in September. Boy, I tell you what, optimism is riding very high. With the addition of Nelson Cruz and now Rickie Weeks, you've got Justin Ruggiano, Seth Smith, J.A. Happ to go along with Felix Hernandez, Robinson Cano ... very exciting times [are ahead] in Seattle."
Previous: Clint Hurdle, Derrick Hall, Dmitri Young, Carl Pavano, Joe Garagiola Jr.
Mark Newman is enterprise editor of MLB.com. Read and join other baseball fans on his MLB.com community blog. This story was not subject to the approval of Major League Baseball or its clubs.