Youth baseball paves way for Major Leaguers
With tournaments on tap, former stars recall playing days at age 13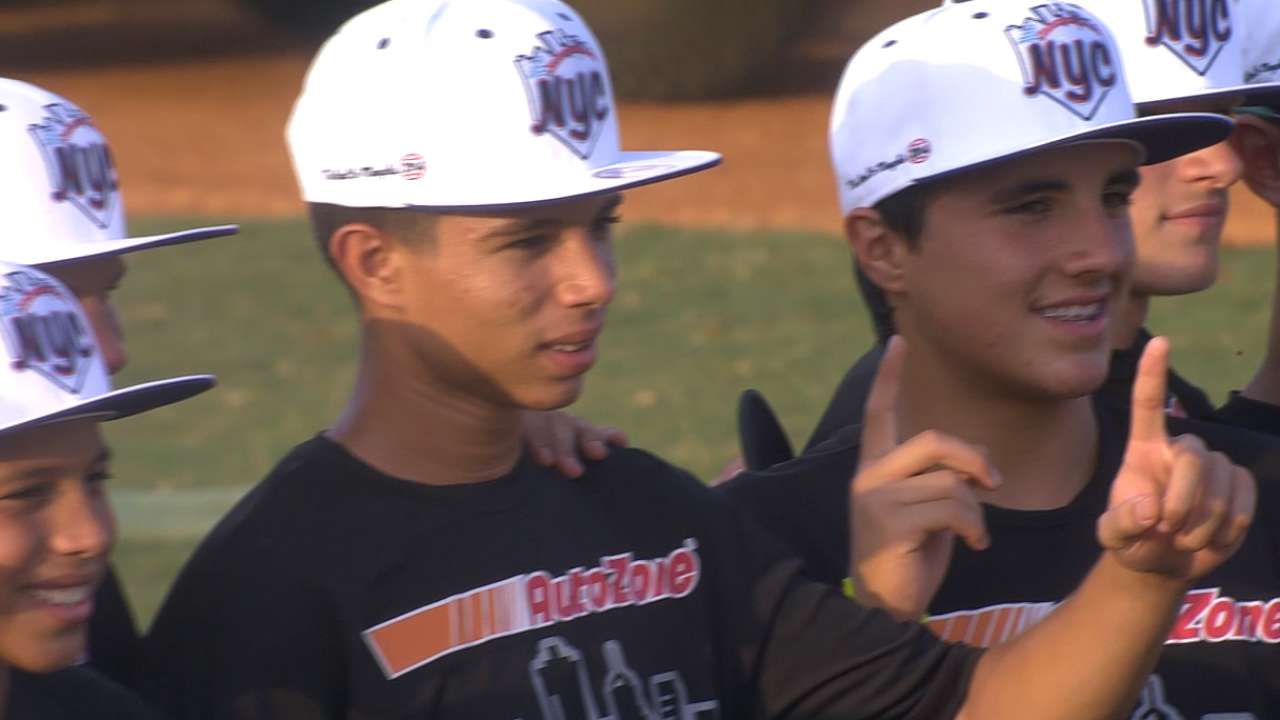 Some of the country's top young players will gather in Florida this weekend for the USSSA Presidents' Day Super NIT and All-Star Classic. Will there be a future Major Leaguer in the mix? A potential Hall of Famer?
The short answer: It's hard to tell, of course. Just ask a few familiar names from around the baseball world, and they'll tell you what they were like when they were teenagers.
Some knew they were destined to play on the biggest stage. Others were just discovering their love for the game. A few weren't even playing baseball or weren't very good at it.
The tournament, hosted by the United States Specialty Sports Association, features more than 25 teams in the 13-and-under and 14-and-under age divisions. There's also a home run derby and an all-star event at Archbishop Edward A. McCarthy High School in Southwest Branches, a suburb of Fort Lauderdale. The 13U elite semifinals, final and the 14U championship will be streamed live on MLB.com on Sunday and Monday as well as the two all-star games and the home run derby.
But for now, let's look back and see what 13 former and current big leaguers remember about their playing days as a 13-year-old.
Jack Morris
"At 13, I had the best arm on the field. I had big dreams and played third base and shortstop. I was going to field and play third like Brooks Robinson, and hit line drives like Tony Oliva. I never thought about pitching, nor did I know that was the path that would take me to the big leagues -- I was 13."
Harold Reynolds
"When I was 13, it was the first summer that I thought I had a chance to be a pro baseball player. You see, that summer I had finished playing a game and while changing out of my spikes, a scout for the Cincinnati Reds by the name of Larry Damato was looking into my dugout and asked, 'Are you Harold Reynolds?' I said, 'Yes, sir.' And he handed me his business card and said, 'You've got a chance to be a pro ballplayer someday, kid. I will be following you.' With that I was hooked! I carried that card everywhere and every day it was an instant reminder that I had big things in front of me!"
Jack McDowell
"During our 12-year-old District All Star tournament, I stole home on a throw back to the pitcher from the catcher, slid head first and chipped a small piece of my right elbow [which remains in X-rays today]. I couldn't straighten my arm completely until the fall and didn't pitch in Pony league my 13-year-old year until last two games. Just shortstop and a skinny weak-hitting kid."
Billy Bean
"At the age of 13, I was truly beginning to love baseball. Just the year before, my Little League All-Star team from Northeast Santa Ana [Calif.] had won 13 consecutive [single-elimination] baseball games to reach the Western Regional finals against the team from Campbell, Calif. We lost that game in a heartbreaker. Campbell went went on to finish runner-up to the team that represented Japan in the final of the Little League World Series in Williamsport, Pa.
"At that time, I was still small for my age, but made up for it with attitude and desire. Being left-handed and one of the fastest kids, I started to embrace being a center fielder, and I wanted to be the best and never let a fly ball land on the grass. Until that time, I thought that outfield was where the scrubs played.
"Thankfully, the year before, my Little League coach, Hershal Musick, took me to Angels Stadium to watch the reigning American League MVP, Fred Lynn, play for the Boston Red Sox. He was left-handed and played center field, and he became my hero. Immediately, I wanted to do everything like he did. One of the coolest things that happened to me in my career was that he and I became teammates in 1988 on the Detroit Tigers. Not many people get to play with their hero in life, but I was lucky."
Steve Phillips
"When I was 13, I was one of the better players in my area. But I considered myself a football player who was playing baseball. I was catcher and usually had the dirtiest uniform at the end of the game. I played for my school team as well as a rec summer league team.
"I grew up in the city of Detroit and was teammates with John Vanbiesbrouck, who made it [to the] NHL as a goalie. They were all dirt sandlot fields with no fences. There were rocks, nails and broken bottles on the fields. We often had to clean the field before playing."
Jeff Nelson
"When I was 13, I played for the Catonsville Little League in Catonsville, Md. I was usually one of the best players on the team. The most interesting thing was I hated to pitch. I did pitch because I always threw hard, but I played shortstop. I loved getting dirty and diving for balls. I always dreamed of playing for the Orioles -- of course that never happened, but I played against them my whole career. Little League baseball was such a great experience for me."
Carlos Pena
"When I was 13, my love for the game grew to the point that now I wanted to excel at it. At that age I decided to give it my all and to pay the price that it took to achieve my goal. My discipline was only a product of the love of the game that I had develop at a younger age. My father always kept it fun. The key is to have fun first then learn techniques later. The desire to learn and practice will be an automatic when you love the game."
Steve Sax
"I remember playing baseball at 13 years old. Some of my favorite memories were growing up on our farm just outside of Sacramento, Calif., my first year in the Babe Ruth League, first year out of Little League. A little intimidated, but excited to play on the full-dimension field. Came in second in the rookie of the year award that year in 1973. I felt I deserved it that year, but enjoyed it much more by winning it in the National League nine years later."
CJ Nitkowski
"When I was 13 years old in 1986, I was playing in the Babe Ruth league in Suffern, N.Y. It was my first year in the 13-15-year- old league and it was intimidating. I was a scrawny seventh grader at the time and some of kids in the league were in the ninth grade. That's a big difference. The other intimidating factor was that it was my first season on the big field, the mound was 60 feet 6 inches away and the bases were 90 feet. The field seemed cavernous.
"I was a left-handed hitter and the right-field line was 318 feet. It mine as well have been 500 feet. I never hit a home run that year or any other after that. My ticket to being a "pitcher only" was punched. It was a fun time, the game was still pure and I was there because I loved it. I wore number 30, for my favorite player at the time, Willie Randolph of the Yankees. The memories of my youth baseball have never left me as some of the best of my life."
Frank Thomas
"I played In the Babe Ruth league in Columbus, Ga. I pitched and played center field. I was just finding myself as a player. Yes, I was an advanced hitter at the time, but was way out of position."
Adam Ottavino
"At 13, I had just moved up to the regulation-size field, and honestly I wasn't really ready for that yet. I had very good baseball skills, but I was behind a lot of other kids size- and strength-wise at that point. No one who saw me play at 13 was thinking that I would be a Major Leaguer, but somehow I always knew I would be."
Robbie Ray
"I think back in my Little League days, my biggest memory would be that we played against this team that was really good and I actually got invited to come back and play for that team that night. So I felt like I had accomplished something. I mean they whooped us in afternoon. I pitched, caught -- I was a left-handed catcher -- and played first base as well.
Jeff Bagwell
"Yeah, it's simple. I stunk."
Mike Lieberthal
At 13, my father had me ask super scout George Genoese to play on his semi-pro team. George saw me practice and always believed in giving everyone a chance, no matter age. From then on I played every Sunday with his Giants scout league team until drafted. Playing with older players helped. I think I was born on Krypton because as a baby I was I playing with pros. My parents never told me where I came from!
Jamal Collier is a reporter for MLB.com. This story was not subject to the approval of Major League Baseball or its clubs.