Cain, Posey make cut at Pro-Am, ready for final round
Giants battery and pro partners among 25 remaining teams at Pebble Beach
PEBBLE BEACH, Calif. -- Matt Cain and Buster Posey have shown a penchant for taking competitions to the limit with three runs to the World Series over the last five years with the Giants, so it should come as no surprise that they're playing golf for one more day Sunday before beginning their quest for another October celebration.
At the AT&T Pebble Beach National Pro-Am, Cain, with pro partner Matt Bettencourt, and Posey, with pro partner Nick Watney, both made the cut at 25-under through three rounds, which is tied for 13th in a field that was pared down to 25 teams after Saturday's round. This is the third time Cain has made the cut in his five years here, and now rookie Posey is 1-for-1 at Pebble Beach.
Sinking a natural birdie for a net eagle on the iconic 18th hole with a brilliant approach shot, and earlier chipping in for eagle on No. 3, Cain certainly did his part to help his team reach the final round.
"You're definitely disappointed if you miss the cut," said Cain, a six-handicap who absolutely crushes with the driver. "It's special playing on Sunday."
Posey, a 14-handicap, will find that out for the first time. The Giants catcher said earlier in the week he just didn't want to get in the way of his playing partners, Watney and veteran Jim Furyk. That obviously wasn't a problem, as Furyk enters the final round with the lead at 18-under and Watney is just two shots back at 16-under, so Posey has had a great view of some outstanding golf.
"That's a unique experience that I got to have, and I'm looking forward to that tomorrow," Posey said. "That's the main thing I'm looking forward to, is watching Nick be right up there at the top of the leaderboard, and hopefully he can pull it off."
With Watney on the cusp of the lead, the Watney/Posey team will be the second-to-last group going off the No. 1 tee Sunday morning, and then coming down 18 when the chips are down in the afternoon. Cain's partner Bettencourt isn't as high on the leaderboard, so he'll tee off on No. 10.
Meanwhile, the team of Giants president Larry Baer and Josh Teater missed the cut. Also, MLB.com-sponsored golfers Spencer Levin (10-under, T-24th) and Max Homa (7-under, T-51st) both made the cut, Homa needing a birdie on the 18th at Spyglass Hill to make it.
Once again, Cain showed that he embraces playing golf in front of a gallery as much as he does striking out the side. Recovered from elbow surgery that ended his 2014 season at the All-Star break, the horse of the Giants' rotation for so many years even delivered a pitch to a fan at the raucous 15th tee.
"I got to have one throw, and it was good -- a little high," said Cain, who has kept his throwing routine going while in Pebble Beach.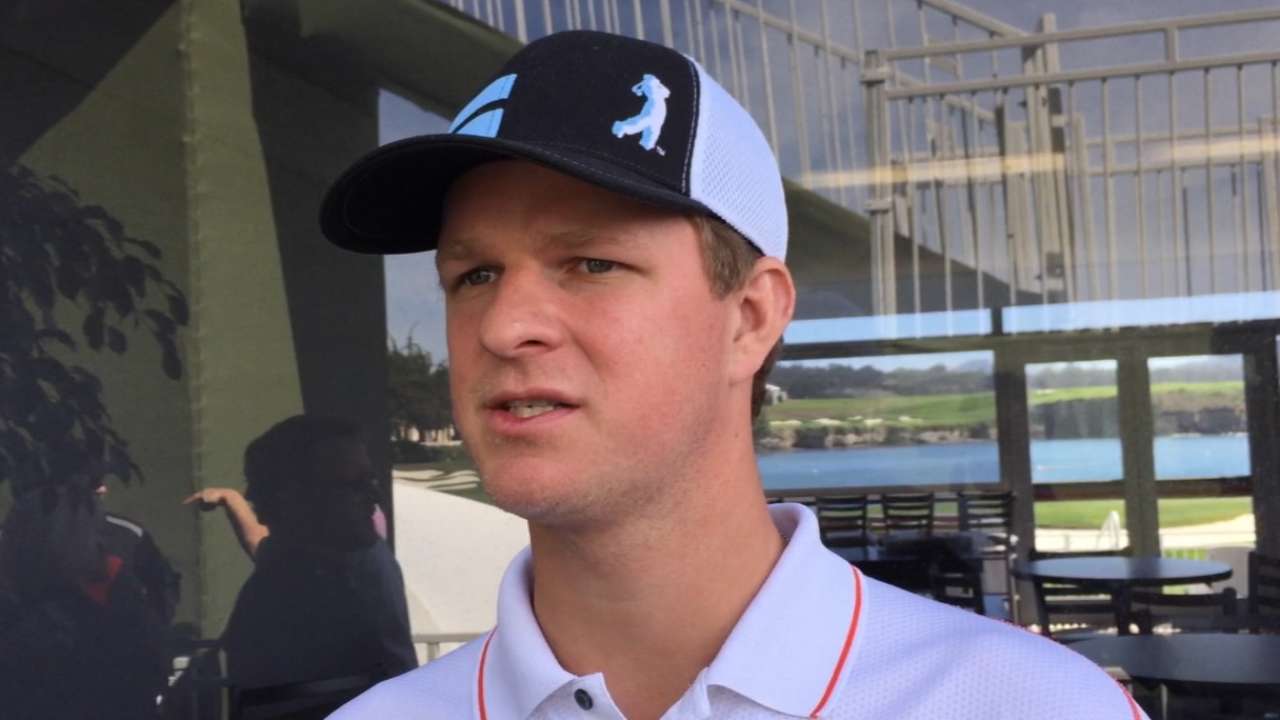 Cain showed a little emotion after finishing his birdie on 18 -- albeit not quite as much as after his 2012 perfect game or any of the World Series celebrations -- but the highlight of his Saturday was his chip-in on No. 3, good for a natural eagle on the par-4 hole.
"That really made my day," Cain said. "Matt made a birdie the hole before, almost made eagle, and then to be able to chip that in, it kind of got us kick-started for our round."
When he got to No. 17, Cain engaged in what's become a Saturday tradition of having his swing analyzed by CBS Sports' Peter Kostis and Sir Nick Faldo, drawing a favorable review. Posey followed in the next group and his shot wound up in the sand, but Kostis liked the swing, just not the aim.
"That was cool," Posey said. "He didn't have too much advice. He just said I aimed wrong."
Playing in the Pebble Beach Pro-Am, meanwhile, has been right on target for Posey, just as it has been for Cain since 2011. Posey has been able to pick up some tips, and he said he's learned something important.
"I've learned that I don't really know if I have a hook or a slice swing," Posey said.
Musician Huey Lewis, a Pebble Beach veteran and lifelong Giants fan, has been paired with Furyk in the same foursome as Posey the first three days, and he said Posey has done just fine handling the whole scene for the first time.
"He was nervous, and he was shocked that he was nervous," Lewis said. "He said, 'It's weird, I'm nervous, and I've been in the World Series.' But -- surprise -- he's got pop. He can hit it."
John Schlegel is a national reporter for MLB.com. You can follow him on Twitter @JohnSchlegelMLB. This story was not subject to the approval of Major League Baseball or its clubs.