Youth squads square off for Give Back Jersey Program
D-backs provide uniforms to more than 35,000 players and coaches in 62 leagues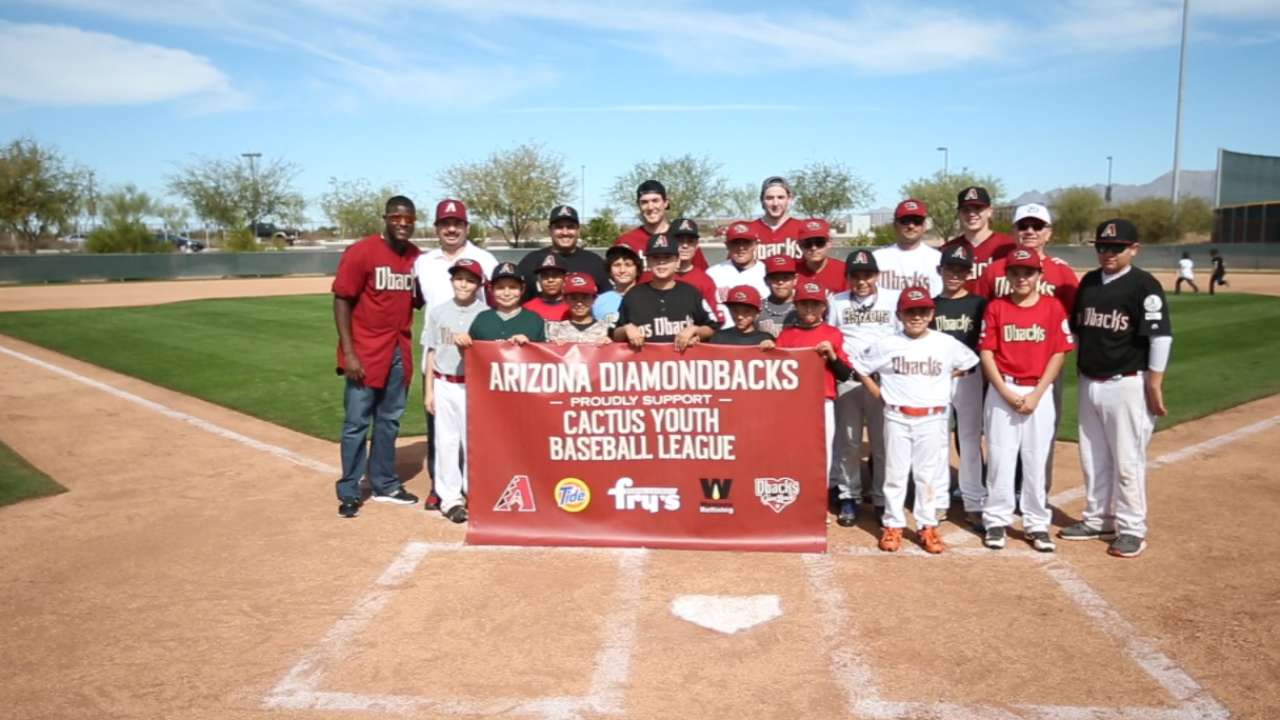 SCOTTSDALE, Ariz. -- Five days before pitchers and catchers were scheduled to report, there was baseball being played Saturday morning at Salt River Fields by players wearing D-backs uniforms, as the kids from the Cactus Youth Baseball League squared off.
The game helped open up the D-backs Give Back Jersey Program, which is now in its second season of providing youth baseball and softball leagues in the Phoenix area with D-backs uniforms. Last season, 30 leagues received the uniforms, and while that was a huge success, there were at least another 30 on a waiting list.
"We wanted to take all of them," said D-backs vice president of corporate and community impact Debbie Castaldo. "So we went and approached Western Refining, Tide and Fry's and said, 'Hey, we want to extend the program and we want any league that wants it be able to have it.' Both of them stepped up to help us, and as a result, we were able to take care of every single league on the waiting list. So we expanded from 30 leagues last year to 62 this year, and we'll have 35,000 kids and coaches in D-backs uniforms this year."
The nearly $1 million investment will make the D-backs uniforms available in 68 color combinations, including the traditional Sedona Red, white, black and gray, as well as throwback colors purple and teal and unique options like Los D-backs, camouflage and gold. Each participant in the program will receive an official D-backs Player Kit that includes a keepsake player contract, special offers and letters from Hall of Fame Manager Tony La Russa and D-backs President and CEO Derrick Hall.
The four starting pitchers that the D-backs acquired in trades this offseason -- Rubby De La Rosa, Allen Webster, Robbie Ray and Jeremy Hellickson -- were on hand Saturday to play with the kids.
"You definitely think back to your age when you were doing it," said Webster, who was acquired from the Red Sox along with De La Rosa in exchange for Wade Miley. "They're all locked in, running around and happy."
Said Hellickson: "There were a lot of good ballplayers out here today. It's awesome what we're doing with these kids, providing them uniforms and a place to play baseball. I think we saw these kids can play, so we just have to give them a chance."
Steve Gilbert is a reporter for MLB.com. Read his blog, Inside the D-backs, and follow him on Twitter @SteveGilbertMLB. This story was not subject to the approval of Major League Baseball or its clubs.