A's might rely on speed a bit more in 2015
Melvin expects to hit and run, try some new things with revamped roster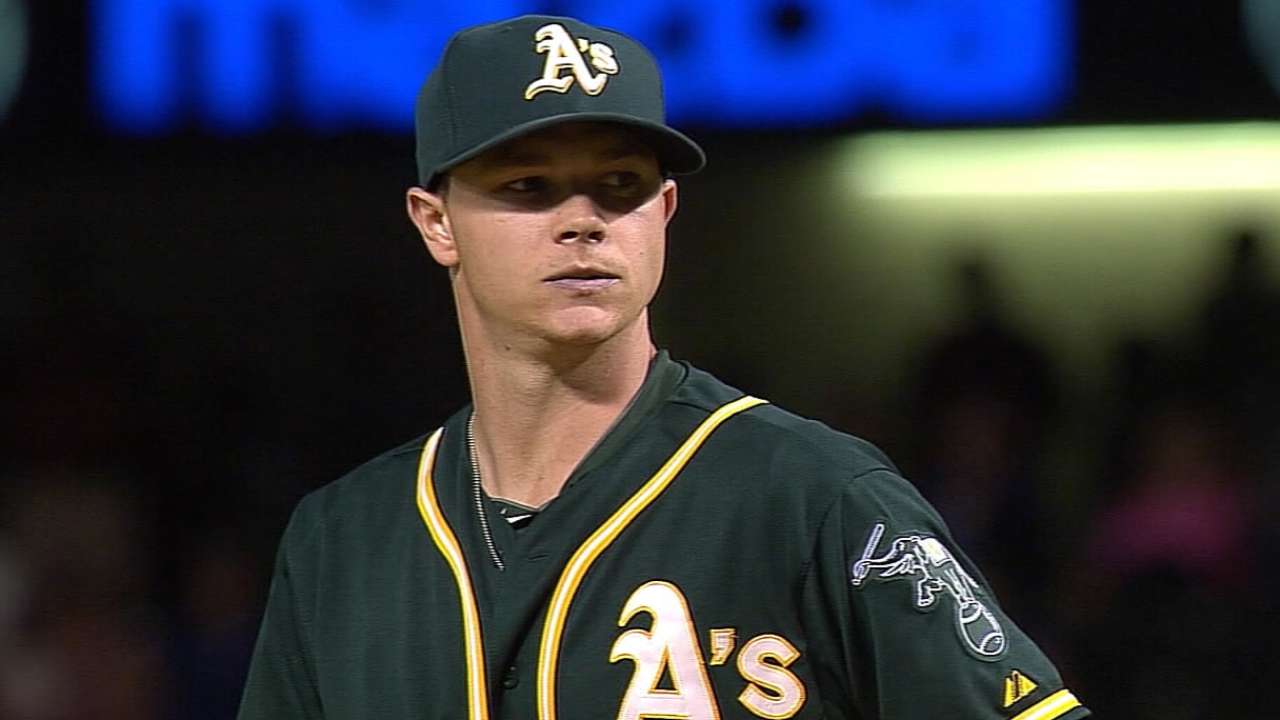 OAKLAND -- On paper, the revamped A's are a likeable, formidable group. They're just as versatile as they are deep, the result of an offseason project that came at the cost of several All-Stars. Josh Donaldson and Brandon Moss are out the door. So is Jeff Samardzija, among others. Yet a competitive team, albeit a young one, seemingly remains intact without them.
"You know you're going to have some turnover here," said manager Bob Melvin. "We've done it in the past and have been successful at it. It keeps you on your toes as a staff. Anytime you have an infusion of talented, younger guys, there's a lot of energy that comes with that, and it's my job to be able to acclimate."
Melvin is perfectly suited for the job, understanding the challenges and intricacies that come with an ever-changing, platoon-driven roster. Again, he'll have his fair share of platoons under his watch -- those could form at catcher, first base, left field and designated hitter -- and he's already coming up with lineups in his head.
• Spring Training: Tickets | Ballpark | 40-man roster | Non-roster invitees
No matter the order, it will be without much of the power that engineered last year's lineup. The departures of Donaldson and Moss take away a bucket of home runs, leaving Josh Reddick and newcomers Billy Butler and Ike Davis to help fill that void. But the A's, vying for their fourth consecutive postseason appearance, can't sit and wait on the long ball this time around.
"We can't jam a square peg in a round hole," Melvin said. "If you're a team that's more suited to draw some walks and hit some homers, you're not going to run into outs. But if you have the ability to run a little more, like we do this year, we'll take a look at it.
"I think this is maybe more of a group that maybe we try to run a little more, hit and run, do some things that we haven't in the past."
Melvin and his staff will gain a better grasp on these things in Spring Training, where general manager Billy Beane's overhauled roster will finally be on display for the fans who have patiently waited out a wild winter. They'll witness several competitions, too, notably in the rotation and bullpen.
"I like our team. Our expectations don't change," said Melvin. "We'll go into spring and learn how our guys do things and put them in the proper spots. A little bit similar to 2012, but I think there might be a little bit more talent here, as far as the wider group. This is a team I feel like, especially with the last couple moves we've made, keeps us with the same expectations we've had the last couple years."
Pitchers and catchers report
Thursday
Full squad reports
Feb. 24
First Spring Training game
Home vs. Giants, March 3 at 12:05 p.m. PT
Opening Day
Home vs. Rangers, April 6 at 7:05 p.m. PT
Jane Lee is a reporter for MLB.com. This story was not subject to the approval of Major League Baseball or its clubs.