Schuerholz offers three messages to fans on Presidents' Day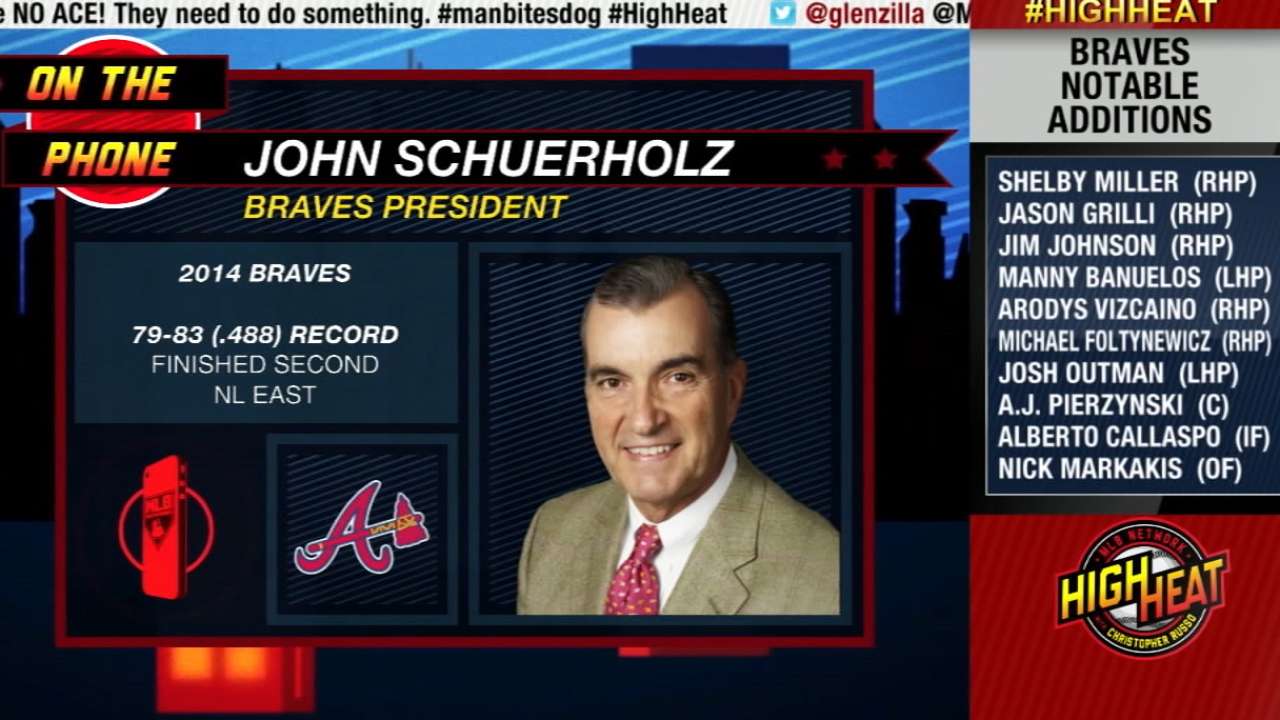 ATLANTA -- Those who have had the pleasure to spend time with Braves president John Schuerholz know that he often likes to say, "Winners make commitments and losers make excuses." This is the mindset that he instilled when he came to Atlanta after the 1990 season. He continued to preach that mantra as the Braves won 14 straight division titles during his reign as the club's general manager.
Schuerholz believes his president of baseball operations, John Hart, and assistant general manager, John Coppolella, extended this commitment as they aggressively reconstructed their roster and brightened the club's future this winter.
With the arrival of Presidents' Day, Schuerholz offered three messages to Braves fans:
"When I arrived in Atlanta, we made a commitment to our fans, our community and even to ourselves. We wanted to establish a great and grand organization -- and we did that. We still are regarded at the Commissioner's level as the gold standard in our game. We continue that commitment to our fans, community and our organization. That has not changed. I think the actions we have taken this winter reflect that there has been strong commitment made [to going] back to Braves basics. We have re-strengthened our farm system, which has been our secret [source] of success on a continuing basis. We have focused on homegrown players and the acquisition of high-caliber players through transactions. We're all-in, and we're as committed to that as we've ever been.
"Our primary goal this winter was to travel on parallel pathways -- immediately impacting the strength and depth of our Minor League system, while at the same time keeping our Major League club as competitive as we possibly could, even in the face of having to say goodbye to two players that we loved [in Jason Heyward and Justin Upton], who likely were only going to be around for a short time longer. By doing so, we were able to strengthen our Minor League pipeline, our feeder system, back to where it needed to be. At the same time, we wanted to acquire players at the Major League level who, when our team is formed after Spring Training, the fans will say, 'This looks like a team that is going to play really good baseball and play the game with spirit and a winning attitude and a committed attitude of winners.' We think that is how this team will present itself.
"I'm quite excited about what our guys have accomplished and what our organization has demonstrated it is capable of doing with good leadership and good clarity of purpose. We're going to have as many players in Spring Training as I think we've ever had, which we're doing because want to give ourselves every opportunity to look at every possibility -- on an individual basis, a collective basis or a combination basis -- as to the best team we can put together. We've signed and invited a lot of guys to our Major League camp. The competition is going to be robust, and it's going to be on a daily basis. It is going to get more exciting as the camp unfolds. This team will play baseball the old-fashioned, hard-nosed way. They will play hard and they're going to play to win."
Mark Bowman is a reporter for MLB.com. This story was not subject to the approval of Major League Baseball or its clubs.