#BaseballBegins brings anticipation to all
Excitement builds for everyone as Spring Training approaches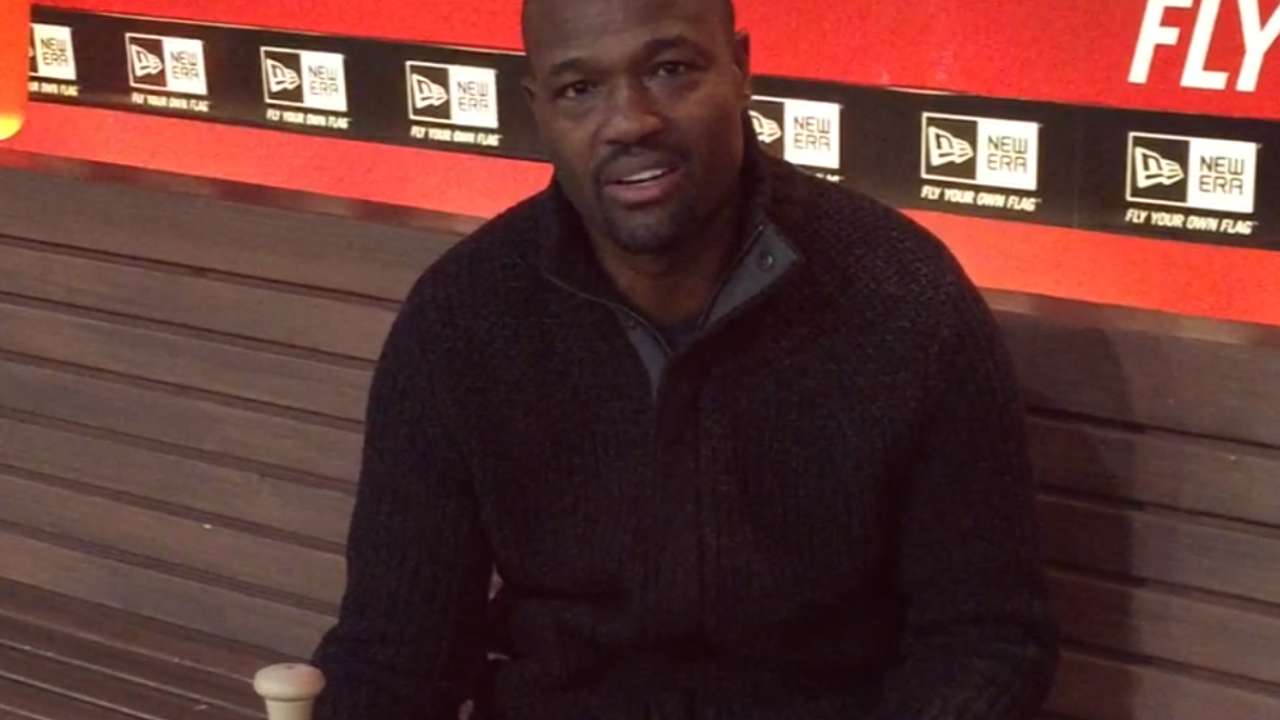 "Pitchers and catchers report" are four of the most beautiful words in the English language. As another Spring Training officially gets underway on Wednesday in Florida and Arizona, we are asking people around Major League Baseball what those four words mean to them.
Feel free to add your own response in the comments and tweet with the #BaseballBegins hashtag.
Joe Garagiola Jr., MLB senior vice president of standards and on-field operations, and former D-backs exec:
"I have two reactions that come from different points in my life.
"I'm not sure I knew the phrase as a kid, but what I did know, when it rolled around about the middle of February, we would pack up all the bags and depart cold and gloomy St. Louis for six weeks in St. Petersburg, Fla. -- which was just about the most wonderful thing imaginable. My dad was broadcasting then for the Cardinals. I would come back the first of April tanned and uniformly feted by classmates.
"Then much later on, what it meant to me was, after spending the entire winter and what seemed like forever with the players being names on pieces of paper, or the object of endless phone calls with agents or exhibits in a salary arbitration, there they were on the field. The whole experience crystallized for me the first day the pitchers and catchers hit the field. After we signed Randy Johnson in Arizona, I'm standing on the field, and I said to myself, 'That's Randy Johnson and he's our guy now!' I can remember the field I was on in Tucson. It was just one of those things that stays with you. Here's a guy, you'd seen him pitch, saw him on TV, then suddenly he is in our uniform and he's our guy."
Giants Hall of Fame broadcaster Jon Miller:
"That is one of the happiest phrases for a baseball fan -- only 'X' number of days for pitchers and catchers. It sort of says it. You don't have to say they have to report, they have to do this. '[It's] 27 days until pitchers and catchers.' Or, 'When the World Series was over, 105 days till pitchers and catchers.' Because that's [when] the countdown begins for baseball fans, the long, dark, cold winter without baseball, and we count the days until the Boys of Summer return. Pitchers and catchers, that means it's all getting started again.
"And five days later, then the rest of the squad, and full workouts begin ... we know all that. Pitchers and catchers, they're the ones who get it started. So we're all just waiting for pitchers and catchers, and that is the renewal for baseball fans. Spring Training is its own part of the season, a special part, and then the season itself begins, where everything counts because it's much more serious."
Jeremy Brisiel (JB), MLB.com host:
"It means:
1. Hey, pitchers and catchers: get back to work. Enough with the not working.
2. Hey, the rest of you players, you better get packed. It's almost time for baseball.
3. Ahhhhhhhhhhhhhhhhhhhhhh, yes. Baseball. Soon our days will be right again."
Jim Kaat, 283-game winner and MLB Network analyst:
"It's a signal to all baseball fans. The season is upon us. Every team has hope. It's a phrase that has been repeated since I was a young boy.
'Pitchers and Catchers report tomorrow' -- the rite of spring. I couldn't wait to go through pitchers' fielding drills!"
Previous: #BaseballBegins with 'The Conversation'
Mark Newman is enterprise editor of MLB.com. Read and join other baseball fans on his MLB.com community blog. This story was not subject to the approval of Major League Baseball or its clubs.