Padres ready for short jaunt to camp
Truck Day means a change of scenery, if not a change in weather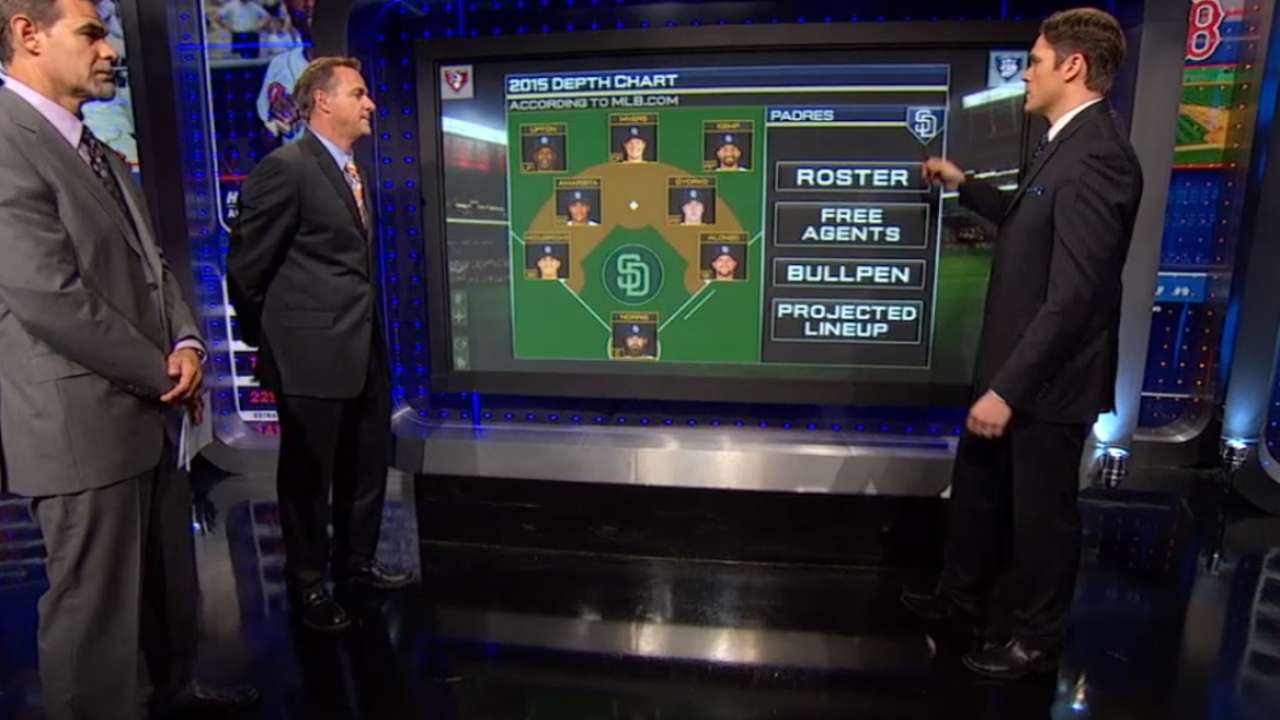 SAN DIEGO -- Unlike other trucks from Major League teams that will traverse great distance and, in some cases, harrowing conditions to reach their destinations, Bill Bowman was very thankful Friday that he wouldn't have to bear that burden.
Bowman, who was driving one of two trucks filled with Padres gear and equipment for Spring Training in Arizona, had but one concern as he prepared to leave Petco Park for a nearly eight-hour drive: Where to get a burger along the way?
"It's usually Carl's Jr.," Bowman said, while leaning up against a pallet of baseballs, taking a break from packing one truck. "I usually stop in El Centro [Calif.,] for one."
To be sure, the Padres' Truck Day experience is nothing like the one many of their Major League brethren experience, hauling goodies for Spring Training from cold-weather states for much-sunnier locations in either Arizona or Florida.
Bowman's drive covers 356 miles from Petco Park to the Peoria Sports Complex in Northwest Phoenix and can be done in five hours by car. It will take him nearly eight hours by truck and that can change depending on the weather.
We know, insert your sun joke here, right? And while Bowman will drive through temperatures in the mid-80s on Friday, the scenery isn't much to look at along I-8 and there are some conditions that can cause havoc.
Bowman, who has been hauling the Padres' gear to Arizona for 21 years, has driven through dust storms that reduce visibility to just feet. In the highest elevations, as the trucks roll through the Cleveland National Forest before reaching Arizona, wind and rain can make the drive downright miserable.
"You just have to slow down and take it easy," said Bowman, a Padres fan himself who has lived in San Diego since 1971.
Early Friday, Bowman and several members of the Padres' staff -- including director of team travel and equipment manager Brian Prilaman, assistant equipment manager Tony Petricca and assistant to the equipment manager Spencer Dallin -- were up early and moving equipment on pallets (with wheels) onto the trucks.
These guys have done it so long they have it down to a science.
It's the usual stuff, mostly. Gear and equipment the team will need for six weeks in Arizona. There's two bicycles that are loaded and even a hyperbaric chamber.
All told, there were 18 boxes of jerseys (home and away) for games packed deep inside the trucks, 116 boxes of sunflower seeds, 2,376 baseballs, 24 boxes of bubble gum, 19 boxes of baseball hats and 15 boxes of shower shoes, the team figured.
"Just about anything they throw at us, we'll take," Bowman said.
Corey Brock is a reporter for MLB.com. Keep track of @FollowThePadres on Twitter. This story was not subject to the approval of Major League Baseball or its clubs.