MLB.com Columnist
Jim Callis
Pipeline Inbox: How long will it take Moncada to reach bigs?
Jim Callis responds to fans' questions about baseball's top future stars
While we wait for Spring Training camps to open and for Cuban sensation Yoan Moncada to choose which team gets to pay upwards of $80 million for his services, there are some games that count being played today.
To celebrate the opening of the NCAA Division I season today, I took a fun look at the alternative-reality All-America team if baseball players had to spend three years in college before turning pro, as is the case with football players. For starters, six of the first nine guys on MLBPipeline.com's Top 100 Prospects list would be in college right now.
Click here to submit an Inbox question
How long will it take Yoan Moncada to reach the Major Leagues? Will it be the same timeline as Yasiel Puig or quicker? Who's the best big league comparison for Moncada?
-- Jeff T., Baldwin, Wis.
Puig signed with the Dodgers on June 29, 2012, played 54 games in the Minors and was in Los Angeles to stay on June 3, 2013. Moncada won't race to the big leagues in less than a year and may need close to two seasons in the Minors before he's ready. Remember that he'll be just 19 when he signs, while Puig was 22 when he turned pro.
Even if Moncada doesn't reach the Majors until Opening Day 2017, he'll still be just 21 at that point. Assuming that he plays second base, there aren't many big leaguers with comparable tools (well above-average speed to go with plus hitting ability, power and arm strength). I'll throw another log on the fire of hype swirling around Moncada and say that he has the upside of a faster Robinson Cano.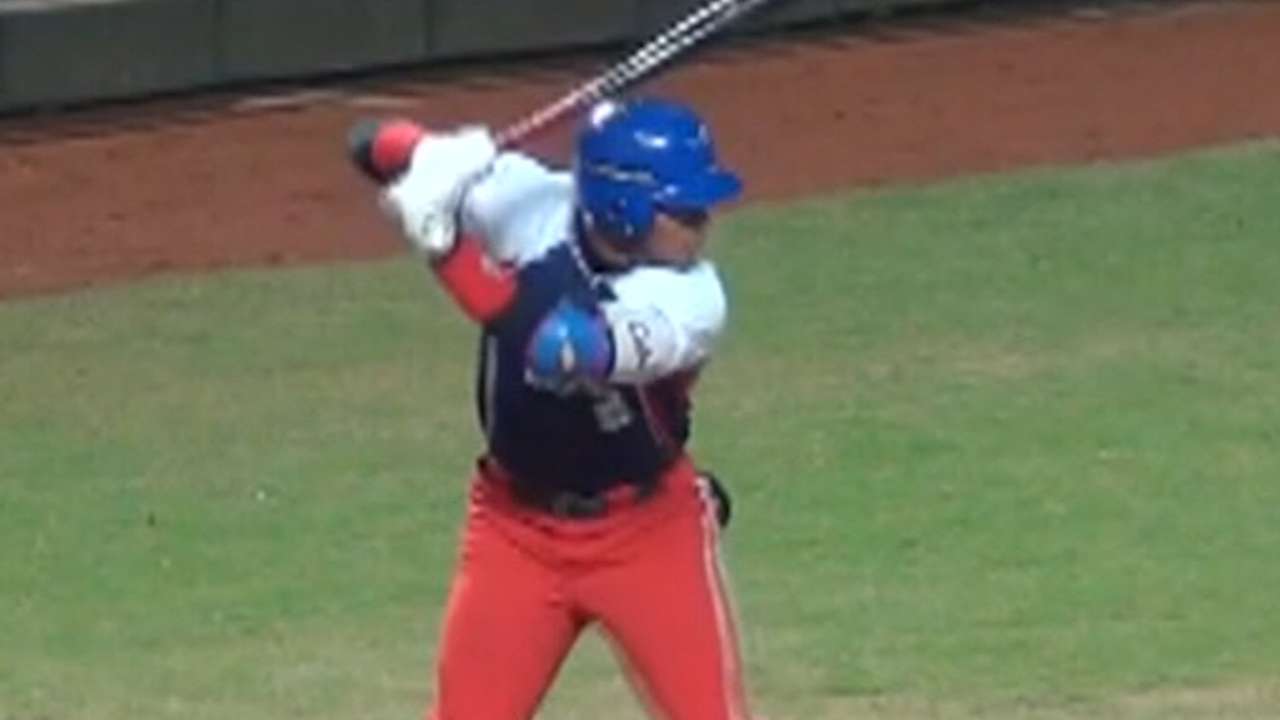 What kind of offensive peaks do you anticipate from catching prospects Blake Swihart (Red Sox), Jorge Alfaro (Rangers) and Austin Hedges (Padres)?
-- Dan T., Davis, Calif.
Swihart (No. 18), Alfaro (No. 45) and Hedges (No. 51) are the three highest-ranked catchers on our Top 100 who figure to stay behind the plate. The Cubs' Kyle Schwarber ranks just ahead of Hedges at No. 49, though he's destined for the outfield, as I explained in a December Inbox.
Swihart easily is the best pure hitter of the trio, while Alfaro easily has the most raw power and Hedges engenders the most questions about his bat but is also the best defender. When they're in their big league primes, I see Swihart as a .280 hitter with 15 or so homers per season, Alfaro as a .250 hitter with 20 or more longballs and Hedges as a .250 hitter with 10 homers. None of them figure to walk much because Swihart makes contact so consistently and the other two are aggressive.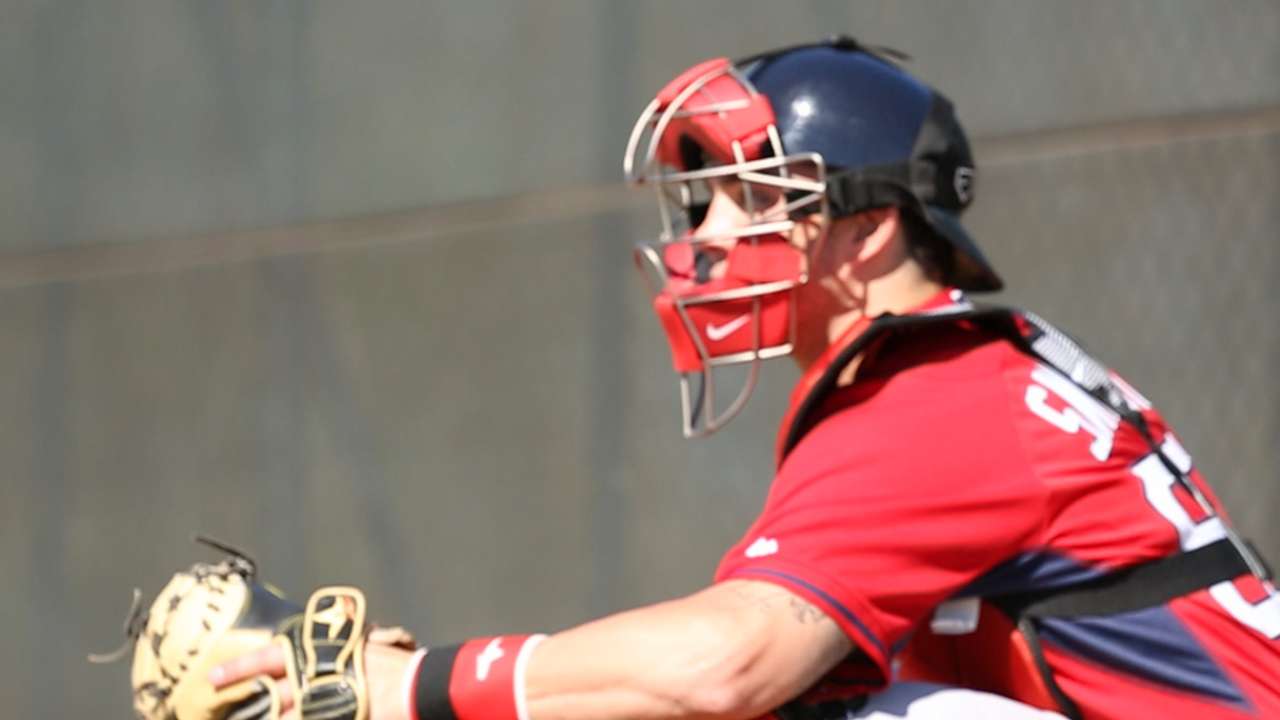 If he still were rookie-eligible, where would Rangers infielder Jurickson Profar rank on the Top 100 Prospects list?
-- A.N., Shrewsbury, Mass.
Profar ranked No. 1 on MLB.com's preseason Top 100 Prospects list in 2013. I was still at Baseball America at that point, and Profar was No. 1 on that Top 100 as well. Blocked in Texas that season by Elvis Andrus and Ian Kinsler, Profar settled into a role as a part-time player and then missed all of 2014 with a tear in his throwing shoulder.
When I was at BA, we slapped these 20-80 scouting-scale grades on Profar: 70 hitter, 60 power, 55 speed, 60 arm, 65 defense (as a shortstop). That might have been a tad generous and his potential impact isn't quite as great as Twins outfielder Byron Buxton, Cubs third baseman Kris Bryant and Astros shortstop Carlos Correa, the first three guys on this year's Top 100. But Profar would fit right behind them at No. 4 and ahead of fellow shortstops Francisco Lindor (Indians), Addison Russell (Cubs) and Corey Seager (Dodgers).
Nationals right-hander Reynaldo Lopez vs. Diamondbacks righty Yoan Lopez: Who's the better prospect, who has more upside and who carries more risk?
-- John S., Halifax, N.S.
The Lopezes aren't related, with Reynaldo hailing from the Dominican Republic and Yoan defecting from Cuba, and they came with much different price tags. Reynaldo signed for just $17,000 in 2012, while Yoan landed an $8.27 million bonus last month. But they both are hard-throwing right-handers and thus eminently comparable.
Reynaldo, 21, has a smaller build at 6 feet and 185 pounds, but he can sit in the mid-90s and reach 99 mph with his fastball. His power curveball gets swing and misses, his changeup shows signs of becoming an effective third pitch and he throws strikes.
Yoan, 22, is 6-foot-3 and 190 pounds and owns a fastball that usually ranges from 91-96 mph. His curveball and changeup are similar to Reynaldo's, though Yoan's control and command are shakier.
Reynaldo's extra velocity and better feel for pitching make him the better prospect and give him more upside. Yoan is a riskier prospect because he has less track record and has to prove he can locate his pitches in the strike zone well enough to remain a starter.
Jim Callis is a reporter for MLB.com and writes a blog, Callis' Corner. Follow @jimcallisMLB on Twitter. This story was not subject to the approval of Major League Baseball or its clubs.