Top youth players compete in USSSA tournament
Over 25 teams in Presidents' Day Super NIT and All-Star Classic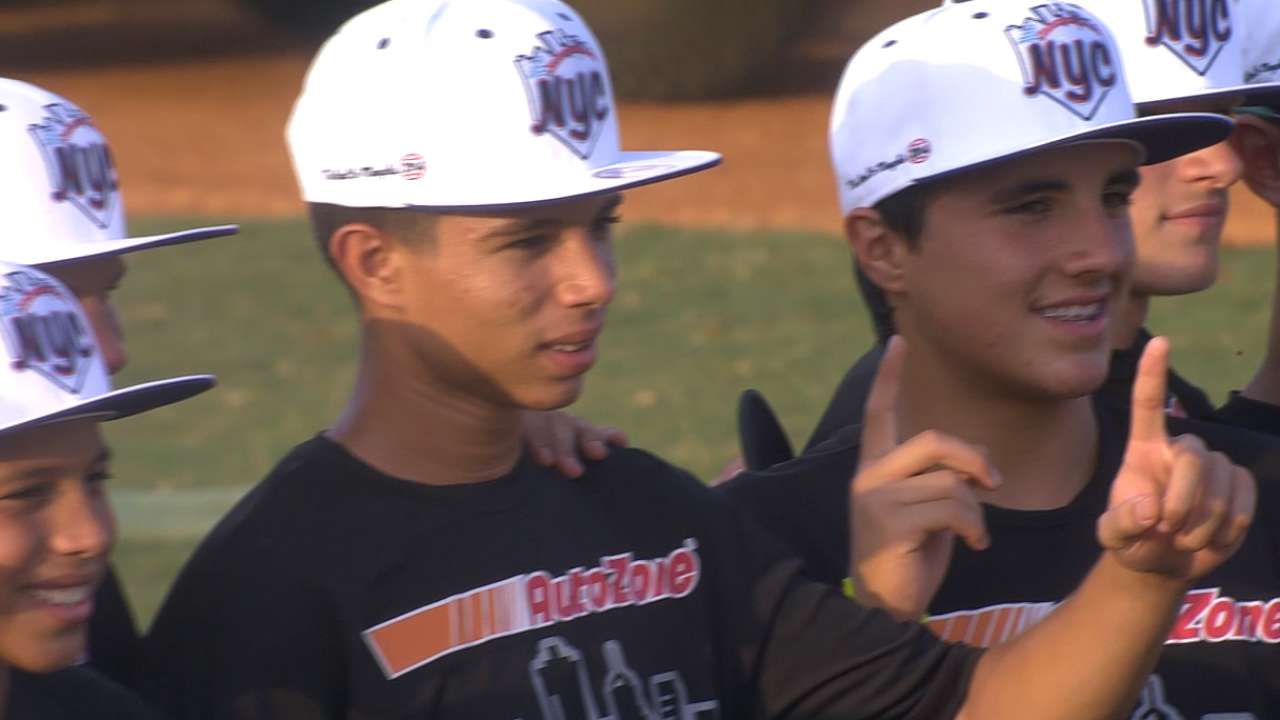 As pitchers and catchers get ready to report for Spring Training, some of the nation's top youth players are meeting in Florida this weekend for the USSSA Presidents' Day Super NIT and All-Star Classic.
The tournament, hosted by the United States Specialty Sports Association, features more than 25 teams in the 13U and 14U age divisions as well as a home run derby and an all-star event at Archbishop Edward A. McCarthy High School in Southwest Branches, a suburb of Fort Lauderdale.
The 13U elite semifinals, final and the 14U championship will be streamed live on MLB.com on Sunday and Monday as well as two all-star games and the home run derby. The first major event of the youth baseball season had an international flavor as well, as a team from Panama beat Miramar, Fla., in a 13U division semifinal.
"We are excited about this new partnership," Don DeDonatis, national executive director and CEO of USSSA, said. "The USSSA Summer Championship Series powered by MLB.com will allow us to showcase the nation's top youth baseball players on our country's premier platform, MLB.com."
Team Panama, a collection of players assembled by Tomas Guerra, the consul general of Panama in Miami, will be among the favorites, as will the MVP Banditos, a team made up of highly touted amateur organizations in Florida, California and Texas. Two locally based clubs -- the West Pine Cobras and the Miramar Canes -- show off the baseball-rich hotbed of south Florida.
Winners of the inaugural 12-and-under championship in the USSSA National Youth Championships last season, Team Panama beat the MVP Elite Squad. West Pine, meanwhile, beat Team Panama two weeks ago, and all of these teams will look to perform well and advance again to the USSSA Elite World Series later this year.
Team Panama is powered by three players -- Leonardo Jimenez, Derek Arroyo and Hugo Villalobos -- who are part of the Panamanian National Team system. Catchers Robert Mora and Nick Vera provide additional offense for Team Panama, which is hoping to become back-to-back winners of the USSSA National Youth Championships.
One of the most prominent players involved will be Yohandy Morales, the son of former Minor Leaguer Andy Morales. The younger Morales, known as YoYo to his peers, will play shortstop for the MVP Banditos. He was named to the inaugural version of USA Baseball's 12-and-under team in 2013.
Morales is supported by a strong cast. Aaron Nixon, a pitcher and outfielder from Texas, was twice named as a nominee for national player of the year. Second baseman M.C. Sagaro (Miami) and outfielder Maurice Hampton (Tennessee) are also standouts for the MVP Banditos.
The All-Star Classic on Monday will be made up of two games of top players from the Class of 2019 (4 p.m. ET) and 2018 (7 p.m.). In the 2018 game, Yordani Carmona of Hialeah, Fla., and MVP Elite Squad and Austin Pfeifer of Las Vegas will lead the roster. Carmona, a 6-foot, 200-pound dominating left-handed pitcher is nicknamed Big Unit after Hall of Famer Randy Johnson and a 2014 Team USA selection. Pfeifer also is a USA selection on the 14U Developmental Team.
In the 2019 game, Maurice Hampton of Memphis, Tenn., and Morales, both Team USA selections, highlight the team.
Power will be on display, when the tournament's top hitters compete in a home run derby Sunday at 8 p.m. ET.
Spencer Fordin is a reporter for MLB.com. This story was not subject to the approval of Major League Baseball or its clubs.