Padres equipment trucks headed to Spring Training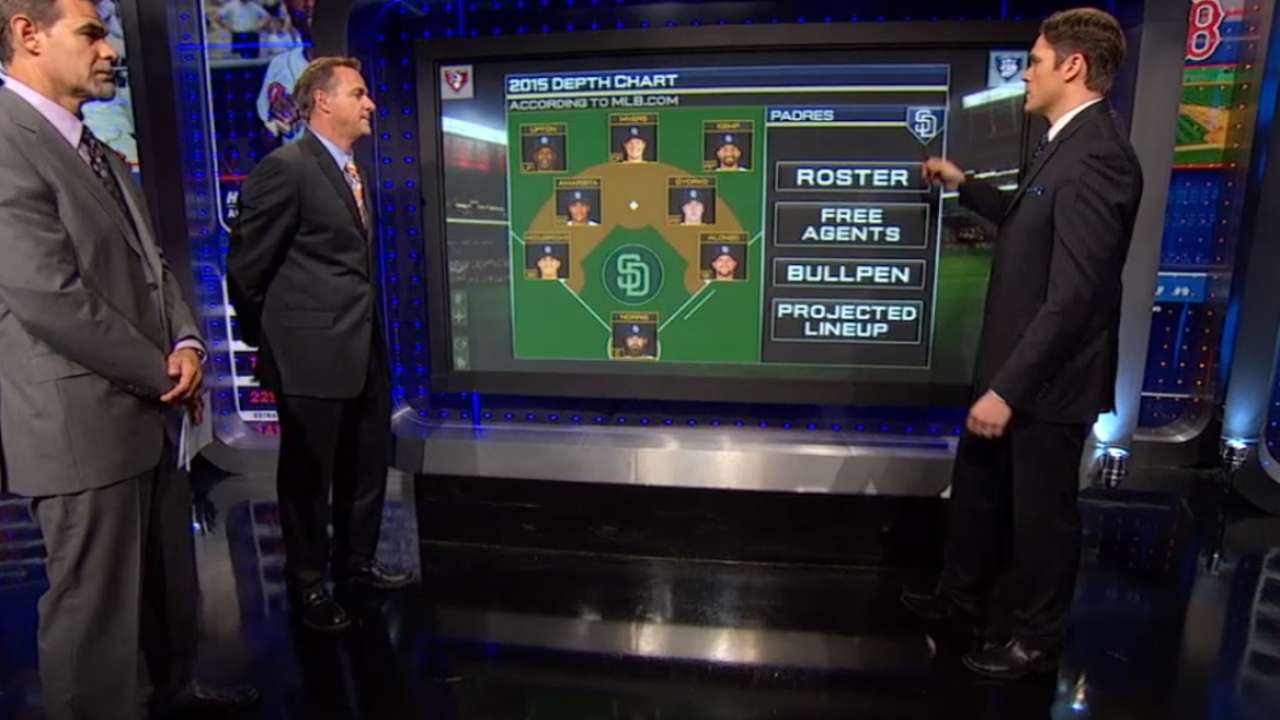 Bill Center, longtime sportswriter for U-T San Diego, is an employee of the Padres.
The lead element of the Padres Spring Training contingent departed Petco Park Friday morning.
Destination: Peoria, Ariz.
Spearheading the Padres annual migration will be two trucks carrying the club's equipment -- and that means everything from bats and balls to bubblegum.
Brian Prilaman, the Padres equipment manager and director of team travel, and his five-man staff started loading the trucks shortly after 5 a.m. PT and the caravan was on the road by 8 a.m.
"We've been using the same system since 1994 when we first trained in Peoria," Prilaman said earlier this week. "We organize all the equipment onto 25 pallets and 12 shelving units."
And that doesn't include specialized trunks carrying the team's video and training equipment. Nor the duffel bags packed with bats, caps and batting helmets.
Although Prilaman's staff had been preparing for Friday's move since the middle of January, they will set up the Padres' clubhouse at the Peoria Sports Complex in three days.
Spring Training officially begins Feb. 19 when pitchers and catchers report. Position players officially report five days later with the first game against Seattle scheduled for March 4.
"But some players have already arrived in Arizona," said Prilaman. "They've called us asking when we will be set up. We will be ready Monday."
Supplying a baseball team for Spring Training is no small matter.
Prilaman's inventory list includes 1,132 categories. Besides the obvious supplies are such items as paper cutters and sewing kits.
Every item has its own place on a specific pallet, storage unit, trunk or duffel bag.
"The more specific you can be about every item, the easier the move goes," said Prilaman. "We have a system. We put everything together pallet by pallet."
Pallet No. 7, for example, includes pants for both the home and road uniforms. Pallet No. 20 includes shoes, jackets and clothing hangers.
Pallet No. 1 carries the bubblegum and assorted seeds consumed by the players.
"We stock unit by unit," said Prilaman. "Once a pallet is completed, we shrink wrap it and move to the next pallet or shelving unit."
Friday's first order of business was putting the pallets and other units on the trucks. Off-loading begins as soon as the trucks arrive in Peoria.
The remodeling of the Padres complex in Peoria made operations easier for Prilman's crew. The renovation included a much larger equipment and storage room.
Loading and unloading the equipment trucks might be the easiest part of the spring for Prilaman and his staff, which is led by assistant equipment manager Tony Petricca and his assistant Spencer Dallin.
They arrive at the ballpark around 5:15 each morning and leave the facility after 7 p.m. Officially, they have one day off. But that also happens to be the day that Prilaman's crew starts repacking for the return to Petco Park.
Although the Padres cart tons of equipment to Spring Training, things have been left behind.
"Usually that involves a new player who has a special piece of equipment that we didn't know about," said Prilaman. "When Greg Maddux was first here, he had a stirrup-style sock that only he used. We try to look ahead on everything."
Getting to and from Spring Training also has its trials.
"We've crossed the mountains in snow," said Prilaman. "The wind warnings right now are something we're watching."
But only once in franchise history has a truck broken down while carrying the equipment to or from Spring Training.
"A moving company was bringing the equipment back from Yuma," Prilaman said. "It was before cellphones and it just disappeared on a weekend. We didn't hear anything for more than a day."