'Captivating' Banister ready for challenge of managing
Rangers' new skipper preparing to bring the franchise back into playoff contention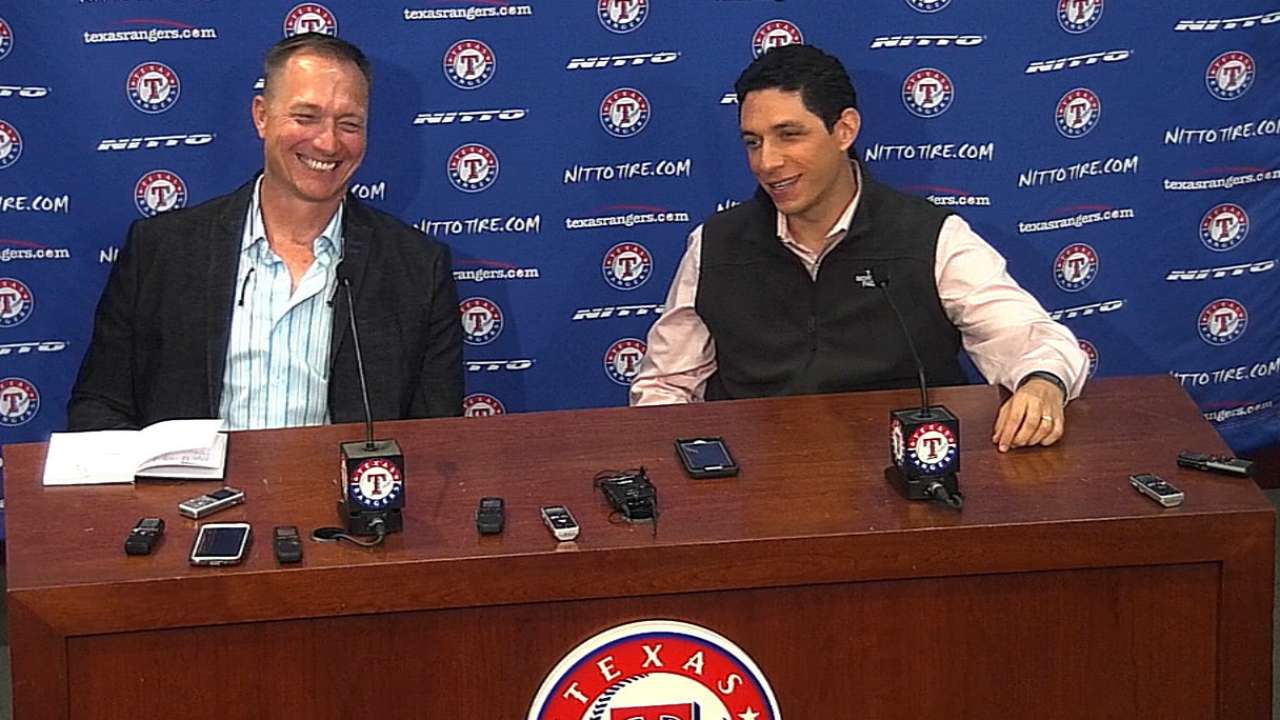 ARLINGTON -- Manager Jeff Banister was one of the featured speakers at a youth coaching clinic conducted by the Rangers this winter. General manager Jon Daniels was there and said he came away impressed with how Banister "captivated" 300-400 coaches in the audience.
"You could tell he wasn't just winging it," Daniels said. "There was preparation and a lot of thought and time that went into it. Those things impress me. Over time, if people see you care that much about other people, when players see it, that's going to go a long way toward getting out ahead of things that will come out over the course of the season."
Captivating a group of youth coaches is one thing; being able to do that with Major League veterans is another. Banister will get that opportunity next week when pitchers and catchers report to Spring Training in Surprise, Ariz.
Banister has tried to meet with all of his players this winter and say all the right things. He has impressed with his communication skills. But Spring Training will be the first time players, fans, media, front office and all other unofficial judges get to see the new manager in action for the first time.
"It's really [the players] who matter the most and the men in the organization who mean the most to me," Banister said. "I will be on display every single day. Right or wrong. I do welcome that. It is part of everything we do. I was given a lot of good advice from a real sharp baseball man [former Pittsburgh Pirates manager], Bill Virdon, who said you are always on display."
Banister has run Spring Training before as a field coordinator and bench coach for the Pirates. He has 29 years of professional baseball experience and a veteran coaching staff to assist him.
But this time he is the man in charge.
"First impression means the most," Banister said. "It really does. We have the opportunity to make a first impression every day when we walk out to the field. I don't think people understand the urgency at which this game needs to be performed.
"That's one thing I want our guys to understand, be able to play this game in a relaxed manner but also at a quick pace and urgent pace. We don't have a luxury of having another day. We have to do something better today than we did yesterday so we can continue to grow forward."
Banister assumes a unique situation. He takes over a ballclub that won 90-plus games and went to the playoffs four straight years -- including two World Series -- before falling to 67-95 last season. He gets a team with talent, but also riddled with unknowns because of so many injuries from last season.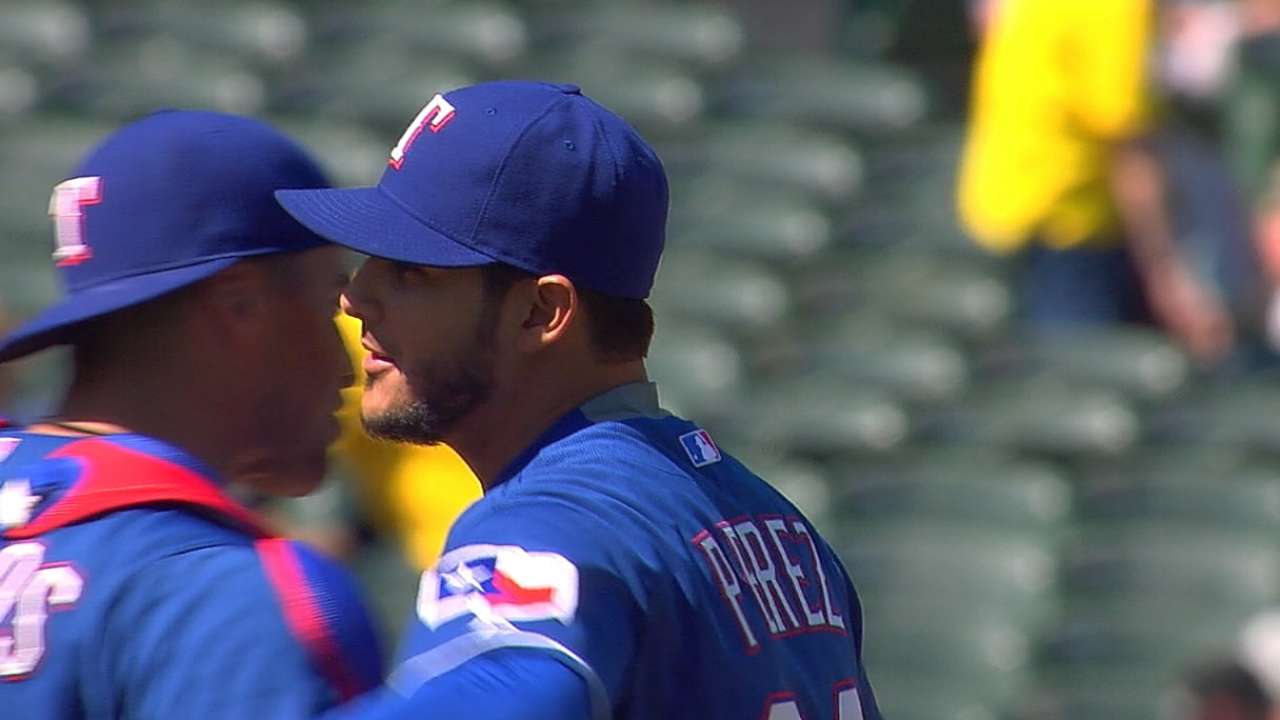 He takes over a team that finished in last place but still expects to contend for a playoff spot this season. Banister is here not because the previous manager failed, but had to step down for personal reasons. This is no rebuilding project. He is here because the Rangers expect to win and expect him to be the right man to make that happen.
The baseball calendar dictates that when the offseason ends, the spotlight shifts from the general manager and shines directly on the manager for the next eight to nine months. At that point, Banister becomes the real face of the franchise just like Ron Washington was for eight years.
Banister is the one who does the radio shows, talks in front of the cameras and meets with the media at least twice a day from mid-February to the end of September and possibly beyond. He is in trouble if it is not beyond. As with Washington, nobody else comes close to being held accountable for the performance of the team.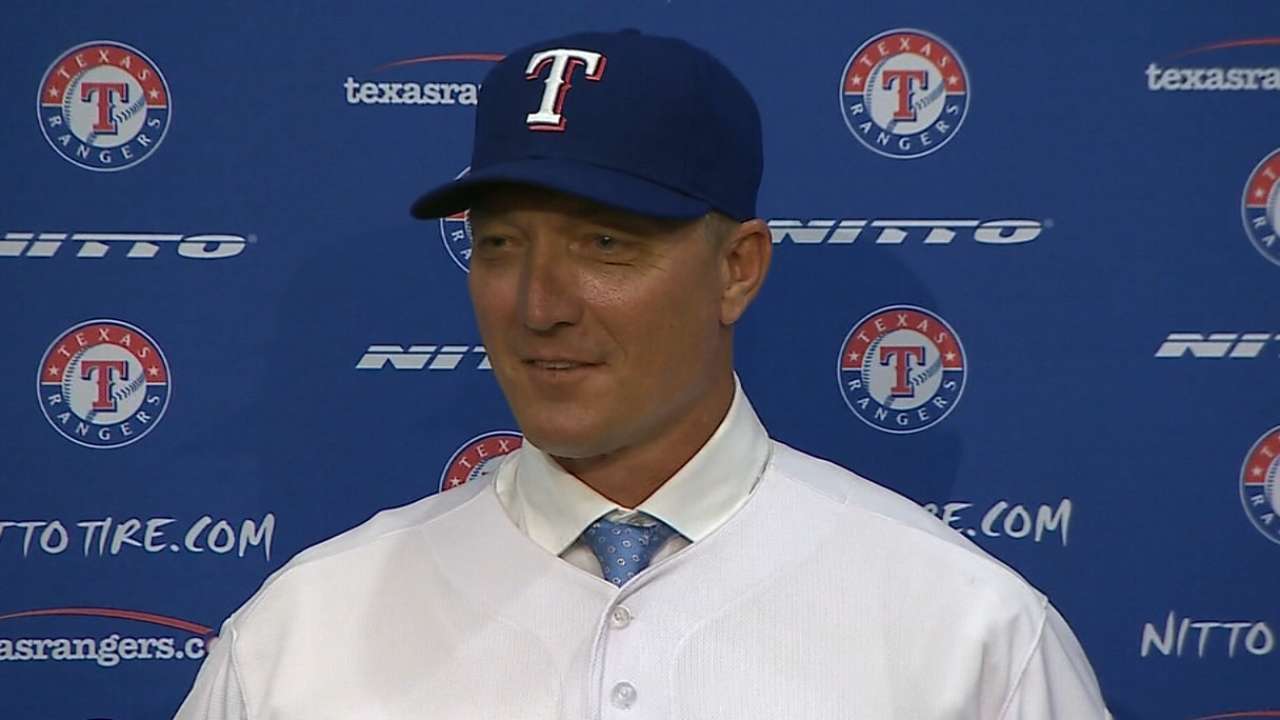 "In the beginning I will lay out what I think our expectations are," Banister said. "It's not my expectations, it's the players, the coaching staff and the entire organization, what type of ballclub we want to be.
"Communicate that Day 1. This is something I've talked to players as to what they are looking for. They want to play a hard-nosed brand of baseball. A hard 27 outs, respect everybody, fear no one. This is a group that is hungry to win and hungry to play together. What was refreshing this offseason as I talked to each individual player, I knew they were passionate and they wanted to win but how truly their desire is of winning with this ballclub, this group of guys. That passion runs high."
When asked how he wants his first Spring Training to go, Banister was direct and simple: "Upbeat. Challenging. Intense. Get us ready to play." Banister has waited a long time for this opportunity.
Now everybody will be watching and judging.
T.R. Sullivan is a reporter for MLB.com. Read his blog, Postcards from Elysian Fields, and follow him on Twitter @Sullivan_Ranger. This story was not subject to the approval of Major League Baseball or its clubs.