MLB.com Columnist
Jim Callis
White Sox expect to have talented group of rookies on deck
Rodon, Johnson and Sanchez among prospects bringing high hopes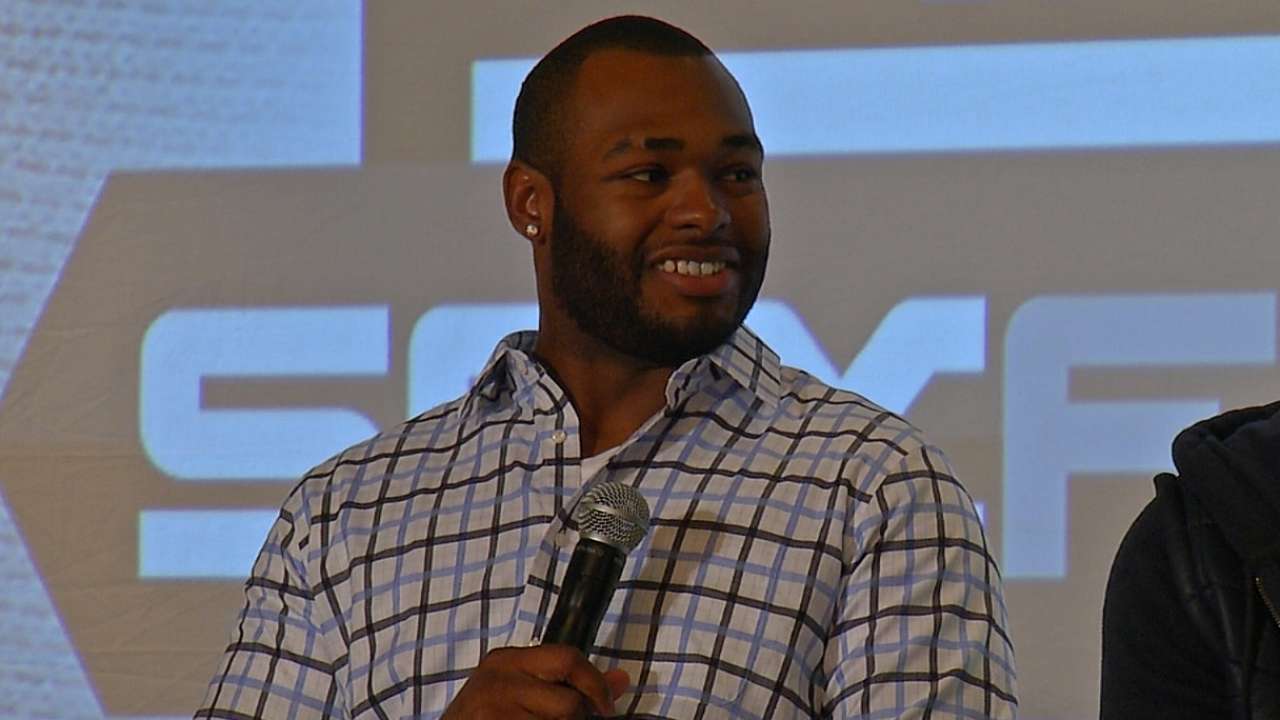 As the White Sox move from rebuilding to contending, they've imported several prominent names this offseason. They've added former All-Stars to their rotation (Jeff Samardzija) and outfield (Melky Cabrera), and two to their bullpen (David Robertson, Zach Duke). New designated hitter Adam LaRoche never has played in the Midsummer Classic, but he has delivered at least 20 homers in each of his last 10 healthy seasons.
There also are some new faces that didn't have to be acquired via trades or free agency. Chicago's farm system is in better shape than it has been in years, thanks to renewed investments in the First-Year Player Draft and international markets, as well as a change in philosophy to trade for youngsters rather than parting with them to obtain veterans. That improved system could pay off in 2015.
The front of the White Sox rotation is well fortified with Chris Sale, Samardzija and Jose Quintana, but the last two slots are less certain. John Danks hasn't been the same since shoulder surgery in 2012, while Hector Noesi owns a career 5.16 ERA and surrendered an American League-high 28 homers last year.
Enter left-hander Carlos Rodon, the No. 3 overall pick in the 2014 Draft and the system's best prospect. Chicago was so delighted he was available that it didn't blanch at handing him $6,582,000 bonus, the most it has paid a draftee and the most any team has given to a southpaw in Draft history. To put that bonus in franchise context, consider that when clubs could spend whatever they wanted without penalties under the 2007-11 Collective Bargaining Agreement, the White Sox never totaled more than $4,663,500 on a Draft.
Rodon, 22, could pay almost immediate dividends after striking out 38 in 24 2/3 innings and reaching Triple-A in his pro debut. Chicago could bring him to the big leagues as a reliever and transition him to a starter, a blueprint that worked well with Mark Buehrle and Sale. Or Rodon could head straight to the rotation if Danks or Noesi falters.
From a pure stuff standpoint, Rodon is ready for the Major Leagues. He has a true wipeout slider that reaches 90 mph and devastates lefties and righties with its two-plane break. His fastball gives him a second well above-average pitch, sitting at 92-94 mph and topping out at 97.
Rodon recognizes the need to use his changeup more as a pro than he did at North Carolina State, and it shows signs of becoming a solid third offering. His control and command require some fine-tuning, but few big league left-handers can match his repertoire.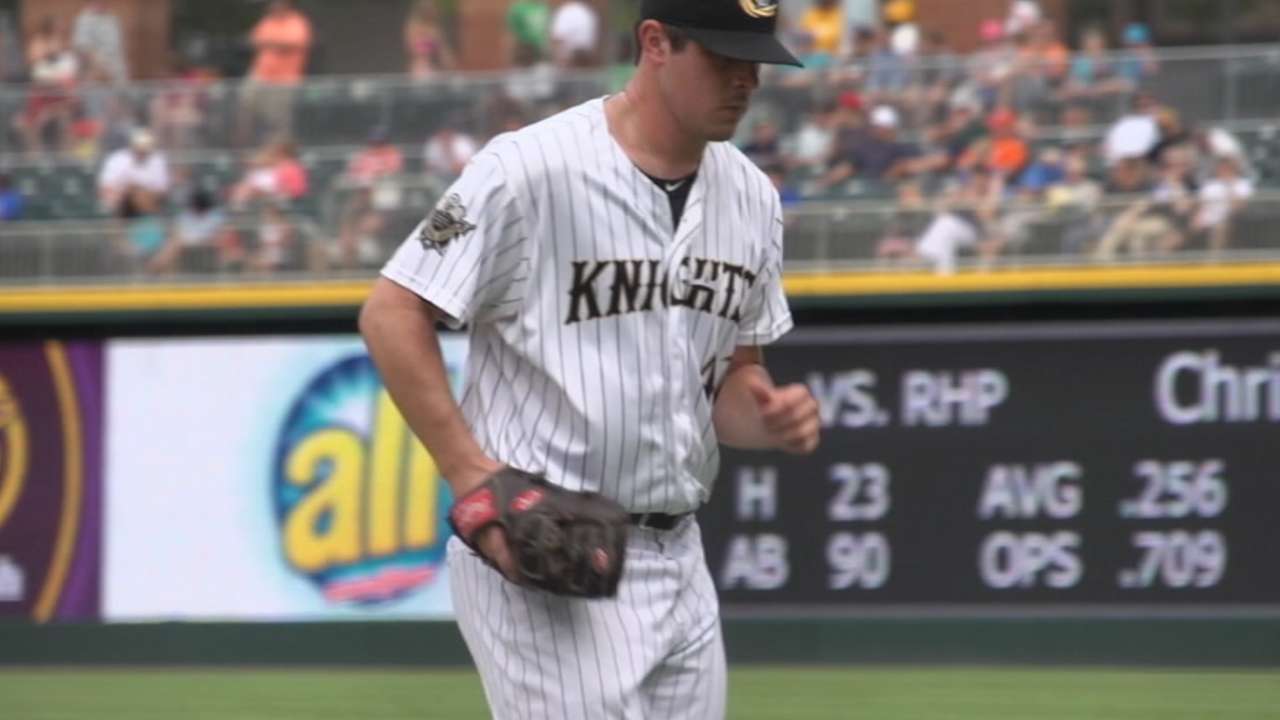 While Rodon likely will begin the season in Triple-A, the White Sox should break camp with a rookie starter at second base. Though free agents Gordon Beckham and Emilio Bonifacio were signed for infield depth, the plan is to let Micah Johnson and Carlos Sanchez battle for the second-base job in Spring Training.
Johnson, 24, is the more highly regarded prospect of the two. The No. 2-rated second baseman on MLBPipeline.com's Prospect Watch, he has game-changing speed and ended Billy Hamilton's two-year reign as the Minor League stolen base champ by swiping 84 bases in 2013. Repeated problems with a hamstring prevented Johnson from successfully defending his title last season, though he did tear up Double-A pitching and hold his own in his first stint in Triple-A.
More than just a speedster, Johnson has demonstrated the ability to draw walks and has enough pop to drive balls into the gaps. His defense doesn't get as many positive reviews, however, as he lacks soft hands and smooth actions, leading some scouts to believe that his best position might be center field.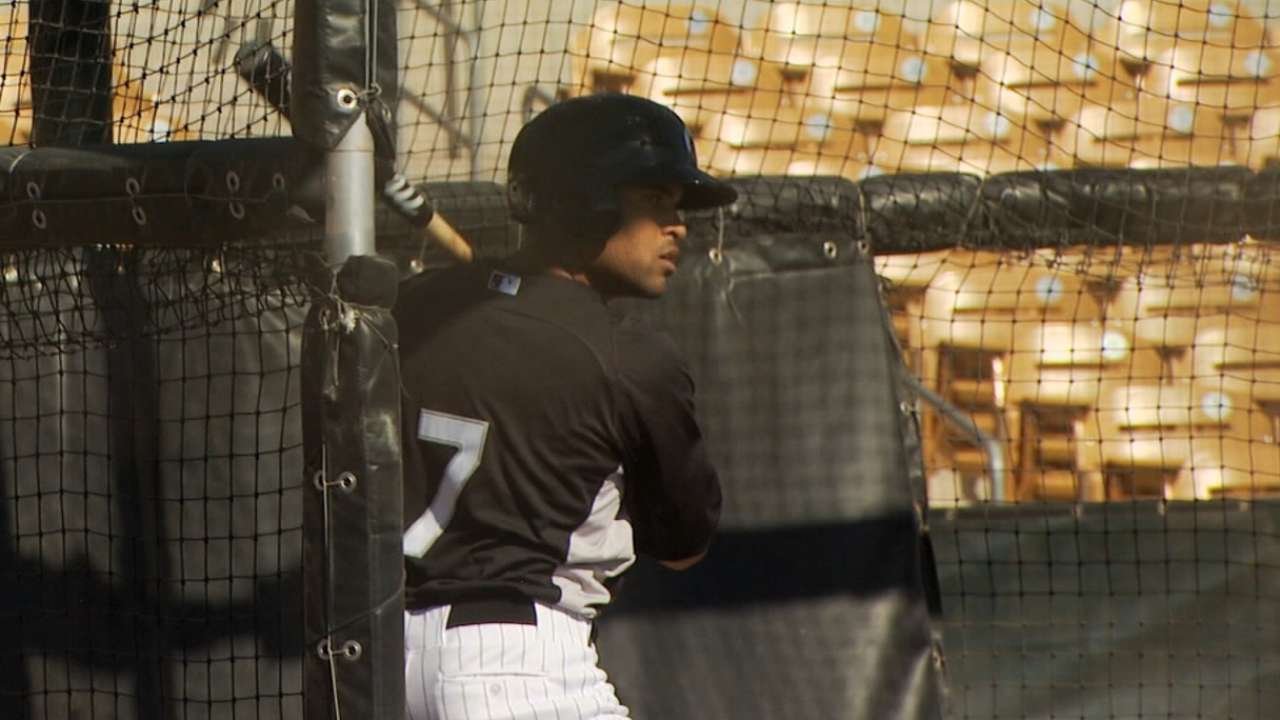 By contrast, the 22-year-old Sanchez stands out most for his glovework. He has tremendous hands, which he displayed by making just one error in 28 games with Chicago last summer. He has more arm strength than a typical second baseman and is capable of playing shortstop.
How much offense Sanchez can provide remains in question. He's a switch-hitter with a line-drive swing who might hit a solid average, but he doesn't provide much in the way of power, walks or stolen bases. Sanchez batted .250/.269/.300 in his first taste of the Majors in 2014.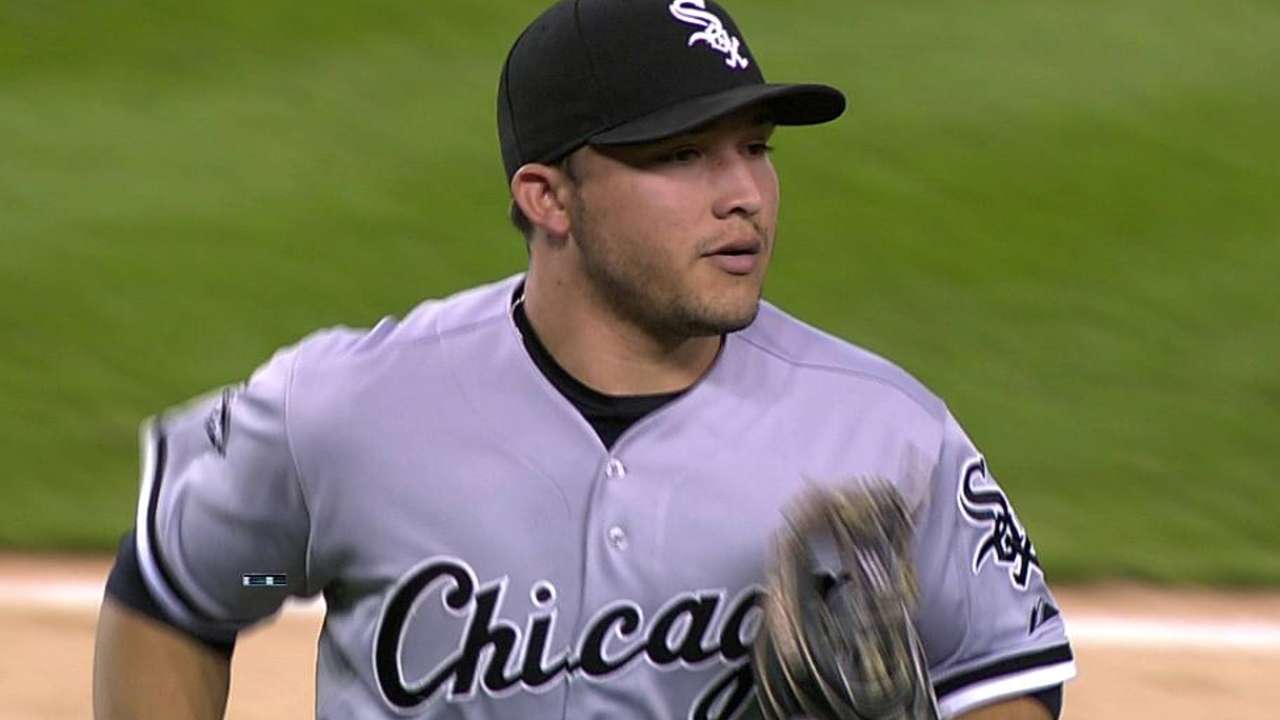 Beyond Rodon, Johnson and Sanchez, the White Sox have some rookies who are longer shots yet also potential contributors. Infielder Tyler Saladino has no plus tool but he offers gap power, on-base skills and versatility. If Conor Gillaspie's second-half fade continues, slugger Matt Davidson might be the answer at third base if he can shake off a disastrous 2014 Triple-A season.
On the mound, right-hander Chris Beck reached Triple-A two years after the White Sox drafted him in the second round and is the most established starter in the upper levels of the system. Though he doesn't miss a lot of bats, he can reach 95 mph with his fastball and has a cutter/slider that peaks at 89. Claimed off waivers from the Dodgers in November after missing almost all of 2014 following elbow and knee surgeries, left-hander Onelki Garcia could be a bullpen asset with his 92-95 mph fastball and power curveball.
Getting production from homegrown players making minimal big league salaries would go a long way to helping Chicago crash the postseason party for the first time since 2008. Fortunately for the White Sox, their farm system looks like it could be up to the task.
Jim Callis is a reporter for MLB.com and writes a blog, Callis' Corner. Follow @jimcallisMLB on Twitter. This story was not subject to the approval of Major League Baseball or its clubs.