MLB.com Columnist
Lindsay Berra
Truck Day packing both an art and a science
Spring is in the air as clubs load up bats, baseballs and bubblegum for Arizona or Florida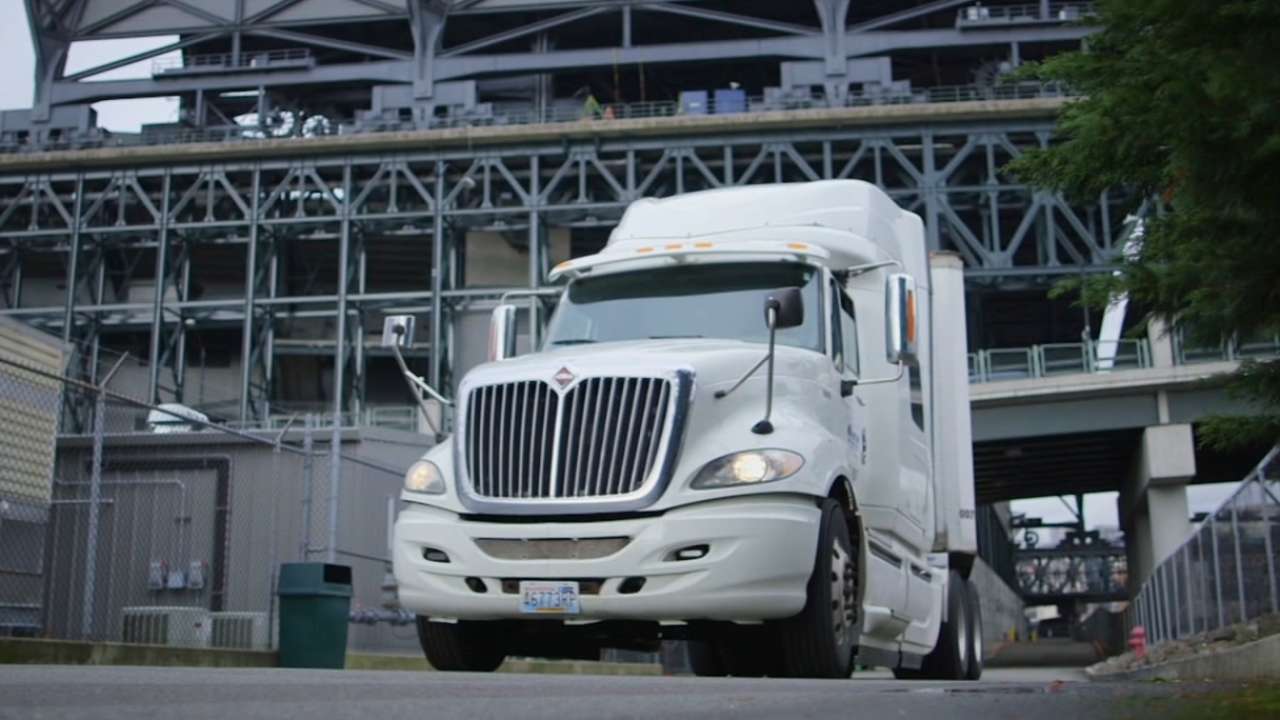 Truck Day in Major League Baseball is as much a harbinger of spring as the appearance of Punxsutawney Phil. Equipment managers and team staffers, customarily overseen by mascots and a gathering of intrepid fans, load an endless stream of cardboard boxes and pallets onto the team's 18-wheeler, destined for Spring Training.
For some, the trip is short; it's only 75 miles from Tropicana Field in Tampa, home of the Rays, to Charlotte Sports Park in Port Charlotte, Fla. For others, the trek is a long one. It's over 2,000 miles from Progressive Field in Cleveland to Goodyear Ballpark, the Indians' spring home in Arizona.
But what, exactly, is on that truck?
The Phillies tweeted that their haul included 2,400 baseballs, 1,200 bats and one Phanatic hot dog launcher.
#TruckDay is Friday! 2,400 baseballs, 1,200 bats, 1 #Phanatic hot dog launcher & so much more: http://t.co/zfbBUGDFxX pic.twitter.com/4kBItibxVo

- Phillies (@Phillies) February 10, 2015
"Basically we just pick up the clubhouse here in Philadelphia and take it down to Clearwater," said Phillies equipment manager Dan O'Rourke. "Anything we could possibly need: shoes, socks, stirrups, seeds, gum, pine tar, sleeves, jackets, hats, helmets, everything."
The Red Sox were even more specific, announcing that their 53-foot truck was filled with 20,400 baseballs, 1,100 bats, 200 pairs of batting gloves, 200 batting helmets, 320 batting practice tops, 160 white game jerseys, 300 pairs of pants, 400 T-shirts, 400 pairs of socks, 20 cases of bubblegum and 60 cases of sunflower seeds, among other things.
.@Wally97 enjoying #TruckDay pic.twitter.com/YYUeJqnqCR

- Boston Red Sox (@RedSox) February 12, 2015
Some teams have things like seeds, gum and Gatorade, which can be acquired anywhere, shipped to their Spring Training facility, rather than transport it there themselves. But if there are leftovers from last season -- like the pallet full of plastic bottles of Bertman Ball Park Mustard packed by the Indians -- or if storage at the spring facility is an issue, it's all just loaded onto the truck.
"We just opened up our new facility in Mesa last year, so we have plenty of storage available to us now compared to our previous, much smaller Spring Training facility," said Cubs media relations director Peter Chase. "Plus, Wrigley is an active construction site, so it would have been tough to have supplies shipped and stored there anyway."
Staffing at the spring facilities is also an issue; if things were shipped, there simply just wouldn't be anyone there to accept the deliveries.
"This is changing as Spring Training facilities evolve into rehab places or Minor League team homes, but for the most part, there typically isn't staff at the Spring Training facilities to receive shipments," said Cardinals communications manager Melody Yount, who added that she saw boxes heading for the truck labeled: "2014 balls, use first."
In addition to baseball equipment and medical supplies, most teams also pack their trucks full of personal items belonging to players, staff members and their families, including everything from bicycles and golf clubs to children's toys and cribs.
This season, the Pirates are bringing infielder Neil Walker's pingpong table to their facility in Bradenton. The Indians truck is carrying manager Terry Francona's red scooter. The Tigers have a 30-year-old New Era hat stretcher and manager Brad Ausmus' office chair from Comerica Park. And the White Sox have removed retired first baseman Paul Konerko's locker from the clubhouse at U.S. Cellular Field and will be dropping it off at his Arizona house en route to their facility in Glendale.
Two things that didn't make the Braves' truck? The Harley-Davidson motorcycles belonging to manager Fredi Gonzalez and first-base coach Terry Pendleton.
"T.P. has a big trailer," Gonzalez said. "So we're taking them down ourselves."
Lindsay Berra is a columnist for MLB.com. This story was not subject to the approval of Major League Baseball or its clubs.