MLB.com Columnist
Mike Bauman
Brewers need Lucroy to be a fast healer
In some recent seasons, the Milwaukee Brewers' indispensable man would have been Ryan Braun. But in 2014 that role was filled by Jonathan Lucroy.
This is why the Brewers have to hope that Lucroy's strained right hamstring keeps him out no longer than the projected four to six weeks. He has become a focal point of this club, on the field and in the clubhouse.
Particularly in the National League Central, where the competition will only be more crowded and intense this season, the Brewers won't be able to afford an extended absence from their starting catcher and a core member of their offense.
Everybody got the picture in 2014. Lucroy was a starter for the NL in the All-Star Game, after Yadier Molina of the Cardinals was injured and unable to participate. There was recognition, too, at the end of the season, when Lucroy finished fourth in the NL Most Valuable Player Award voting.
Lucroy, 28, has emerged as an all-around player of the first rank. He has become a superb receiver and an increasingly adept handler of pitchers. He is respected and admired by the members of the Milwaukee pitching staff, who understand how diligently he works on their behalf.
His workload was impressive last season. He made 133 starts at catcher, a total second only to Salvador Perez of Kansas City. He had an additional 16 starts at first base and played in a team-high 153 games.
At the plate, Lucroy was basically a double waiting to happen. He had 53, leading the Majors and setting a single-season record for doubles by a catcher. He had a slash line of.301/.373/.465 with an OPS of .837.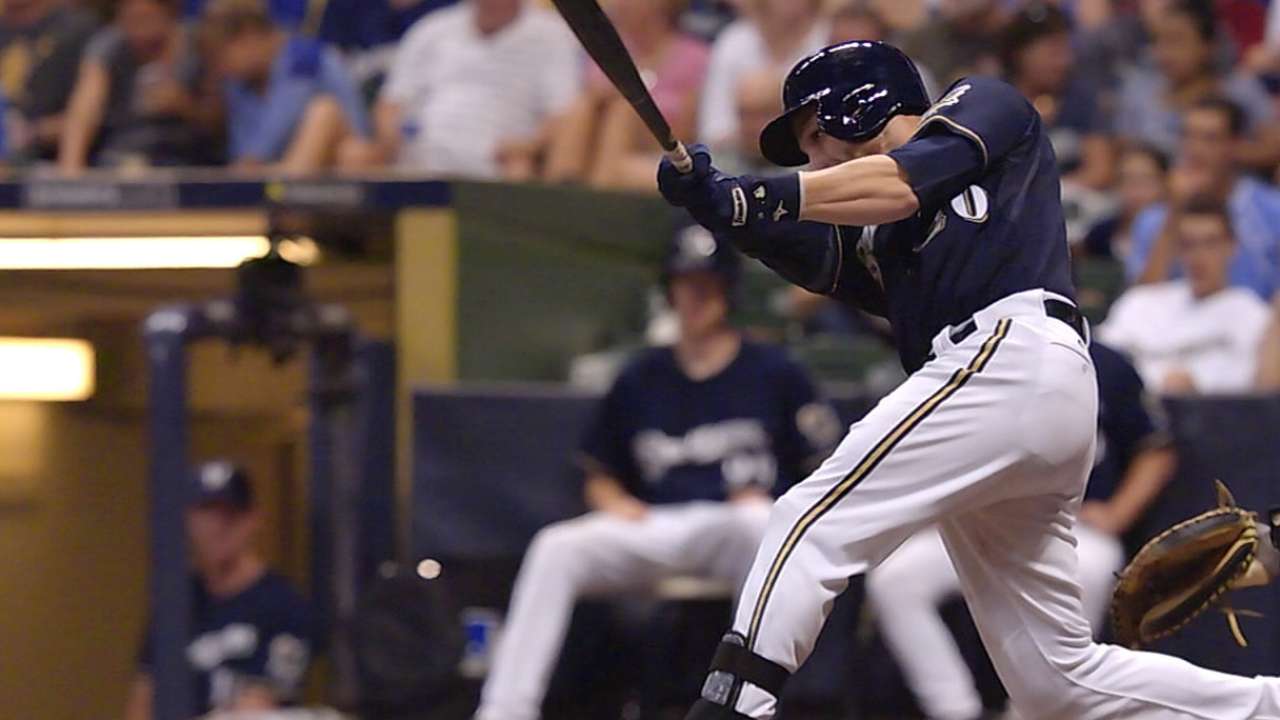 But all those doubles left the largest impression. These weren't leg doubles. Lucroy wasn't stretching out singles with bursts of speed. He was hitting line drives, to all fields and with extreme frequency.
Lucroy, typically, was understated about anything that had to do with his accomplishments.
"I try to be a line-drive hitter, and if they go somewhere for a double or extra bases, then that's what it does," he said. "That's what I try to do.
"I'm not a power, per se, home run guy. I can't do that because it just doesn't work out for me. I'm not that good. I just want to hit a line drive somewhere and see where it goes."
The Brewers believe that they can and should contend again in the NL Central. The difficulty of the competition needs no further embellishment here. On the Brewers' side of the argument were those 149 consecutive days that they spent in first place in 2014.
Unfortunately, that status ended as the Brewers lost 13 of 14 in one stretch and finished with a 9-17 record in September.
This late fade was galling to Lucroy, who thought the club's earlier success was more indicative of its true value. He vowed to take more of a leadership role in the future.
"It's not necessarily getting everybody together and yelling at them," Lucroy said. "That's not what it is. It's taking guys aside and saying: 'Relax, don't try to do too much. Go up there and work on going the other way, whatever, simplify your approach.' I think the main thing this year is that we were guilty of trying to do too much.
"Being vocal, you don't need to be a public speaker to do that. I've never been that way. I don't like speaking in front of a lot of people unless they're paying me," Lucroy said with a chuckle.
"Honestly, if I see something going on, I think I'll go talk to somebody individually. That has a little more impact on a guy than just yelling at him, calling him out in front of everybody, which there are times to do that. But for the most part in here I have enough respect for guys as professionals and as teammates that I expect them to get on me if I'm doing something, and I'm going to get on them right back. It's just a matter of keeping ourselves honest and keeping ourselves accountable."
One way or another, Jonathan Lucroy has made himself an exceptionally valuable member of this organization. There are other issues for this club to address in Spring Training, but a completely healed hamstring on Lucroy's right leg would be some of the best news that could come out of Brewers camp this March.
Mike Bauman is a national columnist for MLB.com. This story was not subject to the approval of Major League Baseball or its clubs.