Spring brings closer look at Giants prospects
Pitchers Crick, Blach, Blackburn, Law among those expected in camp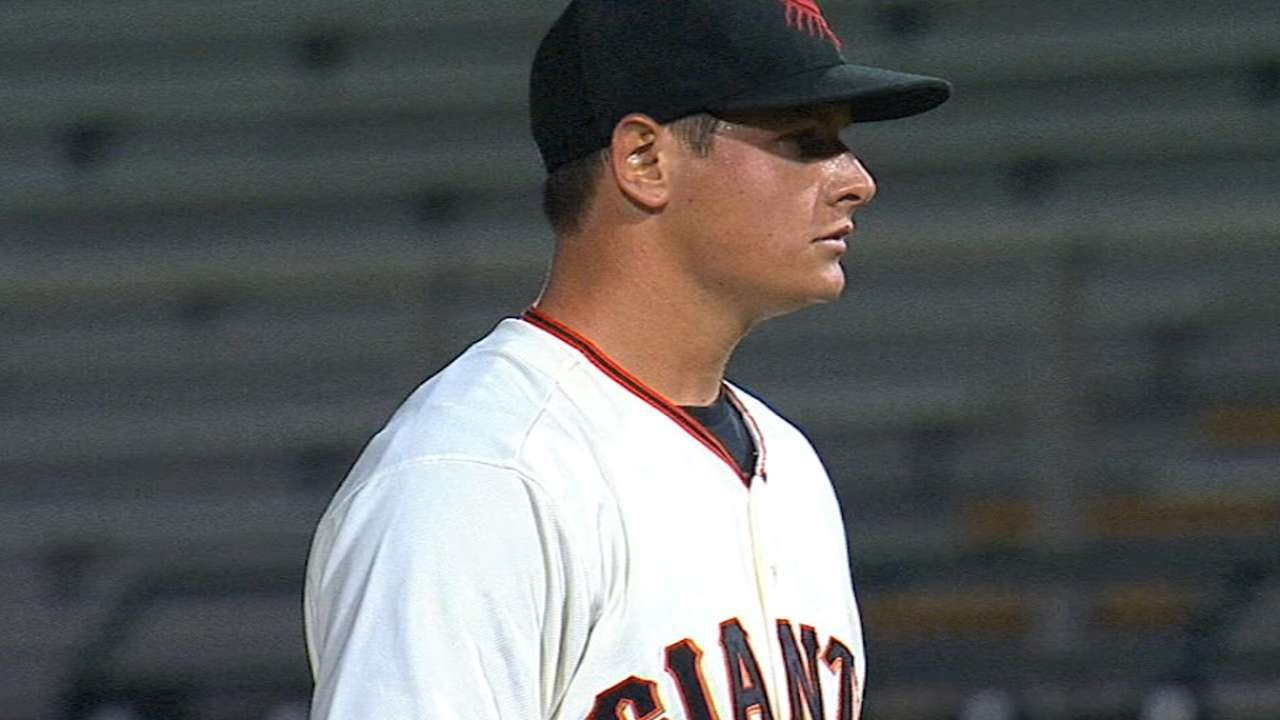 SAN FRANCISCO -- For years, the Giants and their followers have heard about the surplus of talented young pitching tucked neatly in the organization's lower Minors.
Now's about the time for those hurlers to begin showing some polish along with potential. The Giants could have as many as two openings in the starting rotation next year. Given the exorbitant salaries thrown at free-agent pitchers, the Giants would be wise to fill these vacancies from within by using a homegrown product or two.
Part 3 of the Giants' Spring Training preview continues below with a look at the top prospects expected to be in camp:
RHP Kyle Crick: The 6-foot-2, 220-pound Texan has not yet harnessed control of his pitches, which is beginning to cause concern now that Crick has spent four years in professional baseball. But the Giants remain confident in Crick, 22, who ranks 79th on MLB.com's top 100 prospects list. Also ranked San Francisco's No. 1 prospect by MLB.com in 2014, Crick struck out 111 in 90 1/3 innings at Double-A Richmond last year.
CF Gary Brown: Rated 20th on MLB.com's list of Giants prospects last year, Brown demonstrated enough skills toward the end of last season that the Giants kept him on their active roster for the Wild Card Game at Pittsburgh. Brown wasn't needed that night, but he'll try to convince the Giants in Spring Training that they need him overall. With a full complement of outfielders on hand, the Giants might have to be astounded by Brown, their No. 1 pick in the 2010 First-Year Player Draft, to give him a legitimate shot at a big league job.
LHP Ty Blach: With 91 strikeouts in 141 innings and a .261 opponents' batting average last year at Double-A, Blach made it obvious that he relies on pitching to contact. Many left-handers have thrived despite, or because of, their inability to dominate hitters. Blach, MLB.com's No. 6 Giants prospect in 2014, probably will open the season in Triple-A Sacramento to keep fine-tuning his repertoire.
RHP Clayton Blackburn : At 6-foot-2 and 260 pounds, Blackburn, ranked San Francisco's seventh-best prospect by MLB.com last year, conjures memories of Rick Reuschel. Like Reuschel, Blackburn doesn't rely on throwing hard to succeed. His curveball and changeup are above-average pitches. Having spent 2014 at Double-A, Blackburn could find himself in the big leagues sooner than later if he maintains his command.
INF Adam Duvall: Wouldn't you think that the offense-starved Giants would take a longer look at Duvall, who amassed 27 home runs and 90 RBIs in 91 games at Triple-A last year? Duvall even hit three homers in 28 games during multiple stints with the Giants. However, Duvall's detractors claim that his defense is lacking, regardless of which infield corner he plays.
RHP Derek Law: Ranked San Francisco's 16th-best prospect by MLB.com in 2014, Law was among the final few players sent to Minor League camp in Spring Training last year. He proceeded to develop elbow problems, robbing him of the marvelous control that enabled him to strike out 102 and walk 12 for three Minor League clubs in 2013. His resilience will continue to be tested.
INF Christian Arroyo: The Giants' No. 1 pick in the 2013 Draft will make his initial visit to big league camp. Anybody doubting Arroyo needs to be reminded about Joe Panik, another lightly regarded first-rounder. Playing 410 Minor League games prepared Panik for the boost he gave the Giants last year in the second half and the postseason. Now it's Arroyo's turn to stay hungry. MLB.com rated him 12th among Giants prospects last year.
OF Daniel Carbonell: A Cuban defector, Carbonell finished 2014 with Class A Advanced San Jose, batting .344 with three home runs, 12 RBIs and seven stolen bases in nine tries. Observers have been impressed by Carbonell's tools, but at age 23 he must progress relatively quickly to avoid metamorphosing from prospect to suspect.
RHP Cody Hall: Ranked No. 19 among Giants prospects by MLB.com in 2014, Hall probably will open the season in Triple-A but could compete for a setup role during Spring Training. Though Hall possesses decent velocity, he fits the strike-throwing profile of most Giants relievers. He's coming off a strong winter-ball campaign in Venezuela.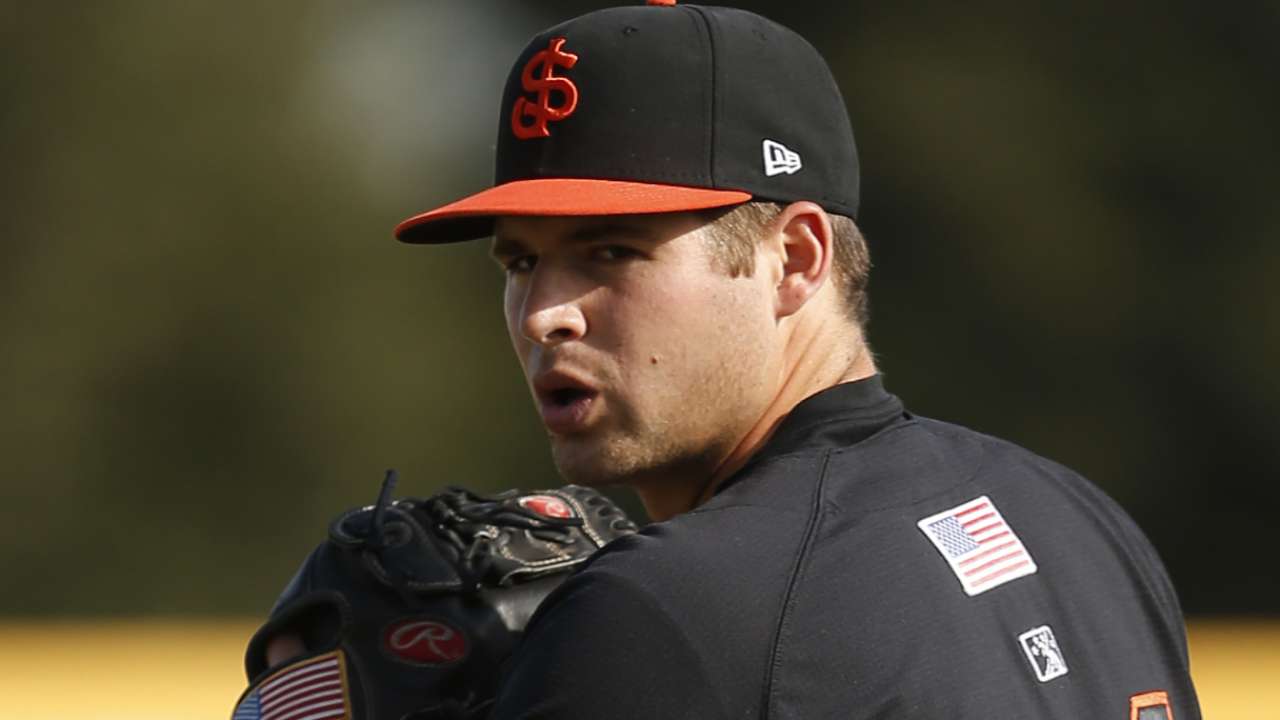 RHP Ray Black: Shoulder problems robbed Black of two seasons after the Giants selected him in the seventh round of the 2011 First-Year Player Draft. A blindingly hard thrower, Black struck out 71 batters in 35 1/3 innings last year while pitching 33 games for Class A Augusta and four with San Jose. It helps that Black, who stands 6-foot-5 and weighs 225 pounds, is physically imposing.
RHP Joan Gregorio: The Giants have been content to let Gregorio, 23, steadily gain experience. From 2010-14 he rose one classification per year, a pace that would put him with Double-A Richmond this season. Ranked San Francisco's No. 18 prospect by MLB.com in 2014, Gregorio still can afford to pack a lot more bulk onto his 6-foot-7, 180-pound frame.
Chris Haft is a reporter for MLB.com. Read his blog, Haft-Baked Ideas, and follow him on Twitter at @sfgiantsbeat. This story was not subject to the approval of Major League Baseball or its clubs.