Larkin recalls college curveball at Michigan Hall induction
Before outstanding career with Reds, shortstop came to crossroads as Schembechler recruit
DETROIT -- Before he was Barry Larkin: Hall of Famer, 1995 National League MVP and World Series champion with the Reds, he was Barry Larkin: University of Michigan football recruit.
Larkin was part of the 59th class inducted into the Michigan Sports Hall of Fame on Thursday night during a ceremony at the MotorCity Casino's Sound Board theater. Recognized for his contributions on the diamond at Michigan, the eventual 12-time All-Star might have never earned any of those accolades.
If not for a decision by legendary, late Michigan football coach Bo Schembechler, who recruited the Cincinnati native to play defensive back and who Larkin called "the sole reason" he attended UM, the longtime Reds shortstop might never have had that 19-year baseball career.
He might never have joined Michigan State basketball coach Tom Izzo, Detroit Red Wings legend Sergei Fedorov, Detroit Lions three-time All-Pro defensive tackle Doug English, gold-medal-winning Olympian Sheila Taormina and professional bowling great Aleta Sill on stage Thursday night.
Recently retired Yankees shortstop Derek Jeter was also scheduled to be inducted, but mechanical issues with his plane grounded the Captain and pushed his induction to next year.
"When [Schembechler] recruited me, he told me I was going to play [right away]," Larkin said. "But something happened and somebody came back or whatever, and he told me he was going to redshirt me my freshman year and let me play baseball. That's what he told me, 'I'm going to let you play baseball.'
"He wanted me removed from [football], and I used to tell him all the time, that was the best decision -- of all the third-and-short, fourth-and-short decisions that he made -- that was the best decision that he made as a football coach. To just let me play baseball [as a freshman]."
As Larkin explained it, he made leaps and bounds as a baseball player for the Wolverines his freshman season in 1983, when he helped them to a third-place finish at the College World Series.
"I thought, 'Hmmm, this might work,'" Larkin said. "And also, on my recruiting trip, I was hanging out with Robert Perry, man, 6-foot-3, 240-[pound] tailback. I was like, maybe 170 at the time, and I said, 'Maybe I shouldn't be trying to tackle these big guys.' So it just worked out."
Indeed it did.
Larkin informed Schembechler of his decision to focus on baseball -- Larkin laughed when asked Schembechler's response, calling the face-to-face meeting "not very comfortable" -- and the rest is history.
The next two years, before becoming the fourth overall pick by the Reds in the 1985 First-Year Player Draft and starting a historic professional baseball career, Larkin was named Big Ten Player of the Year in back-to-back seasons. He was a two-time All-American those same years (1984-85) and led Michigan to its last College World Series in '84.
The contributions he made to the Wolverines program were among the most impactful in the school's history. If he hadn't yet, he certainly realized that with his induction.
"You know, especially not being from Michigan, it says a lot," said Larkin, whose speech -- perhaps unsurprisingly after his 34-minute acceptance speech in Cooperstown, N.Y., which he joked about Thursday -- was the first to exceed the allotted three minutes.
"I think every player, every athlete is looking for validation. Of course, when we're out there and we're competing on the field, it's about winning and losing. You want to be successful with whatever it is you do, but once you retire, it's how people remember you and remember your legacy that you left."
And Larkin left quite the legacy in his brief but memorable three-year stint in Ann Arbor, Mich.
He continues to try to strengthen his baseball legacy today.
He admits he's no longer too familiar with college baseball, but he remains integrated in the professional sport. He just returned from a 2 1/2-week trip to Brazil, where he said he's assisting with player development in an attempt to further globalize the sport. Asked by WJR 760 on Thursday if he remained interested in a managerial role, Larkin laughed before offering: "No comment."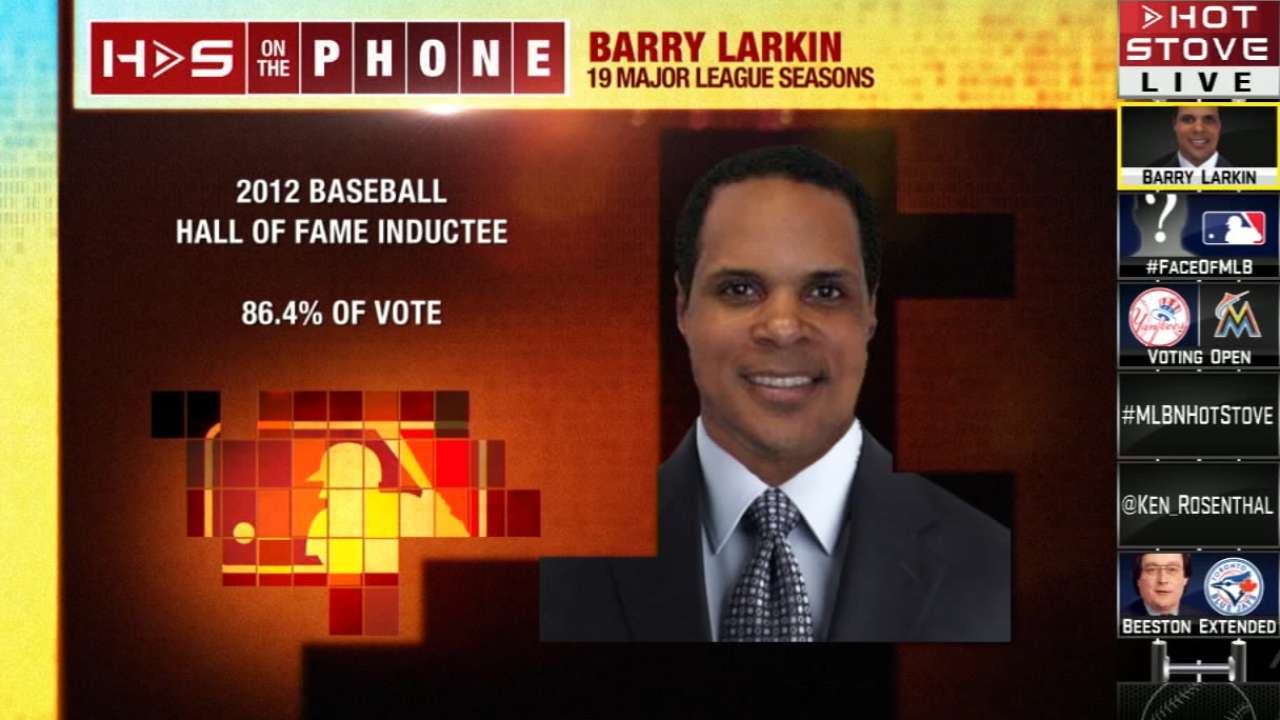 He also tries to keep focus on the kids, and provided some advice for the younger generation.
"Take advantage, keep your eyes open and your mouth closed," said Larkin, as a father next to the small media contingent pushed his son closer to hear the Hall of Fame shortstop's advice. "There's a lot you can learn by watching and a lot you can absorb by being around greatness. So put your head down and try hard."
It's for reasons like that, that even a fierce competitor like MSU's Izzo could put the rivalry aside, at least for the night. Izzo and Larkin, seated next to each other during the ceremony, were chatting it up. Izzo admitted to being a big admirer.
"I'm a huge Derek Jeter fan," Izzo said earlier in the night. "Barry Larkin fan, too."
A Larkin fan, even with the University of Michigan ties? Even though Larkin proudly donned a maize block "M" pin on his suit jacket? Even though Larkin's son, Shane, torched the Spartans two seasons ago with 15 points for Miami to snap a five-game MSU win streak?
"Oh yeah, I love him," Izzo said. "Love him. ... This is one time when it's not a Michigan, Michigan State, Notre Dame thing. We're all in the same family now."
Anthony Odoardi is a contributor to MLB.com. This story was not subject to the approval of Major League Baseball or its clubs.