Posey shakes off rookie rust at Pebble Beach Pro-Am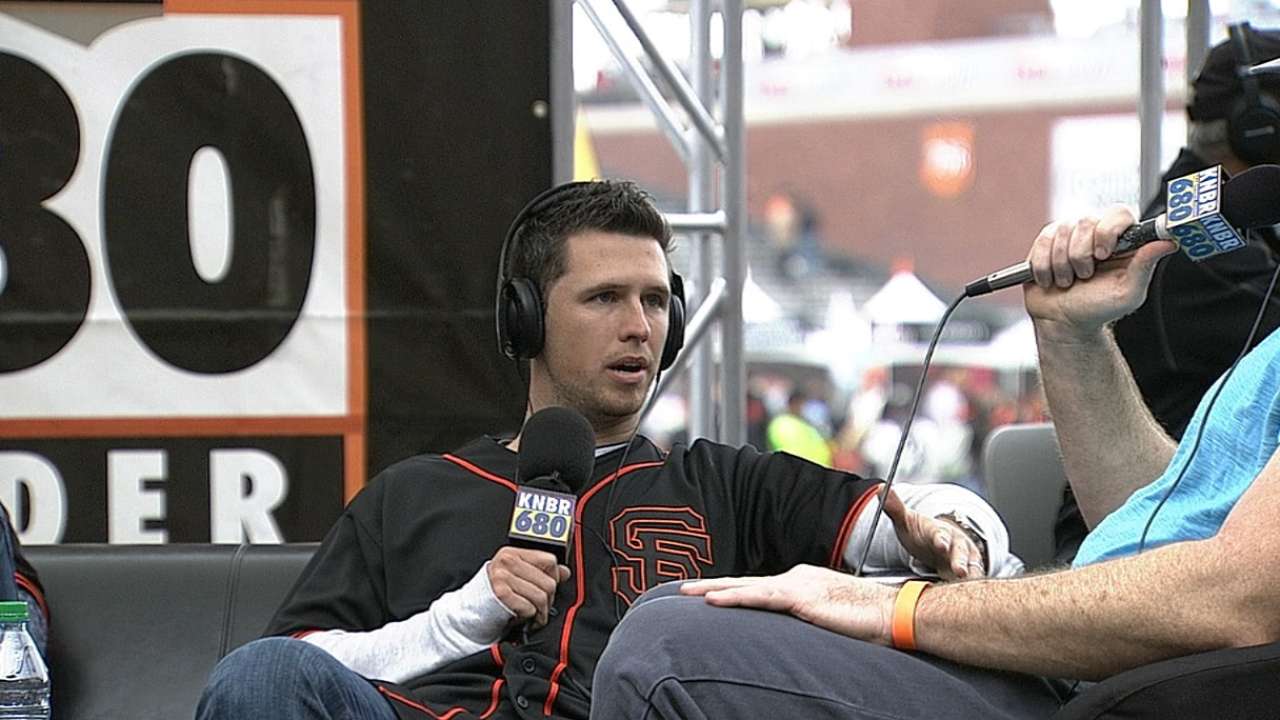 PEBBLE BEACH, Calif. -- The anticipation of a big game is nothing new to Buster Posey. This time, he wasn't doing sprints in the outfield and working on a game plan with the starting pitcher. This time, it was some swings on the range, a few strokes on the practice green and then Buster, a golf ball and a golf club.
Oh, and a PGA Tour gallery gathered on the No. 1 tee and following him around, many of the fans wearing Giants colors and Posey jerseys as the catcher with three World Series rings prepared to make his debut at the AT&T Pebble Beach National Pro-Am. This was decidedly new territory for the 27-year-old with so many athletic feats and celebratory hugs to his name already.
"I didn't really have any expectations, and sometimes as an athlete and as a baseball player that can be sometimes more unsettling than anything, just that not knowing," Posey said after his round Thursday. "This experience is similar to baseball a little bit just because of that unsettling feeling when you first get called up."
What do you think of @BusterPosey's (golf) swing? #ChevronShootout #SFGif pic.twitter.com/7k2t37cZjQ

- World Champs (@SFGiants) February 10, 2015
Back to being a rookie again, Posey knocked some balls around during his round, losing a few tee shots in the coastal foliage, finding the sand quite a few times and sending the gallery ducking for cover once or twice. In other words, a pretty typical round for a 14-handicap golfer making his first start in this tournament.
Posey wound up contributing a few good holes, including net birdies on 17 and 18, toward a strong first-day finish for his pro-am team, as Nick Watney and Posey wound up tied for eighth at 10-under for the day -- matching Giants teammate Matt Cain and Matt Bettencourt through the first round. Giants president Larry Baer and pro Josh Teater were at 7-under, with 16-handicap Baer contributing a few red numbers.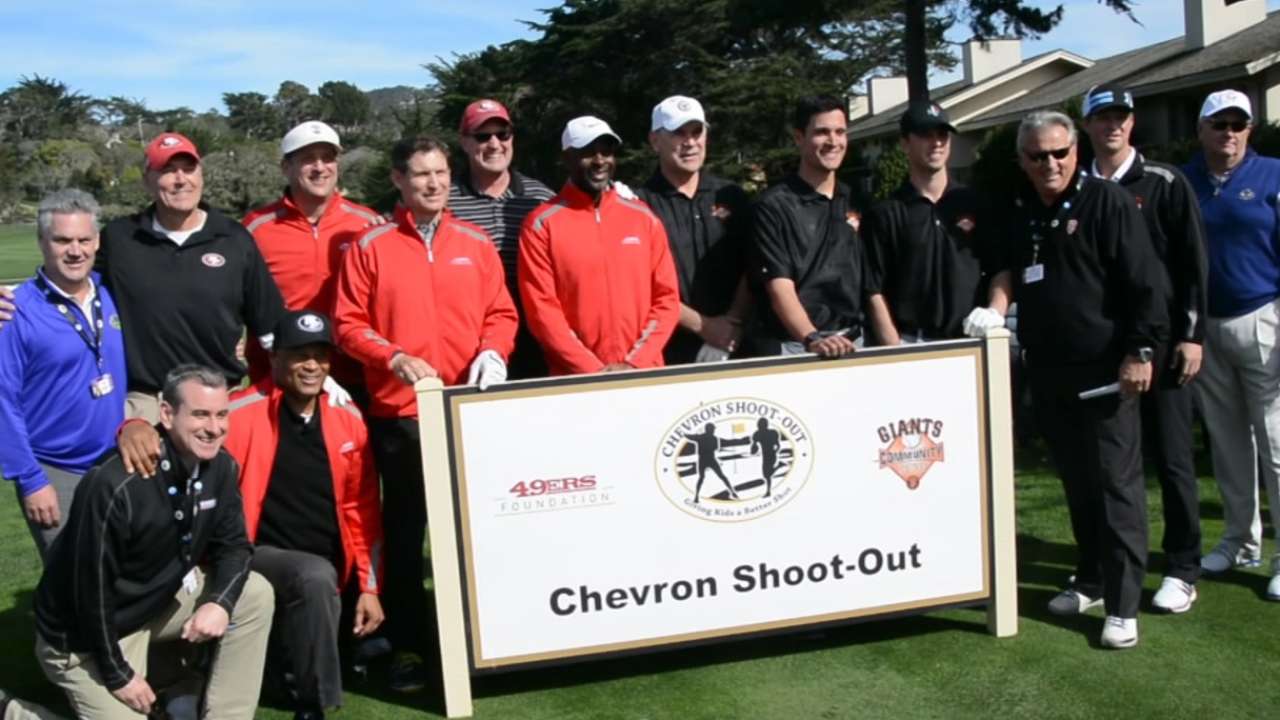 With his first competitive round looming, Posey shook hands with playing partner and lifelong Giants fan Watney, and met the rest of his foursome, Jim Furyk and Huey Lewis. Posey made his way to the first tee at the Monterey Peninsula Shore Course, and with some jitters present and accounted for, he made his first crucial decision of the day.
"I cheated a little bit, because I hit a 4-iron off the first tee and didn't pull the driver out," Posey said. "I'm kind of glad I did it, because I kind of eased my way into it."
After smacking his iron off the tee, Posey headed down the fairway with Watney on one side and Furyk on the other, both golfers welcoming the World Series star to the club, and Watney jumping right in to profess his Giants fandom.
"It was funny, he asked me on Hole 1, he said, 'Do you care if I ask you stuff about baseball?'" Posey said.
The main thing Watney said he wanted to know: What was it like to stand in against Mat Latos in the 2012 National League Division Series and deliver a grand slam that sent the Giants toward their second of three titles?
Said Watney: "He said he was more nervous hitting a golf shot than he was then."
Great fan support at the #ChevronShootout. @BusterPosey signs for these dedicated fans. #SFGiants pic.twitter.com/mDToE1jIsO

- World Champs (@SFGiants) February 10, 2015
Posey hit a lot of golf shots Thursday, struggling a bit early. But, after getting in the squat to prepare himself at No. 7, he got on the board with a net birdie, and he found some good shots from there, particularly at the end.
In the gallery, Kristen Posey walked along with her husband, glad Buster could accept an invitation to this tournament after previous years were made difficult because the couple has young twins.
"It's for sure a treat to come down here and for him to play golf on these beautiful courses, so we're both really enjoying it," Kristen said as she walked down a fairway.
The rest of the gallery following Posey's group, which was right behind Cain's, grew in size and in Giants colors as the round went along, leading up to an 18th green that was packed in orange and black.
In the end, Posey got through his first round of competitive golf on a PGA Tour stage without too many problems, and he remained focused on remembering that he's not a pro golfer but an All-Star catcher.
"For me, I was most nervous because I didn't want to get in the way. These guys are out there, and this is their job," Posey said.
That wasn't a problem, and he wound up getting a great view of how two of the very best in the game go about their business.
"It was a blast to watch Jim and Nick. I mean, they were putting on a show," Posey said.
Posey showed his partner something, too.
"He's obviously a great competitor," Watney said, "and I don't think he was doing quite as well as he'd like there at the beginning of the round, but he finished great."
Said Posey: "Tomorrow I hope I can settle in and enjoy it more out of the chute."
John Schlegel is a national reporter for MLB.com. You can follow him on Twitter @JohnSchlegelMLB. This story was not subject to the approval of Major League Baseball or its clubs.