Busy Preller catches his breath after flurry of moves
New Padres GM reflects on whirlwind that reshaped roster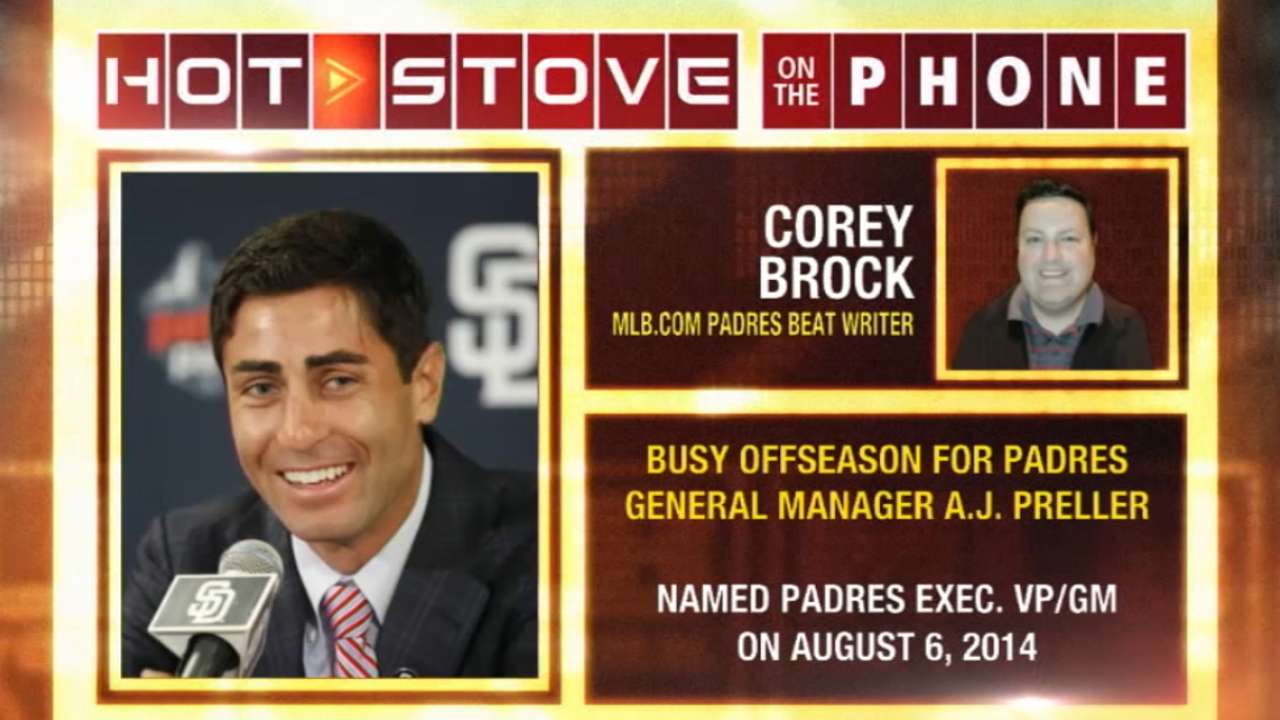 SAN DIEGO -- On three occasions this offseason, the Padres have welcomed cameras and reporters to the auditorium on the garden level at Petco Park for news conferences to announce their shiny new acquisitions.
Matt Kemp had the first news conference in December. Justin Upton, Derek Norris, Wil Myers and Will Middlebrooks shared the stage in January, and James Shields did so again Wednesday.
Manager Bud Black, who hasn't had many marquee players to work with his first eight seasons with the team, quipped Wednesday about trips to the auditorium that "I can get used to this."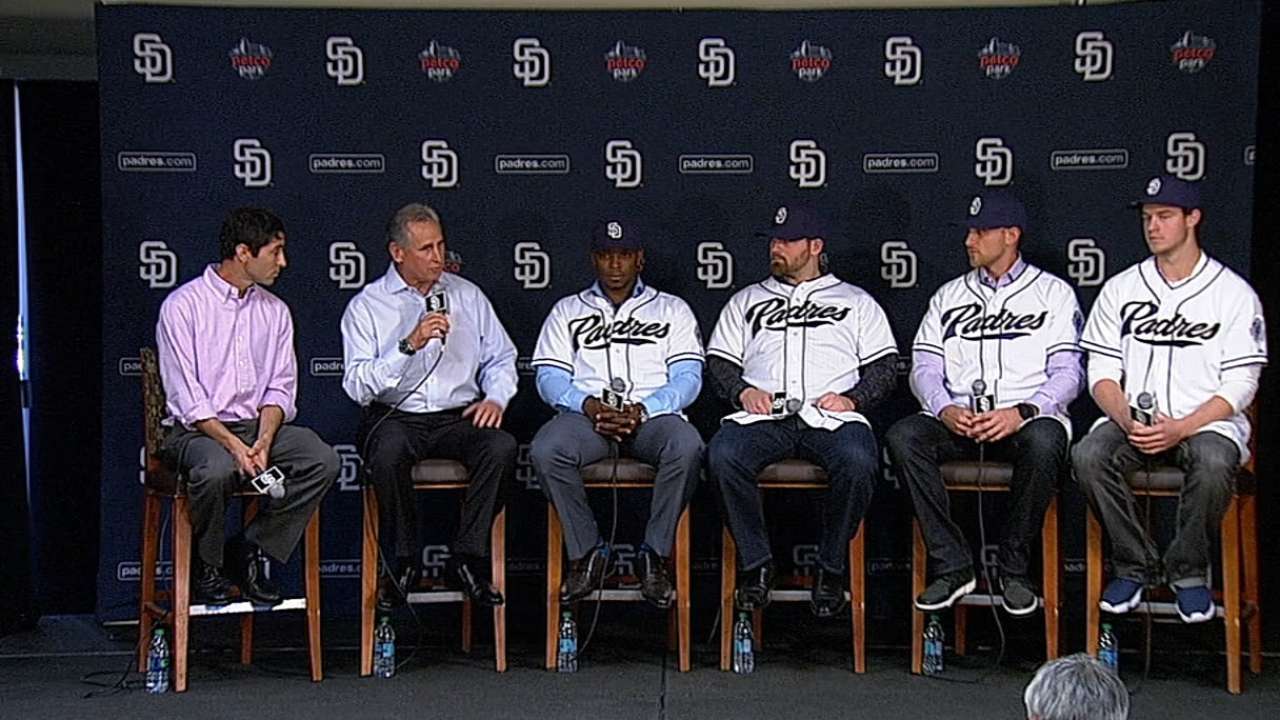 But long before the Padres signed and subsequently welcomed new additions to their revamped roster, the room was instead used to hatch the beginning of the A.J. Preller era as general manager.
On Sept. 29, a day after the regular season ended with a 9-3 loss to the Giants, members of Black's coaching staff and the team's professional scouts as well as those in baseball operations gathered inside the auditorium to discuss the upcoming offseason.
There was certainly a lot to discuss with a team that hadn't reached the postseason since 2006 and one that ranked last in baseball in nearly every offense category.
"It was pretty clear that we needed to get better and we needed to improve," Preller said. "... But I'd be lying if I told you I knew that day we were going to make 'X' number of decisions and it was going to go to 'A' to 'B' to 'C.'
"It was more active than we would have drawn it up."
Preller might not be finished tinkering with the Padres' roster, though the Shields deal -- four years and $75 million -- might have been the finishing piece as the team now prepares to head to Arizona for the start of Spring Training, as pitchers and catchers report Feb. 19.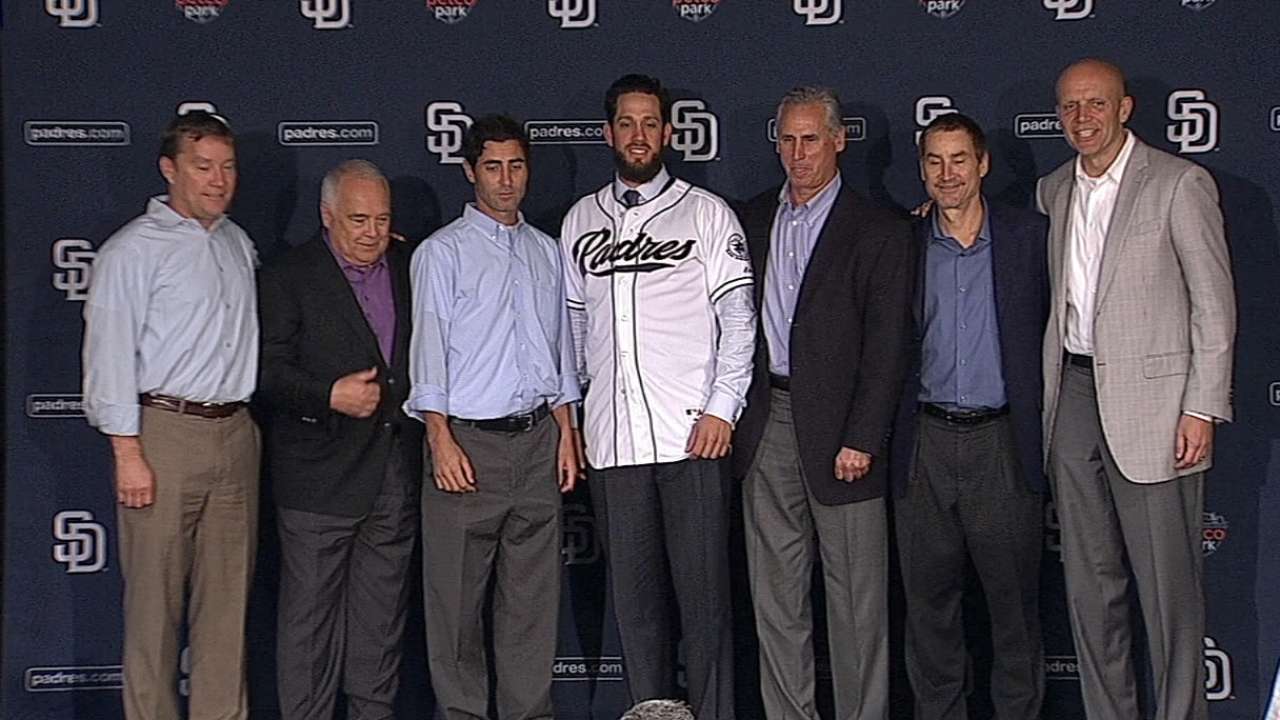 Preller was asked Wednesday about the offseason -- his first as a general manager -- as a whole and his thoughts on it. He smiled. There was a lot to digest, a lot to remember.
"It took me about four months to make the first big transaction," he said.
Preller, who was hired Aug. 6, didn't make his first move, his first transaction, until nearly December. On Nov. 20, he traded Minor League outfielder Reymond Fuentes to the Royals for another Minor Leaguer, a left-handed pitcher, Kyle Bartsch.
Come again?
Preller was rebuffed by the Padres' primary offseason target, free-agent third baseman Pablo Sandoval, who signed with the Red Sox despite being offered more money (though not average annual value) to drop his anchor in San Diego.
Undaunted, Preller turned to the trade market and found suitors in deals for Kemp, Myers, Upton, Norris, Middlebrooks, Shawn Kelley and Brandon Maurer.
Preller also dabbled in free agency, signing Clint Barmes and Brandon Morrow before landing Shields on Wednesday.
When this last news conference was over, Preller allowed himself the chance to exhale. He did not vow that this would be the last of these, though you got the sense it might be -- for now.
What was his final take on this wild winter?
"I think every day, every move, every discussion, you're learning constantly ... especially as a first-time GM," he said. "You're always looking at it as, 'What could have I done better?' I think there will be some takeaways that we'll sit back and think about and learn from what we can do to get better."
For now, he'll be content with watching games instead of revamping a roster.
"I cannot wait," he said.
Corey Brock is a reporter for MLB.com. Keep track of @FollowThePadres on Twitter. This story was not subject to the approval of Major League Baseball or its clubs.