Moving Day 'bittersweet' for Skaggs, who will miss season
Angels pitcher joins others in signing autographs for fans at stadium
ANAHEIM -- The Angels' semi truck, filled to the brim with baseball equipment, made its annual drive to the team's Spring Training complex in Tempe, Ariz., early Thursday morning.
Shortly after that, Jered Weaver, C.J. Wilson and Joe Smith were throwing their final bullpens before reporting for their physicals next week. And a little after noon PT, more than 500 fans flocked to Angel Stadium to celebrate what the organization called "Moving Day."
Tyler Skaggs was in attendance, signing hundreds of autographs alongside former Angels Chuck Finley and Adam Kennedy -- and feeling a little bittersweet about the whole thing.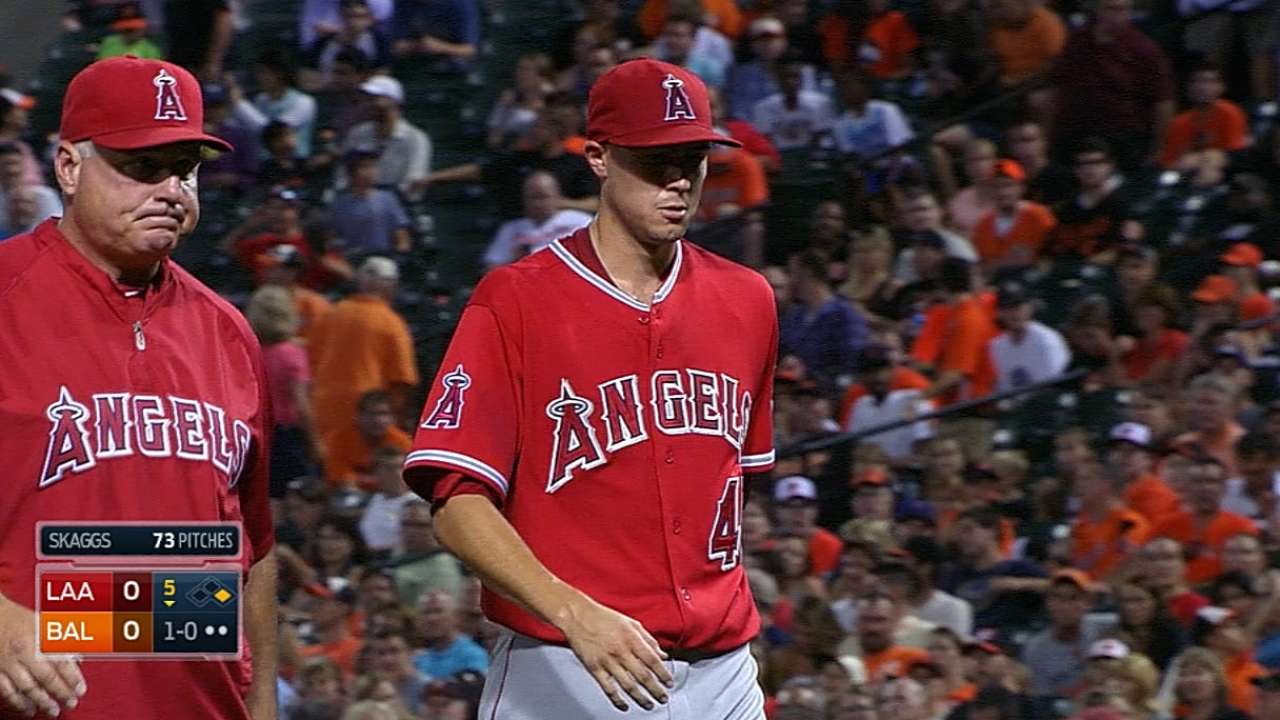 For the 23-year-old Skaggs, six months removed from Tommy John surgery, Spring Training will merely be the buildup to a season in which he can't pitch.
"I'm having that baseball itch," Skaggs said. "I really want to play, and I'm really excited about it. At the same time, I know I'm going to see everybody play and it's going to be tough. This year, I'm going to be the biggest cheerleader, which sounds kind of terrible. But at the same time, I'm looking forward to it."
Skaggs is currently restricted to 60 throws every Monday, Wednesday and Friday extending no further than 50 feet. His left arm is "feeling really good," and sometimes he wants to "let a few rip," so physical therapist Bernard Li has to remind him to take it easy.
"It's really hard," Skaggs said, "because it's feeling like nothing ever happened and it's coming out of my hand real hard."
Skaggs posted a 4.30 ERA in 18 starts of his first full season in a Major League rotation last year, then tore his ulnar collateral ligament 4 2/3 innings into a no-hitter in Baltimore on July 31 and went under the knife 13 days later, at which point the Angels declared him out until the start of 2016.
Since rejoining the Angels in December 2013, Skaggs has taken part in basically every event, from fan cruises to hospital visits to autograph sessions.
He doesn't just want to succeed in the big leagues; he really wants it to happen with the Angels.
"This is the team that gave me my shot; they drafted me," said Skaggs, a first-round pick in 2009. "I mean, why wouldn't you want to be with that team for the rest of your career? I come to all these cruises, I come to all these fan events, and it's one of those things where I want people to know that I'm here for them. I'm from here; I grew up an Angels fan."
The Angels partnered with the moving company Old Dominion to turn their 365-mile drive to Arizona into an event for the first time, installing a pitching machine and giving away an assortment of prizes eight days before the first workout at Tempe Diablo Stadium. Sponsorship services manager Maria Dinh, one of the Angels employees who helped organize the event, said the turnout was "beyond my expectations."
People are getting excited about the start of a new season.
Skaggs wishes he could fully share in it.
"It's more bittersweet than anything," he said, "because I'm really excited to play; I'm really excited to go to Spring Training and be with all my teammates and get into the swing of baseball feel. But at the same time, I'm definitely going to have that itch to pitch and throw and do all of the other stuff. So, it kind of sucks."
Alden Gonzalez is a reporter for MLB.com. Read his blog, Gonzo and "The Show", and follow him on Twitter @Alden_Gonzalez. This story was not subject to the approval of Major League Baseball or its clubs.