MLB.com Columnist
Jim Callis
What if baseball's top prospects delayed trip to pros?
Buxton, Correa highlight alternate-reality preseason All-America team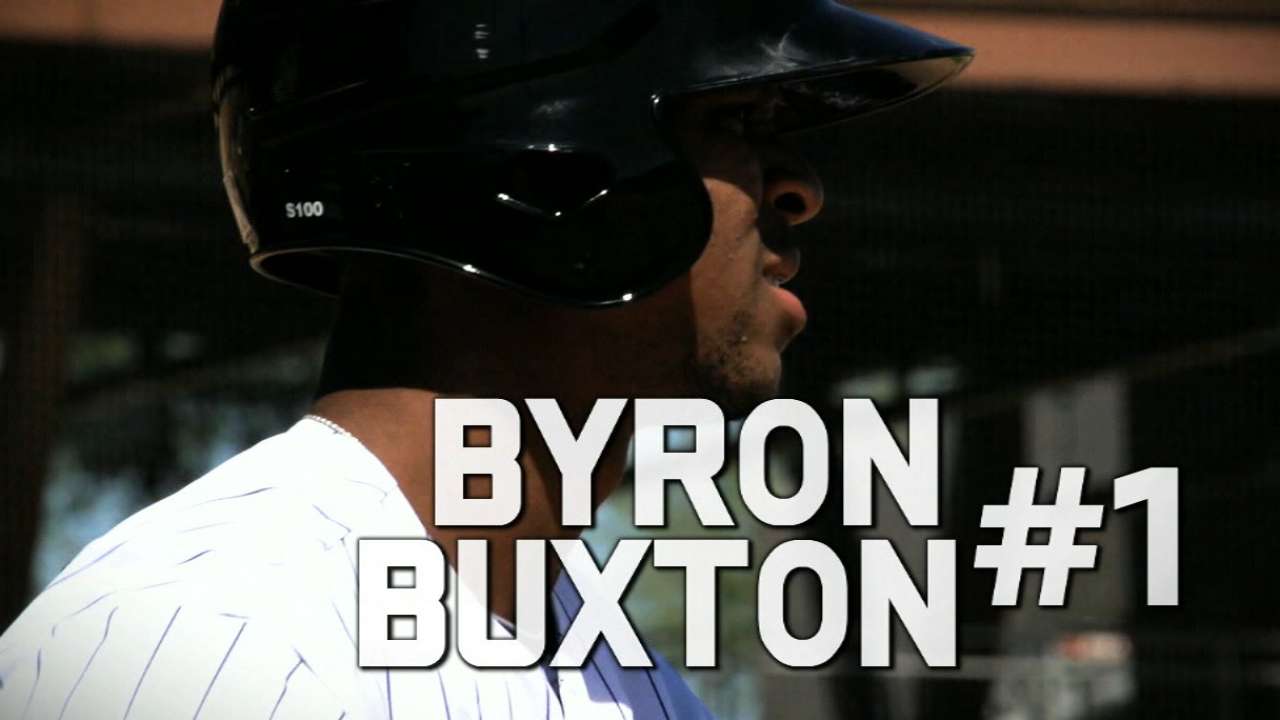 Opening Day is still more than seven weeks away, but if you're itching for some games that count, the NCAA Division I schedule officially beings today. Defending College World Series champion and consensus No. 1 Vanderbilt opens against Santa Clara, while the top prospect in college baseball, Duke right-hander Michael Matuella, will pitch against California. Two series pit Top 25 teams against each other: Texas at Rice and Oklahoma State at Arizona State.
There are plenty of talented players in college baseball -- several of them can be found on MLB.com's Top 50 Draft Prospects list -- yet there would be many more if MLB mirrored the NFL and required players to spend at least three years in college before entering the Draft. We'd still have a debate over whether Carlos Correa or Byron Buxton deserved to be baseball's No. 1 overall pick, but we'd be having it this year rather than in 2012.
We're not advocating that MLB should follow the NFL's lead, merely pointing out that doing so would make college and professional baseball radically different. In that alternate reality, here's what the preseason All-America team would look like:
Reese McGuire, C, San Diego (Pirates): The Toreros lost five recruits in the first five rounds of the 2013 Draft in McGuire (first round, 14th overall), left-hander Ian Clarkin (first round, 33rd overall, Yankees), right-hander Andrew Church (second round, Mets), lefty Stephen Gonsalves (fourth round, Twins) and shortstop Trae Arbet (fifth round, Pirates).
Matt Olson, 1B, Vanderbilt (Athletics): The Commodores won the national title in 2014 despite hitting just 22 homers in 72 games. Olson would help in that department, considering he ranked third in the Minors a year ago with 37 homers. He also could lend a hand on the mound after starring as a two-way player on Parkview High's (Lilburn, Ga.) 2012 national championship team. Not that anyone is feeling sorry for Vanderbilt, but it also had four mound recruits land seven-figure bonuses in the 2014 Draft: Touki Toussaint (first round, 16th overall, D-backs), Justus Sheffield (first round, 31st overall, Indians), Dylan Cease (sixth round, Cubs) and Cody Reed (second round, D-backs).
Addison Russell, 2B, Auburn (Cubs): There are so many outstanding young shortstop prospects that we can't squeeze them all on the team, even after stashing some at second base, third base and DH. Sent by the A's to the Cubs in last summer's Jeff Samardzija trade, Russell would have a chance to become the highest Draft choice in Auburn history, surpassing Gregg Olson (No. 4 overall in 1988).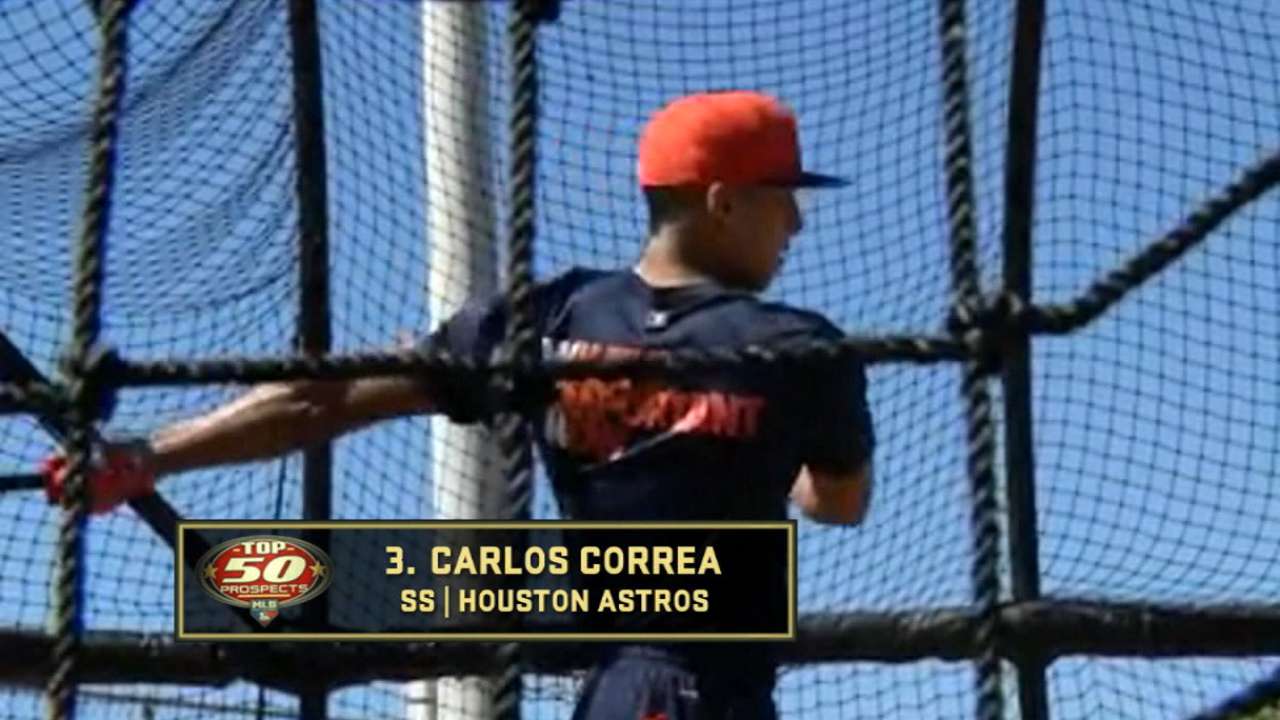 Correa, 3B, Miami (Astros): The No. 1 overall pick was part of an outstanding Hurricanes recruiting class that got decimated on the first day of the 2012 Draft. Outfielder Albert Almora (sixth overall, Cubs) and right-hander Nick Travieso (14th overall, Reds) joined Correa among the top 14 selections, while first baseman Keon Barnum (48th overall, White Sox) and righty Walker Weickel (55th overall, Padres) went in the supplemental first round.
J.P. Crawford, SS, Southern California (Phillies): College baseball's most storied program hasn't reached the NCAA playoffs since 2005, in part because the Trojans haven't been able to keep their top recruits. Crawford and first baseman Dominic Smith (11th overall, Mets) were first-rounders in 2013, and third baseman Rio Ruiz (Astros, 2012; since traded to Braves), shortstop Jacob Gatewood (Brewers, 2014) and right-hander Shane Watson (Phillies, 2012) also landed seven-figure bonuses.
Buxton, OF, Georgia (Twins): The Bulldogs could have an outfield consisting of Buxton, now the best prospect in the Minors; Clint Frazier (Indians), the No. 5 overall pick in 2013; and Michael Gettys (second round, Padres), the best all-around prep athlete in the 2014 Draft. Pro teams also paid seven-figure bonuses to lure third baseman Joe DeCarlo (Mariners, 2012) and right-handers Spencer Adams (White Sox, 2014) and Duane Underwood (Cubs, 2012) away from Athens.
David Dahl, OF, Auburn (Rockies): After having just four first-round picks in the first 50 Drafts and none since Gabe Gross in 2001, the Auburn Tigers would have two this June in Russell and Dahl. Though they never got to play together at Auburn, they did team up to help the U.S. national 18-and-under team win the 2011 Pan American Championships in Colombia.
Jesse Winker, OF, Florida (Reds): The reigning Arizona Fall League batting champion and one of the best pure hitters in the Minors was a supplemental first-rounder in 2012 -- but just the fourth-highest-rated Gators recruit. Right-hander Lance McCullers (41st overall, Astros) got $2.5 million after sliding to the supplemental first round amid signability concerns, outfielder Lewis Brinson (29th overall, Rangers) got popped in the first round and second baseman Avery Romero (Marlins) went in the third.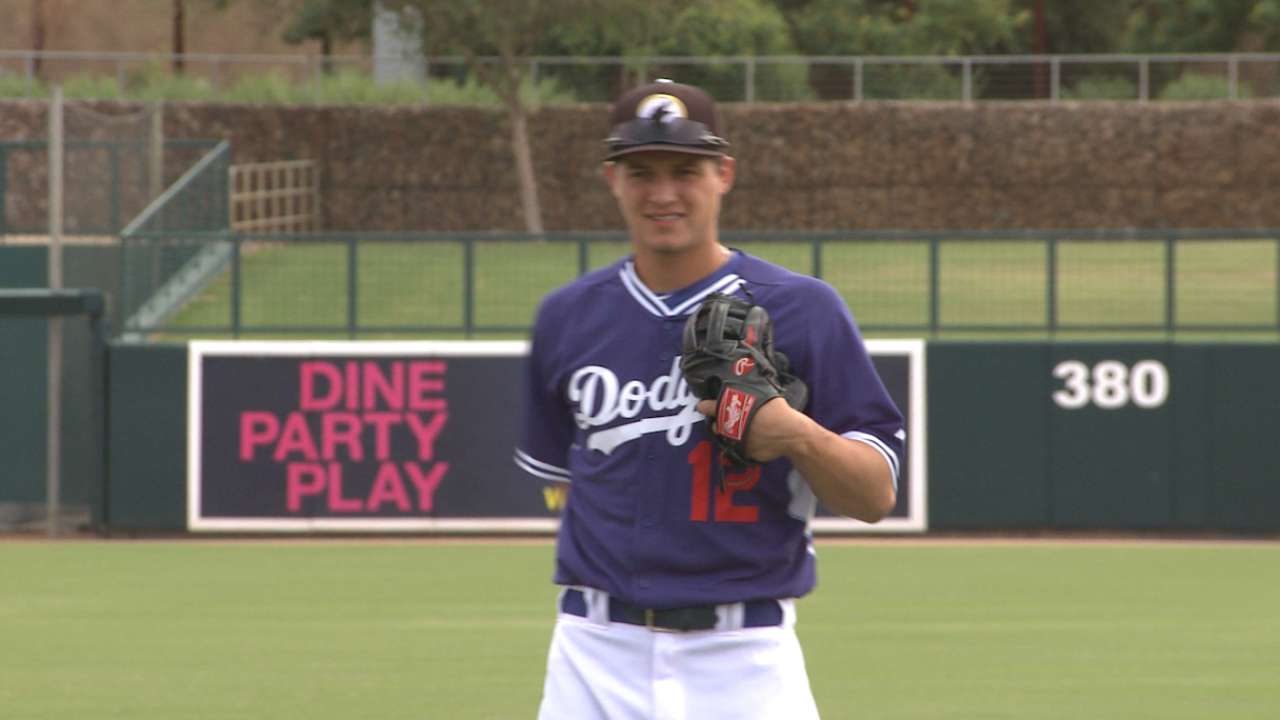 Corey Seager, DH, South Carolina (Dodgers): Interestingly, the Tar Heel State native didn't plan on following his older brother Kyle's path to North Carolina. Instead, the 2014 Minor League batting champ committed to the Gamecocks, who had won the previous two College World Series. South Carolina saw Seager drafted in the first round in 2012, then had the same fate befall catcher Nick Ciuffo (21st overall, Rays) and second baseman Travis Demeritte (30th overall, Rangers) the following June.
Joey Gallo, UT, Louisiana State (Rangers): If you're scoring at home, that's seven Southeastern Conference players among our 10 position players. It's unlikely that BBCOR bats and raised-seam baseballs would have been able to tame Gallo's incredible power, and he also could have been a factor on the mound after reaching 98 mph with his fastball in high school.
Jose Berrios, RHP, Miami? (Twins): This is a bit of a cheat, because he committed to Miami Dade JC, but not a four-year school as a Puerto Rico high schooler in 2012. After two years of junior college, Berrios still would have to wait another year to get drafted, so we'll keep him in the same area and make him a Hurricane.
Lucas Giolito, RHP, UCLA (Nationals): He and fellow Harvard-Westlake School (Studio City, Calif.) pitcher Max Fried (Padres, since traded to Braves) both were top Bruins recruits, as was shortstop Daniel Robertson (Athletics, since traded to Rays), before they all went in the first 34 picks of the 2012 Draft and signed for a combined $7,425,000. UCLA still managed to win the 2013 College World Series anyway.
Michael Matuella, RHP, Duke: The lone current collegian on this squad, he went undrafted out of high school three years ago and won just one game as a sophomore. But Matuella also has 93- to 97-mph sinker and a pair of above-average breaking balls, which makes him college baseball's best prospect and a strong candidate to go No. 1 overall in June.
Kohl Stewart, RHP, Texas A&M (Twins): The Aggies actually gave him a football scholarship, so he would have competed for the quarterback job as well as pitched in College Station. If three years of college were mandatory, Minnesota's farm system would have a much different look without Buxton, Berrios, Stewart and shortstop Nick Gordon (Florida State).
Jake Thompson, RHP, Texas Christian (Rangers): He originally committed to Nebraska before a coaching change there had him switch to Texas Christian, where his right-handed power would have made him a two-way star. The only player on this team to sign for under $1 million, Thompson got $531,800 as the Tigers' top pick (second round) in 2012 and joined Texas last summer in a deal for Joakim Soria.
Jim Callis is a reporter for MLB.com and writes a blog, Callis' Corner. Follow @jimcallisMLB on Twitter. This story was not subject to the approval of Major League Baseball or its clubs. This story was not subject to the approval of Major League Baseball or its clubs.