Bridich discusses offseason, making decisions
New general manager shares thoughts on Rockies' process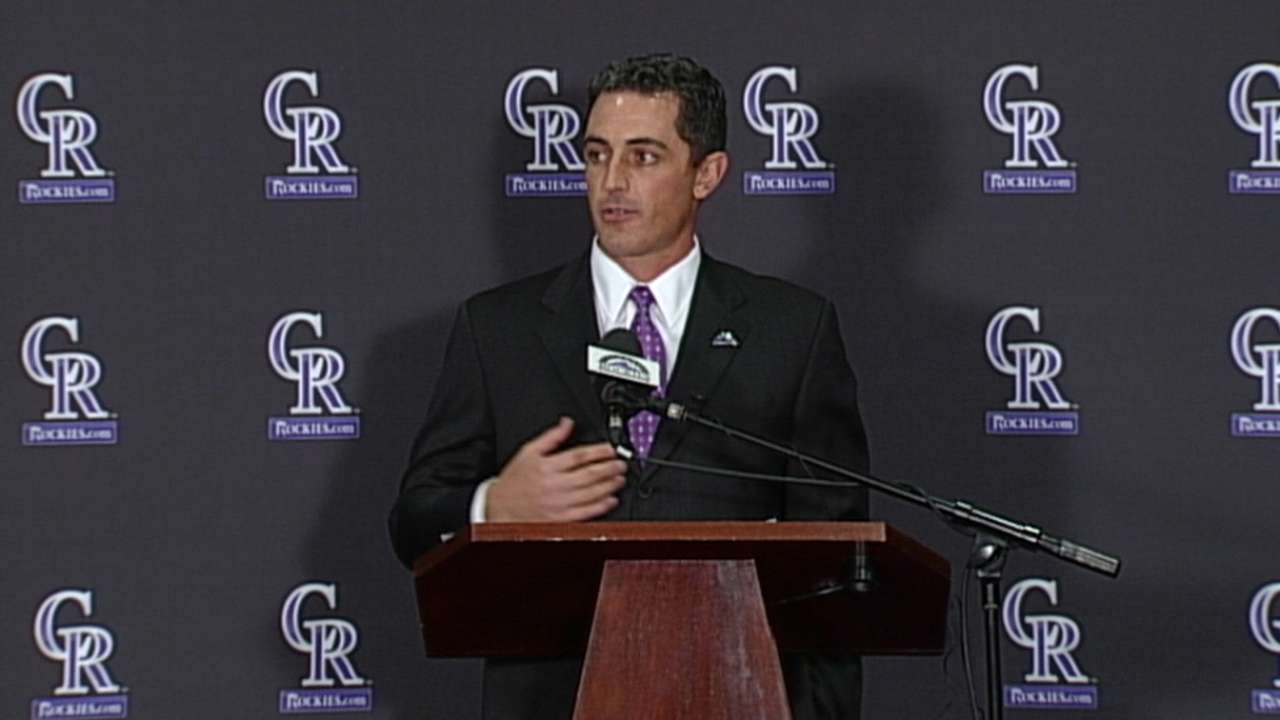 DENVER -- Rockies first-year general manager Jeff Bridich has spent his early months on the job being asked how decisions are made, how he's different from his predecessor mentor, Dan O'Dowd, and why he hasn't made a huge offseason splash.
Bridich, who is in his 11th year in the organization (the last three seasons as player development director), addressed all three issues on The Sports Show with Woody Paige and Les Shapiro on the Denver Post website.
Decision making: The decision making is of interest because in recent years O'Dowd and now-departed vice president of Major League operations Bill Geivett were on equal footing, with owner Dick Monfort seen as the final say. The perception is Bridich's hiring has allowed manager Walt Weiss a greater say in personnel matters. Bridich said decisions involving a high-priced player such as shortstop Troy Tulowitzki, the subject of offseason trade rumors, are collaborative.
"When you have a player plus a contract of that magnitude, there should be ownership element or ownership inclusion in the decision -- there certainly is with us," Bridich said.
In other cases, such as the acquisition of right-handed pitchers David Hale and Gus Schlosser from the Braves for two Minor League catchers, there is still a high level of communication.
"Dick and I talk on a daily basis. Walt and I talk, basically, daily; if it's not daily, [if] we've missed a 24-hour period of time, we make it up very quickly, and that's been by design," Bridich said. "That was the result of a long process with the Atlanta Braves. We covered many players and many names back and forth. It took days and even weeks. If I'm communicating well to Walt and I'm communicating well with Dick Monfort and whoever else is involved, they should be up to date."
Comparing and contrasting himself and O'Dowd: The promotion of Bridich left many fans and critics wondering if the Rockies truly were making a change after four straight losing seasons and 15 seasons under O'Dowd's leadership.
"The only issue I have with that question is it assumes some day-to-day working knowledge of Dan O'Dowd, which, really, the people that are asking it, it's not really the case," Bridich said.
Bridich also said, "We all have mentors in the game, in life. I'm not the same person as my father. I've got so many similarities, some people would think that we were cloned, in terms of where we grew up, how we grew up, the type of family we grew up in, where we went to school. But I'm not the same person.
"I've learned from Dan's successes. I've learned from our collective failures. The best thing that I can say is when I worked for Dan and worked with Dan, I had my eyes and my ears open to everything that was going on so I could learn from the good and learn from the bad and specifically when I make a mistake not replicate [it]."
The lack of big moves this offseason: The Rockies' acquisitions have been low in profile and number. Fans who have watched Padres general manager A.J. Preller remake the lineup and sign top free-agent pitcher James Shields are wondering why Bridich hasn't done more. Bridich said having a contender-worthy offense, when healthy, dictated he didn't need to be splashy.
"The problem with trying to do that is you don't really know where your foundation is," Bridich said. "If you're just constantly chasing or worrying about what everybody else is doing, it's tough to keep track of what you stand for, what your foundation is and what you're trying to build off of."
Thomas Harding is a reporter for MLB.com. Read his blog, Hardball in the Rockies, follow him on Twitter @harding_at_mlb, and like his Facebook page, Thomas Harding and Friends at www.Rockies.com. This story was not subject to the approval of Major League Baseball or its clubs.