As #BaseballBegins, players share excitement
Past and present big leaguers recall fond memories of Spring Training
"Pitchers and catchers report" are four of the most beautiful words in the English language. Everything old is new again. As another Spring Training gets underway on Wednesday in Florida and Arizona, we are asking people around Major League Baseball what those four words mean to them.
Join the conversation and be sure to use #BaseballBegins in your tweets.
Carl Pavano, former All-Star who pitched for five MLB clubs from 1998-2012 and helped the Marlins win the 2003 World Series title:
"By this time, the offseason has gotten so long and most are champing at the bit to get going. This is the kickoff of Spring Training and the season. The sights, sounds and smells are a welcoming sight. In February, you still have the morning dew. Most times we held off the field until that dissipated. It's the first time back in the clubhouse with your teammates again. The camaraderie is back and the moment of truth looms large. Will the recipe of hard work that you committed to in the offseason lead to success for yourself individually and the team ultimately?"
Angels catcher Chris Iannetta:
"It means it's the beginning of the known slash unknown. You are familiar with what's in store, however, it's a blank slate. Anything can happen. It's exciting to experience the journey and the script as each word pitched is 'penned.'"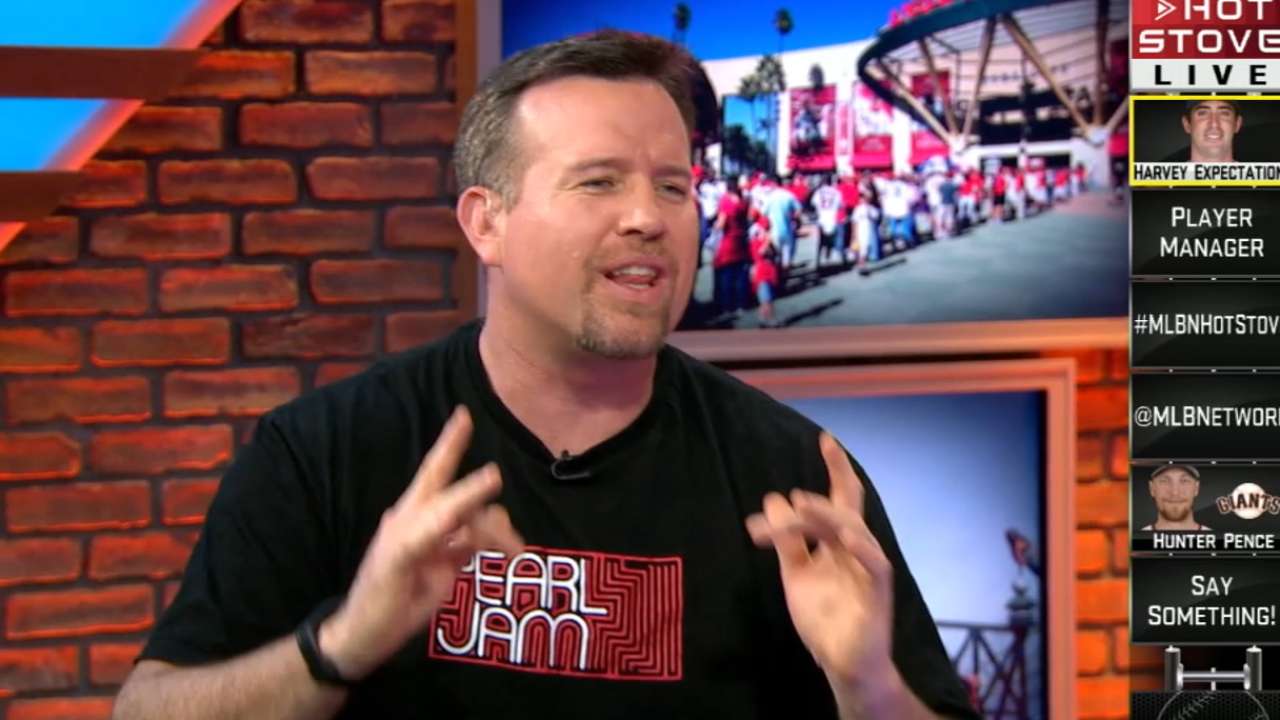 Former Major Leaguer and MLB Network analyst Sean "The Mayor" Casey:
"Pitchers and catchers reporting means my excitement for a new season goes through the roof. I just picture the sunshine and the smell of the fresh-cut grass. As a player, you just can't wait to get to camp. All the players and fans are excited because they feel this could be their year to reach the World Series. There's also no bruises on the body yet, so that's a great thing."
Mike Stanley, former All-Star who played for five American League teams over 15 years and made it to four postseasons in the 1990s:
"Spring Training certainly was an exciting time as you would prepare for another season. Having played for a long time, it had different meanings depending on where I was in my career.
"In the beginning, it was an anxious and exciting time that I couldn't wait for in order to showcase my talents in the hopes of being able to make the team. As I was able to establish myself as a Major Leaguer, Spring Training was less pressured and allowed your mind to just be able to focus on the things I needed to do in order to be ready for the season. When you're young, Spring Training can't last long enough. And when you're a veteran, Spring Training seems too long.
"All in all, Spring Training was met with great anticipation as you got to see your teammates again, awaited the smell of leather and ash, and prepared for what you'd hoped would be a championship season."
Previous: Clint Hurdle, Derrick Hall
Mark Newman is enterprise editor of MLB.com. Read and join other baseball fans on his MLB.com community blog. This story was not subject to the approval of Major League Baseball or its clubs.