Truck Day lifts Red Sox fans' spirits in snowy Boston
Wally the Green Monster assists during loading process at Fenway Park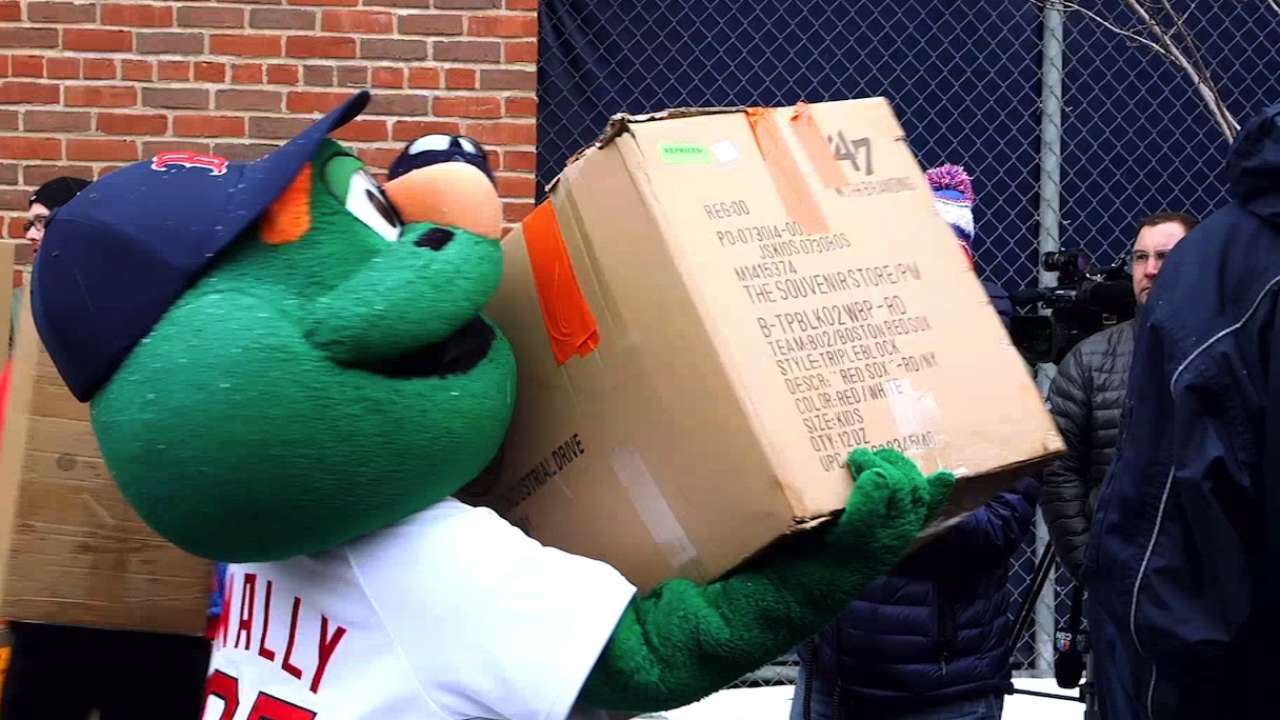 BOSTON -- While snowfall in the city continues to reach epic proportions, a small glimmer of spring could be seen outside of Fenway Park on Thursday.
The Red Sox's equipment truck left for the team's Spring Training facility in Fort Myers, Fla., at 12 p.m. ET, as fans cheered and music blared down Van Ness Street.
"The fans are looking for hope. They are looking for a sign of spring. They are looking for the first worm, and this is it," executive vice president Charles Steinberg said of Truck Day. "This truck leaving, knowing so many players are already down there, makes the winter more tolerable. We know spring is just around the corner."
Al Hartz, a native of Milford, Mass., is driving the 53-foot truck for the 17th straight year. Among the items being transported are 20,400 baseballs, 1,100 bats and 60 cases of sunflower seeds.
"This is a huge operation. A lot more goes into it than just the players showing up. A huge back-of-the-house operation happens from our clubhouse guys to all of our stadium-operations people," chief operating officer Sam Kennedy said. "It really is a full parade down to Fort Myers, and we'll get these trucks out of here before the next blizzard."
As light, fluffy snow covered the boxes yet to be placed in the truck, a few dozen Red Sox fans braved the 20-degree weather, and they were treated to pictures with Wally the Green Monster and were given soft Red Sox baseballs.
"We have the best fans in all of baseball. We never take them for granted. We know they came in the middle of a work day and another snow event," Kennedy said. "For our fans to come here and send off the equipment, which is sort of the beginning of Spring Training, is great."
.@Wally97 enjoying #TruckDay pic.twitter.com/YYUeJqnqCR

- Boston Red Sox (@RedSox) February 12, 2015
Steinberg, who made sure to wear his baseball tie to commemorate the occasion, believes Truck Day is "one of the best baseball days of the year."
"Pitchers and catchers reporting is a big one, Opening Day, and the calendar is filled with these milestones," Steinberg said. "When you can see all of these boxes that our ballplayers need, it is a wonderful sign of spring."
While pitchers and catchers report on Feb. 20, more than 20 players are already at the JetBlue Park complex training for the upcoming season.
After the Red Sox finished last in the American League East during the 2014 season, the team revamped its roster for '15. A new-look rotation will include Wade Miley, Justin Masterson and Rick Porcello, while the offense will get a boost after the signing of free agents Hanley Ramirez and Pablo Sandoval.
"It has been really exciting to watch all the moves that were made to put together a roster that hopefully will get us back to October baseball," Kennedy said.
"Anytime you have a disappointing season, the offseason is long. People are really ready to get going. You have such an energy and excitement. What the Patriots did [winning the Super Bowl], let's face it, really fired us up to have a good year and get back on those duck boats. It has been a fun couple of weeks, and we're ready to get going."
Quinn Roberts is a reporter for MLB.com. Follow her on Twitter at @qlr5001. This story was not subject to the approval of Major League Baseball or its clubs.