Ottavino used metrics to improve late last season
Pitcher's revised plan included mixing in high fastball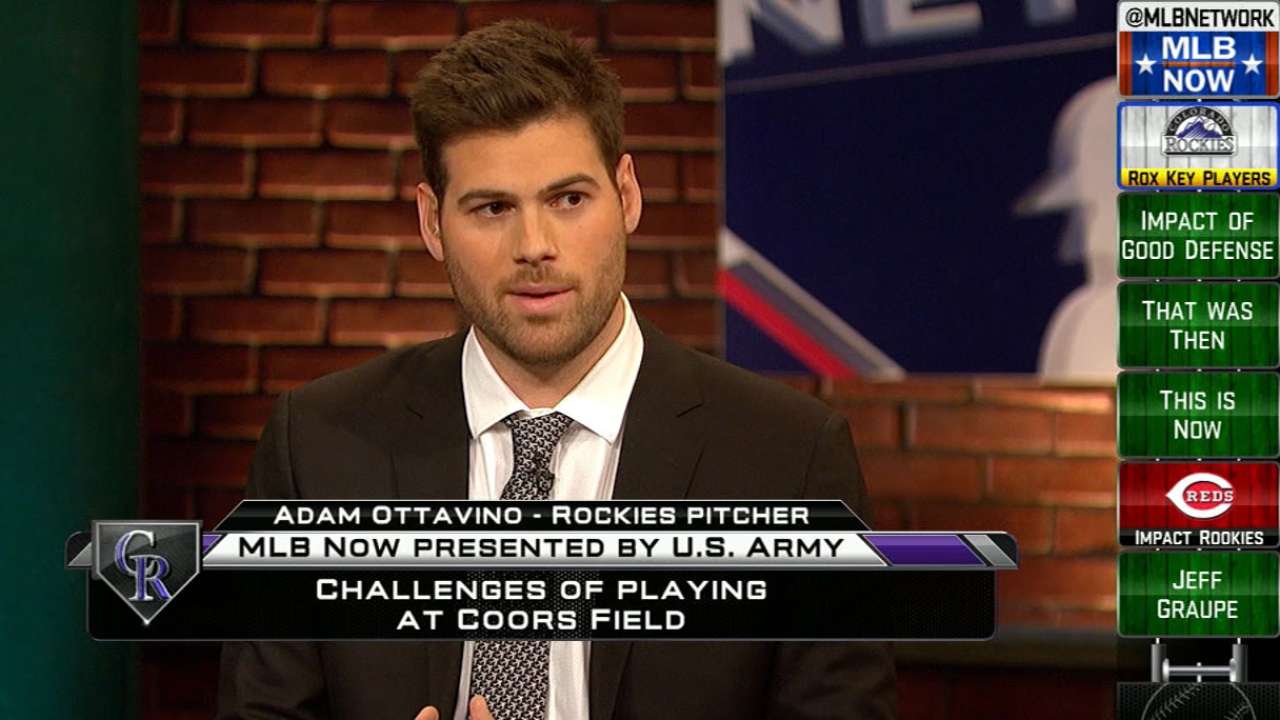 DENVER -- The metrics tell Rockies right-handed reliever Adam Ottavino to go for the high hard one.
Appearing on "MLB Now Presented by the U.S. Army" on MLB Network, Ottavino said he learned over the course of last season that the Coors Field mantra, "Keep the ball down," has its limits. Ottavino finished last season 1-4 with a 3.60 ERA in 65 innings over 75 appearances, with a solid season marred by a 10.80 ERA during a June slump. Part of Ottavino's righting himself came with an adjustment he made after studying some trends.
"I started pitching a little up [in the strike zone] more in the second half, especially above the zone with two strikes, and I felt like it paid off well for me," Ottavino said.
Ottavino, who recently signed a one-year contract worth $1.3 million to avoid arbitration, said he still believes in pitching down in the zone, which was preached to him early in his career with the Cardinals and now with the Rockies. With a strong slider, Ottavino will continue to work the bottom of the zone. But with hitters -- especially left-handers --- anticipating low strikes in recent years, Ottavino used observation and modern research tools to devise a counter plan.
"My fastball was just getting hit too much and I felt like I've always been a pitcher that succeeds actually with my fastball up in the zone," Ottavino said. "First I researched online. I think I read an article on Fangraphs about [the Athletics'] Sean Doolittle utilizing the high fastball, saw some quotes from some hitters saying they just couldn't get on top of it. I tried to implement that into my game.
"I also paid attention to guys like Lance Lynn or Jordan Zimmermann. They're doing similar things. That area, that's like a strike, but just a little bit too high. It yields a lot of weak popups and swings and misses."
Statistically, Ottavino said he self-evaluates based on stats such as strikeouts, strikeout percentage, line-drive percentage and walk percentage.
"Those to me really dictate how you're pitching and how the league is responding to your pitches," Ottavino said.
Ottavino said he appreciates the Rockies' defensive infield, which includes two-time Rawlings Gold Glove Award winners Troy Tulowitzki at shortstop and Nolan Arenado at third, 2014 Gold Glover DJ LeMahieu at second base and 2014 Gold Glove finalist Justin Morneau at first.
"We're very lucky in Colorado to have probably the best infield defense in the league," Ottavino said.
On pitching at Coors Field, where the atmosphere can affect a pitcher's grip, Ottavino said he sees no reason for pitchers not to be allowed to use pine tar because it just helps with grip but doesn't actually affect the flight of the ball.
Thomas Harding is a reporter for MLB.com. Read his blog, Hardball in the Rockies, follow him on Twitter @harding_at_mlb, and like his Facebook page, Thomas Harding and Friends at www.Rockies.com. This story was not subject to the approval of Major League Baseball or its clubs.