MLB.com Columnist
Paul Hagen
Gillick ready for new chapter of storied career
At 77, Hall of Famer shows no signs of slowing down as Phils' president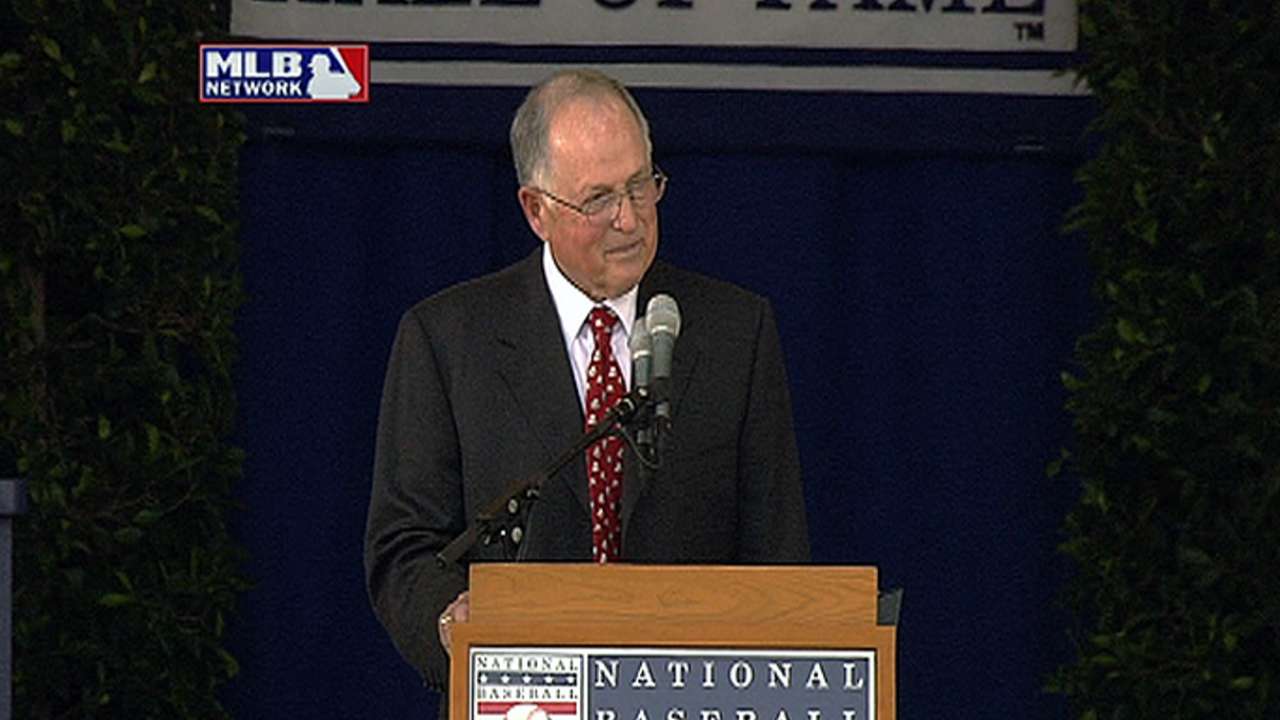 Every time Pat Gillick thinks he's out, baseball pulls him back in. He's 77 years old, an age at which many of his contemporaries are content to play golf or, at most, keep a toe in the game as a part-time scout. His legacy, including induction into the Hall of Fame in 2011, is secure.
Still, Gillick agreed to take on another adventure last month, commuting regularly from his Seattle home to Philadelphia to become president of the Phillies. It's a position he assumed on an acting basis in August when Dave Montgomery, recovering from serious jaw cancer surgery in May, took a medical leave.
That came more than five years after Gillick stepped down as general manager after the Phillies won the World Series in 2008. Like his previous retirements, this one didn't take.
Sure, baseball pulled him back in, but Gillick also has the sort of restless, wide-ranging curiosity that welcomes having a new mountain to climb. Now he's the titular head of an organization that is trying to rebuild to the glory days of 2007-11 when the Phils won five straight division titles, two pennants and one World Series.
Which is fitting for a guy who has come back time after time in his storied career.
Gillick retired as the Mariners' general manager 11 years ago. In four years in Seattle, the team never won fewer than 91 games and made the playoffs in back-to-back seasons for the only time in franchise history.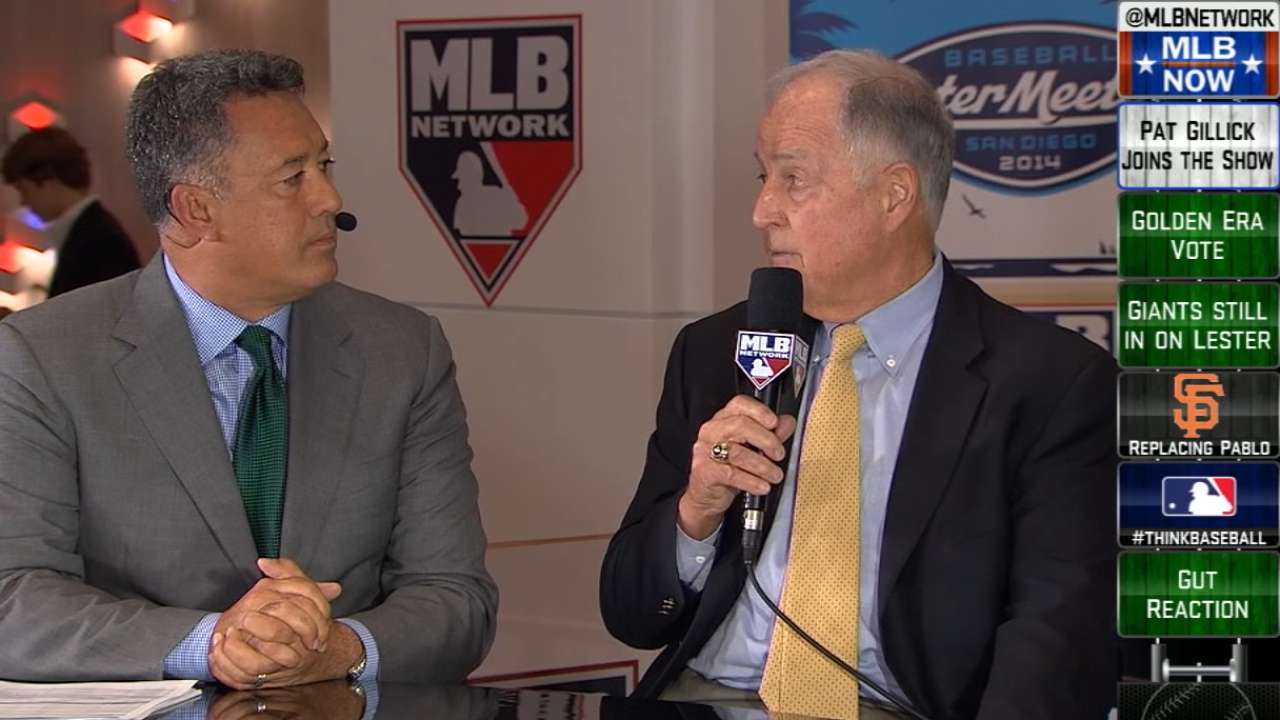 Before that, in Baltimore, the Orioles went to the postseason twice after an absence of more than a decade. And before that, Gillick's Blue Jays won the World Series in 1992 and '93. In each case, the presumption was that he would kick back and smell the roses.
Turns out, he was just getting warmed up.
When Gillick was hired as the Phillies' general manager after the 2005 season, his stated motivation was "one more kick at the can." After Philadelphia beat the Rays for the second World Series championship in franchise history, Gillick became a senior adviser for the team.
Gillick said at the time that he wasn't interested in working full time anymore ... unless he had the opportunity to become a club president.
That seemed unlikely until Montgomery had to be hospitalized. The recent announcement that Gillick had been named the full-time president and that Montgomery had become the team's chairman ended months of rumors and innuendo.
It wasn't how Gillick would have wanted to get the opportunity, and it came at a point in his life where he understandably might have preferred to spend more time at home. But he never hesitated to step up to the plate when asked.
"I think it was just a different challenge than being a GM," Gillick said in an interview at Citizens Bank Park last week. "I think there's a different challenge there. Try something different. It's kind of a natural progression, I think, if you have the opportunity. And if you're working for good people.
"The other thing is that I have a tremendous amount of respect for Dave Montgomery. He's put 40 years into this franchise. He knows the fans, the city. He probably knows more about Philadelphia, more about his city, than any other president of any other baseball team. I mean that sincerely. So this is to help him through this difficult time. Now we're going to work together again. It's going to be fun."
Gillick had spoken earlier that day to Montgomery, who he said is nearly 100 percent again, and planned to see him again the next.
Gillick downplayed the rigors of his new position, although the fuller explanation made it clear that he's still putting in long hours.
"This is not a 24/7 job," he said. "[General manager Ruben Amaro's] job is a 24/7 job. This is more or less a support job, giving him ideas. Giving him my opinion. Maybe he's asking for my counsel. It's a little bit different than being on the phone or being on the computer or texting back and forth. Which, because of the different time zones we have with the clubs on the West Coast, can go on at any time of day or night.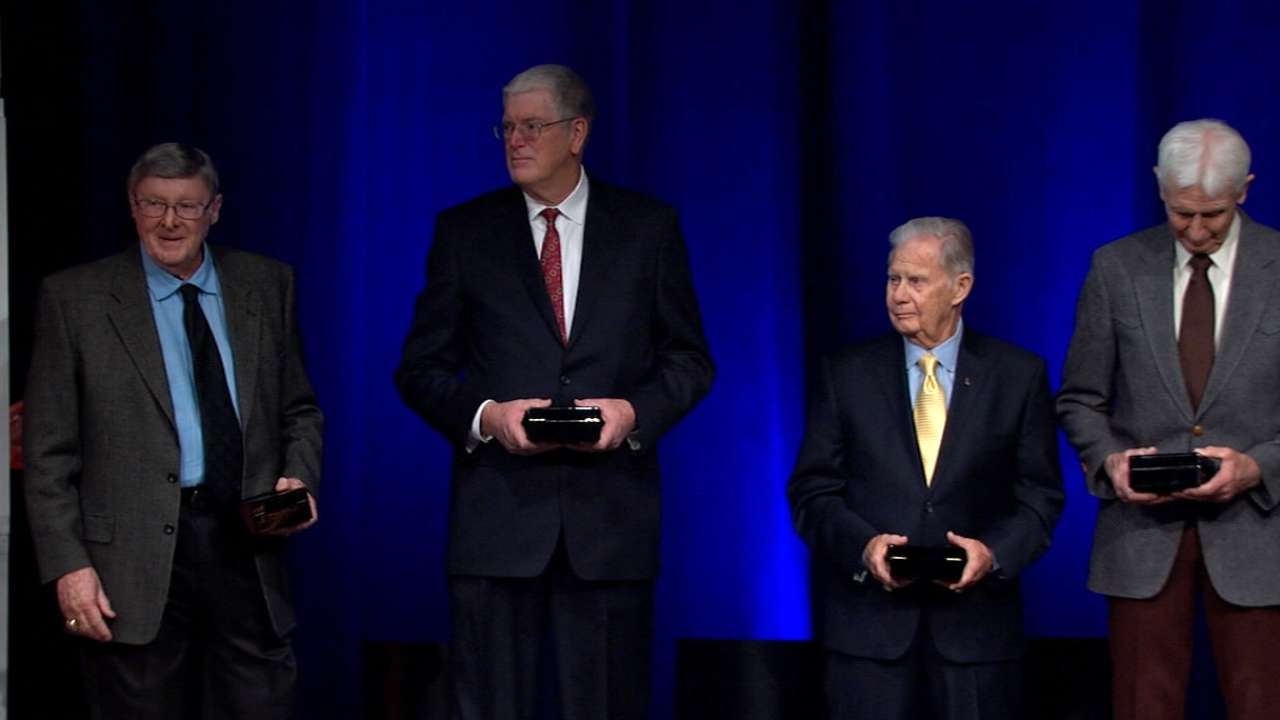 "I don't have to put up with that. If I'm good up to 11 o'clock at night, then I can get through the night until 7 o'clock in the morning. So it's not as much pressure on you in this job because you don't have to be on top of it every minute. It's not totally relaxing, but it's a little less pressure."
It also helps that, by Gillick's count, the Phils employ more than 30 people who have been with the organization at least 25 years, many on the business side.
"Dave Buck [senior vice president, marketing and advertising sales] and John Weber [vice president, sales and ticket operations] and everybody in the different areas of our company on the business side know their job description," Gillick pointed out.
"They know what they have to do. And so it's more a matter of, 'Here are your marching orders. You know what you've got to do. Go get 'em.' You know? I'm not going to micromanage them. If they need help or they need assistance, I'm here. They asked me to go to the sponsor's dinner. I said fine. Or if they want me to do something with some charity or organization, that's fine. I'm available.
"So the business side kind of runs itself. And, really, so much depends on the team, the product on the field. If you have a good product on the field, things are almost going to take care of themselves. When you don't ... those guys have to work harder to try to sell tickets and generate revenue."
It's a unique arrangement. Most club presidents these days come from business backgrounds. Gillick, who remains a scout at heart, estimated that 70 percent of his focus is on baseball. In the days leading up to the Phillies' first organizational Spring Training meeting in Clearwater, the club president was hop-scotching around the state of Florida, personally eyeballing three high school players and one college player who are considered top prospects for the 2015 First-Year Player Draft.
At the same time, Gillick's ever-inquiring mind still seeks new knowledge.
"What I've enjoyed most has been getting to know more of the people in the organization. When you're on the baseball side, you know the baseball people but you don't know everyone on the business side. So getting to know a little bit better the people on the business side, that's been interesting," he said. "And we've got two legal in-house counsels, so consequently there are legal issues that are interesting to talk about. Some of the challenges that we have. It's a little different agenda than the general manager's agenda. So that makes it interesting for me."
At this point of his life, Gillick wasn't really looking for uncharted territory to explore. But the opportunity certainly piqued his interest.
"When they called me in August and asked me if I would kind of slide in for Dave, I thought it was probably going to be for three or four months. Dave had his procedure done in the middle of May and I figured, 'Well, prior to Christmas, he's going to be ready to go.' And it just didn't work out that way," he said.
"I wasn't looking for a challenge. It was just the fact I could help out."
Gillick turns 78 in August, but shows no signs of slowing down. He's committed to staying until the end of the 2015 season.
Given that it's Pat Gillick, it would be silly to predict what will happen after that.
Paul Hagen is a reporter for MLB.com. This story was not subject to the approval of Major League Baseball or its clubs.